Downtown Atlanta: The Heart Of The City
Business, education and transit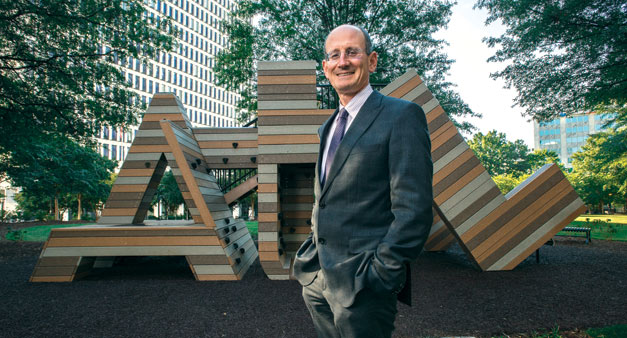 Downtown is not only the oldest part of Atlanta, but around the world it has become the brand that defines the city, the region and even the state.
"What drives our growth is visibility – whether it's a real estate project, a convention or tourism," says A.J. Robinson, president of Central Atlanta Progress.
No matter where anyone south of Rome and north of Macon travels, when the question is "Where are you from?" the answer is most likely "Atlanta." Some would argue that Downtown isn't as important as it was in the days when all the banks were located there – to be close to the Federal Reserve – and the silk stocking law firms were right there with them, within walking distance of each other. Yet the central city is bustling with activity and retains qualities that most other cities can only dream of.
Over the years Atlanta has attracted and grown a number of heavy-hitter businesses, and it is home to several corporate headquarters. There's The Coca-Cola Company, South-ern Company, Georgia Power, SunTrust Bank, Turner Broadcasting and AmericasMart, among others.
"You've got corporate folks who have been here a long time and aren't going anywhere," says Robinson. "That's our foundation."
Along with the many businesses that still make it home, the central business district is a mecca for higher education with some 62,170 students – 53 percent of the city's total – taking classes there. Georgia State University is a major employer whose bustling student body brings considerable economic activity to the area. Then there's Georgia Tech just to the north and the colleges of the Atlanta University Center to the west. Nearby Emory University is closely tied to Grady Memorial Hospital.
Downtown is also home to Atlanta and Fulton County government offices and a number of federal agencies including the Federal Reserve.
In a reversal of a decades-old trend, people are even starting to come back to downtown to live. The population here has risen to 23,202 – 4.6 percent of the city's total. Equally important, however is the influx of workers who stream into the downtown buildings each day. Fully 118,000 daytime workers account for 31.5 percent of the city's total employment. Downtown has the highest concentration of jobs per square mile in the entire metro area – 30,547.
Even with all its assets, Downtown Atlanta has another quality that sets it apart from many other areas – constant change. There always seems to be something new coming along to grab your attention. These range from new attractions to new ways of getting around town. There is also likely to be a new stadium for the Atlanta Falcons within the next five years or so, according to Robinson.
The BeltLine
Atlanta's signature economic development project, the BeltLine, a former railway corridor, began as the idea of a young Georgia Tech graduate student named Ryan Gravel in 1999. He envisioned a 22-mile-long ring of parks, trails and transit encircling downtown and fleshed out the details in his master's thesis.
Now an architect with Perkins+Will, Gravel has the rare experience of seeing the ideas of a young student on the verge of becoming reality. While transit is still a ways off, greenspaces are already taking shape and revitalization is taking hold in many neighborhoods.
"You're seeing the kinds of things we had hoped to see – a revitalization of the existing communities," he says. "People are fixing up homes and moving into them and fixing up neighborhoods. In the industrial abandoned properties that follow along the BeltLine route, you're seeing more medium-density development and mixed-income projects. It provides enough people in their community for not only the future transit ridership," but customers for all the stores and restaurants that are opening.
What isn't coming to the BeltLine is the $600 million from the recently defeated T-SPLOST referendum that would have sped up the process by several years. A win would have ensured funding for 10 miles of transit connections.
"It was a wonderful opportunity for us to accelerate [work on the project] and perhaps enhance it with some of the crosstown connections we would be able to fund through that opportunity, but it was always like this icing that came on a nice cake anyway," says Valarie Wilson, executive director of the Atlanta BeltLine Partnership.
Passage would have meant transit coming out of the ground in just three to five years, instead of about seven to 10 as was originally envisioned by its supporters.
In the meantime, people and businesses are drawn to the area by the higher quality of life offered by BeltLine development.
"We're seeing not just retail, not just boutique stores and restaurants but other jobs, dentists' and doctors' offices, business firms," says Gravel. "Everybody and anybody could work there. Even light manufacturing [companies] have taken advantage of some of the industrial properties along the corridor."
There are also opportunities for clean technology and green businesses to locate in some of the big industrial buildings, says Gravel, adding, "That's today, and down the road it could be something else."
Transit
As in many urban areas, residents have a craving to leave their cars behind and jump on other forms of transit. A century ago, streetcars ran throughout the city and along lines made possible by the development of outlying communities such as Decatur. Now years after cars mostly killed them off, four of these lumbering vehicles will make a limited comeback with the Atlanta Streetcar Project. Local leaders say the first phase, a 2.6-mile streetcar line running east-west with a dozen stations, will produce not just nostalgia, but economic development.
The new cars bear no resemblance to the utilitarian vehicles that once plied city streets and were sometimes prone to tipping over due to their high profile. The city has purchased several sleek electrically powered streetcars to connect the Martin Luther King, Jr. Historic Site to Centennial Olympic Park. The line, which is projected to cost about $69.2 million and be funded largely with federal grants, is expected to jumpstart a new round of development including residential for an influx of people who want to live along the route.
Other cities that have built streetcar lines found that capital investment in mixed-use development quickly followed. In Portland, the streetcar catalyzed 140 real estate projects worth $3.5 billion; following its construction, property values increased by approximately 50 percent. In Seattle, a $51-million streetcar project (capital cost) led to 3.3 million square feet of development.
People and businesses like being near the line, but the purpose isn't solely to relieve congestion, says Robinson.
An earlier study found that a streetcar line would add about 400 new housing units within a two-block radius by 2015, representing a 4.5 percent growth. Of the estimated 725,000 square feet of new retail space projected in Downtown in the next 20 years, the project is expected to contribute 32,000 square feet of demand as new residents move into the area. By 2030, it's anticipated that there will be more than 8,800 housing units surrounding the line
Plans call for the streetcar, which will be operated by MARTA, to connect eventually to the Atlanta BeltLine.
Revitalization
One of the beneficiaries of the BeltLine's economic stimulus has been the Old Fourth Ward, which stretches from Piedmont Avenue and Downtown Atlanta on the west to the BeltLine and the Poncey-Highland and Inman Park neighborhoods on the east. This district is attracting new residents and new development.
Jamestown Properties is developing the sprawling Ponce City Market, which has evolved into the city's biggest urban redevelopment effort. The company is converting the vacant Sears distribution center on Ponce de Leon Avenue into a mixed-use development. Other developers already have projects under way or are likely to follow suit.
Developers have also been attracted by the 10-acre Historic Fourth Ward Park, which runs from North Avenue behind Ponce City Market and stretches south to Freedom Parkway and The Carter Center. The park was one of the big reasons North American Properties decided to build a 276-unit project in the district at 471 Glen Iris, according to reports.
Perennial Properties, Inc. has announced intentions to develop a 225-unit project along North Avenue near the planned Atlanta BeltLine.
"A part of that development and a lot of what has happened is a result of the BeltLine," says the BeltLine Partner-ship's Wilson.
Tourism, Conventions
Atlanta has long been regarded as a business city. You came here to make deals and attend conventions, but you went elsewhere for entertainment. Since the 1996 Summer Olympic Games, the city's array of tourist attractions has increased. One of the biggest draws is the Georgia Aquarium located near Centennial Olympic Park. Local leaders credit the Aquarium with providing the catalyst that has created enough tourist interest to draw other venues to the area.
Of course, there's the World of Coca-Cola and Imagine It! The Children's Museum of Atlanta. They're being joined by the National Center for Civil and Human Rights and the College Football Hall of Fame.
The city's convention business, centered on the mammoth Georgia World Congress Center, has made a comeback from the recession. Occupancy rates for hotels rose 17 percent from 2009 to a healthy 68 percent this year. Last year 39.7 million people visited the city, and those numbers are expected to pass 40 million – a high for the city.
"Of course that creates compression, which allows revenue per available room to go up and hotel rates to go up," says William Pate, president and CEO of the Atlanta Convention and Visitors Bureau. "Occupancy is a little bit above pre-recession levels, and [revenue per available room] is right about on par with where we were before the recession started. In general, we've recovered and a little bit more."
The city has also increased the number of big "citywide" conventions that tend to fill up most of the available hotel rooms with 20,000 to 40,000 people in attendance. Historically, Atlanta never had more than 15 shows that big, but this year the city snagged 20 of them.
International tourism to Atlanta has increased with the opening of the new Maynard H. Jackson Jr. International Terminal at Hartsfield-Jackson Atlanta International Airport. Many of the conventions – particularly medical shows – attract a large international contingent. Planners seek out host cities that can provide easy access by air for their attendees, according to Pate.
The number of international travelers is rising rapidly. More than one billion tourists will cross international borders this year, and many of them will be coming to Atlanta. In fact, more than 800,000 of them arrive here each year; 45 percent come for business, and the rest are leisure travelers.
At Hartsfield-Jackson, passenger traffic from other countries hit record heights in 2011. According to year-end statistics, international passengers in-creased by nearly eight percent last year over the previous year – rising from 9.14 million to 9.86 million.
More than 80 nonstop flights to other counties leave the airport every day, making Atlanta second only to New York's JFK in the number of nonstop international flights.
Some of Atlanta's foreign visitors have decided to stay and do business in the city. Even as the recession slowed homegrown enterprises, international firms were increasing their presence in Atlanta.
"We have seen the same pace for growth of international companies in the Atlanta area," says Jorge Fernan-dez, vice president of global commerce for the Metro Atlanta Chamber. "This year so far, we have about 25 companies that have relocated into the Atlanta area producing around 1,200 jobs. And this is consistent since the 2008 economic debacle. We have not seen a reduction of interest."
As the Panama Canal is being widened to accommodate super-sized transport ships, East Coast ports like Savannah are becoming more important for logistics operators. MODEX, one of the leading conventions for supply chain, manufacturing and distribution industries, held its inaugural event here in February; it will return to the city in 2014. Every other year the show brings more than 17,000 people to the city, says Pate.
"They are interested in coming to Atlanta because of what is going on at the Panama Canal, and the Port of Sa-vannah is going to be more important to the logistics business," he says. "Atlanta has always been a logistics hub, so that's a great opportunity for our city to take advantage of a business trend."
LOCAL FLAVOR
A National Center: There are few cities more deserving of being called the cradle of the Civil Rights Movement than Atlanta. After all, this was the home of Martin Luther King Jr. and a hotbed of activism. So it's only natural that it would also be the home of the National Center for Civil and Human Rights.
While it will host some of the great artifacts of the movement such as the King Papers, it's not a museum, says Executive Director Doug Shipman.
It is, in fact, a force for shaping the future of human rights, while educating the nation on the past.
"It will really be a place to bring people together to have events and programs around discussions of contemporary issues," says Shipman.
Development of the center began in 2007 on the heels of an offer of land from Coca-Cola and the acquisition of the King papers collection.
"From then to now, we raised the funds to build the first phase of a planned three-phase project," says Shipman. "We've gotten designs, and we've also launched a series of programs."
The Center has raised about $75 million along with a $5 million endowment to support operations. The funds are making possible the construction of the 42,000-square-foot Phase I set to open in 2014. The first building will include exhibits of the King papers, civil rights history and the contemporary human rights movement.
While the facility is under construction, the center has hosted a series of events around the anniversary of the 1948 signing of the Universal Declaration on Human Rights along with screenings of films on human rights and an interpretive reading of the Declaration by artists.
"We hosted a series of dialogues in conjunction with CNN and Emory University in which we bring together a number of panelists to talk about a topic in a town hall-style setting," he explains.
One of those events was a discussion of the Arab Spring uprising that included activists from Egypt, Syria and Bahrain, along with reporters who have covered the uprisings.
The event captured the demands for freedom that drove those movements and demonstrated how much they share in common with that earlier fight for civil rights. – Randy Southerland
Community Snapshot
Local Leaders
Jorge Fernandez
Vice President of Global Commerce
Metro Atlanta Chamber of Commerce
jfernandez@macoc.com
404.586.8460
A.J. Robinson
President
Central Atlanta Progress
aj@atlantadowntown.com
404.658.1980
Valarie Wilson
Executive Director
Atlanta BeltLine Partnership
valarie@atlbeltlinepartnership.org
404.446.4404
Population (2011)
Downtown, 23,202
Atlanta, 432,427
Median Household Income (2012)
$36,834
Unemployment (July 2012)
County, 11.9 percent
Georgia, 9.7 percent
Major Employers Located in Downtown
The Coca-Cola Company, Southern Company, Georgia State University, SunTrust Bank
Sources
Central Atlanta Progress, U.S. Census Bureau, Georgia Department of Labor