2012 Best Places To Work In Georgia
Employees value commitment to quality, a family atmosphere and stability. And a sense of humor never hurts.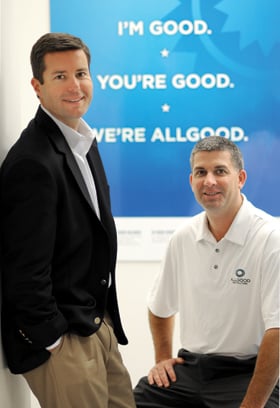 For the seventh year, Georgia Trend asked readers to nominate their companies for our annual Best Places To Work roster and tell us what makes them such good employers.
Nominations came from all levels of employees in all kinds of businesses and nonprofits throughout the state. Respondents told us they appreciate a good, stable family atmosphere, employers who treat them with respect and an opportunity to do meaningful work.
From nominations submitted via our website, Georgia Trend editors selected eight companies for this year's list of the best places to work in the state. They are listed in alphabetical order.
Allgood Pest Solutions
Dublin
Lanny Allgood, CEO
While ridding homes and businesses of termites and other intruders, Allgood Pest Solutions also is preserving the South's oral tradition with a "Pestimonial Booth" equipped with a video recorder.
"Customers step inside, tell a story about a bug and automatically win a T-shirt that says 'I Pestified,'" explains Greg Vines, vice president of sales and marketing. Cash prizes are among the other rewards for the 200-plus customers who have pestified in videos that are posted on the company's Facebook page.
"The nature of our business – dealing with things you don't want in your home – seems unpleasant, so we try to have fun with our brand while giving customers peace of mind," says Lanny Allgood, whose father started the business 40 years ago. This pun- and fun-loving outfit also hands out peppermints dubbed "bereave-mints" to help "sensitive souls" grieving for cockroaches and fire ants. "Happy employees mean happy customers," Allgood says. – CD
Brasfield & Gorrie
Kennesaw
Rob Taylor, Regional President
Now in a corner office, Rob Taylor began as an intern 27 years ago. He credits his rise, in part, to company culture.
"It's the people and their commitment to each other," Taylor says. "Putting their fellow workers before themselves. That attitude creates great relationships. In the long run, your best friends are at work."
Created in 1964, this general contractor boasts work that stretches across the southeast, with 800 employees and annual revenues of $600 million in Georgia alone. Current projects: a natatorium in Columbus, a hospital in Paulding County and a lab at Emory.
"Everyone works hard together, plays hard together and builds long-lasting relationships," says Senior Estimator Gene Weldon. "They care not only for our work lives, but our personal lives and health."
The company provides a gym, chiropractor, exercise training, and a "director of personal development" to minimize stress. Monthly outings – bowling, camping, baseball – create camaraderie, as does involvement with charities like the United Way. Says Weldon: "It's a place where you can start your career and plan to finish it." – CB
Draffin & Tucker, LLP
Albany and Atlanta
Jeff Wright, Managing Partner
Tax supervisor Jeremy Wilson left the public accounting firm of Draffin & Tucker two years ago for personal reasons. "The firm contacted me earlier this year," he says, "to ask if I'd consider returning in their new Atlanta office, closer to our family. After two years, they remembered why I left." He rejoined the firm this past summer.
There's very little turnover at the 64-year-old firm, which has 70 employees. Of the 13 partners, 12 began their careers there – and the office manager has been around for 48 years. "We're not hiring somebody for a couple years," says Managing Partner Jeff Wright, who's been there for 22 years. "We're hiring for a career. Personnel are the foundation of our success."
Partners share knowledge, send staff to conferences and connect them with outside mentors. The firm also hosts picnics, softball games and holiday parties. (Accountants party, too.)
Says Wilson: "A partner told me, 'You have to treat your employees the way you want somebody to treat your own child.' To me, this surpasses the Golden Rule." – CB
Georgia Power
Atlanta
Paul Bowers, President & CEO
Georgia Power, which serves 2.36 million customers, has developed an ethical code dubbed the "Southern Style." "Those values are unquestionable trust, superior performance and total commitment," says President & CEO Paul Bowers. "We believe how we accomplish work is just as important as the work we do, and we believe in straight talk with respect. We live those values in the way we interact with each other, with customers and with communities." The company's foundation has contributed more than $120 million to qualifying nonprofit agencies since its inception in 1986.
"On a local level, employees also participate in a lot of programs that emphasize environmental stewardship," says Viola Ibarra, an energy efficiency education coordinator. "Once a month or so, we get together to clean nearby lakes, rivers and roadways, and we have a 'Renew Offices' investment recovery program for old office equipment and furniture, to find other uses for it to keep it out of landfills. My friends envy me for working for such a progressive, trustworthy employer." – CD
Hospice of the Golden Isles
Brunswick
Karen Brubaker, CEO
Barbecues? Ice cream socials? "People think we walk around crying all the time," says CEO Karen Brubaker. "Hospice celebrates life. There's a lot of laughter. You can still heal people, even if you can't cure them."
The facility opened in 1980. At any given time, this nonprofit's 180 employees and volunteers serve some 75 patients with acute pain needs. Employees receive support and acknowledgement for their work, which can take a toll. They also receive inspiration.
A young man with brain cancer told a nurse: "When this is all over, it's not going to be a funeral, it's going to be a fun-eral." They honored his wishes, playing the Red Hot Chili Peppers and barbecuing.
"For many of us," says Community Relations Coordinator Amy Broderick, "working here is a calling. We've had the hospice experience, and we want to pay it forward. People stop us to thank us for how we have cared for their loved one or for serving our community. It's truly humbling." – CB
InfoMart
Marietta
Tammy Cohen, President & Chair
When employees at this company, which specializes in background screenings for clients that include NASA contractors and fast-food restaurants, balked at rising prices in their vending machines, the president gave them seed money to start what they nicknamed the "Boycott Convenience Store," which trades in (mostly) healthful snacks purchased in bulk and sold at a discount.
"I try to encourage independent initiative and not micromanage, because I trust everyone here," President and Chair Tammy Cohen says. The company cultivates its own vegetable garden ("wonderful, weird Asian produce I'd never heard of," Cohen says); offers classes on topics from eldercare to extreme couponing; and coordinates one of the city's largest corporate Black History Month celebrations with guest speakers, soul food lunches and movie screenings. "At the end of every morning meeting, we all say in unison: 'It's a great day at InfoMart because you are here,'" says paralegal Renee Harbeson, "and we mean it." – CD
Mannington Commercial
Calhoun
Jack Ganley, President
At this manufacturing company that makes much of the country's commercial flooring, employees who stick around for at least 10 years see their names memorialized in bricks on a walkway.
One of the first monikers appearing on the ever-lengthening path belongs to Donnie Sutton, who has worked there since he graduated from high school in 1969. "What I remember most is John Campbell, the president, coming around to shake everybody's hand on the floor – it felt like family then and now," Sutton says.
Despite the recession, Mannington Commercial's business has grown by 30 percent since 2009, and it has invested more than $5 million in new facilities. "We solicited ideas from employees about where we were wasting money in processing, and that resulted in cost savings of $250,000," says Presi-dent Jack Ganley.
"The people who work here are artists who take pride in their work, and they pulled together during a tough time." – CD
McCarthy Building Companies Inc.
Atlanta
Kevin Kuntz, Southeast Division President
In addition to the usual gear, the toolbox at McCarthy includes "Heart Hats," an outreach program that offers constructive assistance to a variety of organizations and families in need.
"In 2012, we have already performed three Heart Hats projects: renovating two homes to make them accessible and ADA-compliant for their residents who were in wheelchairs and renovating a facility for Creative Enterprises, which helps people with disabilities find employment," says Kevin Kuntz, who leads the Atlanta office of this national commercial building company founded in 1864. "I have seen almost every one of these events end in emotional hugs and tears of gratitude, which makes us look forward to the next project."
McCarthy also is 100 percent employee-owned. "I came to work here because I was impressed with the team atmosphere – everyone jumps in to help, at every level – and the focus on giving back to the community," says Danika Shockley, assistant superintendent. – CD