Showcasing Agriculture
Fairs and expos mean economic development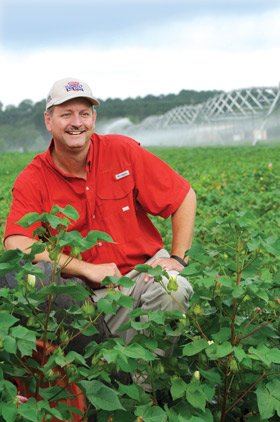 It's another sultry August in Perry at the Georgia National Fairgrounds & Agri-center (GNFA), where Republicans are frying fish to raise money in the eighth district, young farmers are meeting en masse to show their goats or cattle, the gearheads are popping hoods, Special Olympian equestrians are riding, fancy dogs are competing for best in show and a couple of lovers are exchanging vows.
"There is always something happening here," says Randy Moore, executive director of the GNFA. "We're tasked with a nonprofit mission – hosting youth agricultural programs through the year. That's educational in nature, and it supports our largest industry in the state.
"But really, we're just an events center, Middle Georgia's events center, and all those other things, the weddings, the RV shows, the gun and knife shows and that type of thing, that has to be profitable."
It has to be because annual state funding for this state-owned, 1,100-acre, all-purpose facility has been slashed from $1.7 million in 2008 to $994,000 in the FY 2012 budget.
The 235 events GNFA hosts each year, those doll and teddy bear shows, those barrel races, they all add up. Even the youth-based agricultural events, with all of those parents and grandparents and other members of a kid's support posse, send ripples through the local and regional economy in the form of out-of-town money spent on hotel rooms and restaurant meals.
The big kahuna, the thing they spend all year thinking about and planning for, is the Georgia National Fair, an 11-day event in October that draws about 450,000 people to this town of 14,000.
This year's fair runs Oct. 4-14 (it always begins on the fifth Thursday after Labor Day), and, as it has for years, will be followed up farther downstate by the Sunbelt Agricultural Exposition in Moultrie (Oct. 16-18), which bills itself as North America's premier farm show.
These two events attract more than half a million people to the heart of Georgia's agricultural belt (especially when the weather cooperates), generating revenue for local businesses and state coffers.
October is prime time for agritourism in Georgia, and it begins with the fair, where "students learn about personal responsibility in taking care of other creatures and learn about the cycle of life and the work ethic it takes to be successful," says Georgia Commissioner of Agriculture Gary Black.
"My children were pretty much raised at that fair. They showed cattle for nine years as they were coming through elementary and high school. That fair is where we grow the future of Georgia's agriculture industry."
It's also got the circus, the midway, the concerts, the nightly fireworks, the food. Imagine the state fair in Charlotte's Web on steroids, and you've got a fair idea of the Georgia National Fair.
The Sunbelt Expo's primary focus, meanwhile, is on business and technology. But it also is a grown-up amusement park (you get to test drive stuff) with educational components for all ages (field demonstrations and infotainment from industry and universities) and what amounts to a one-stop marketplace for the ag crowd.
"We attract farmers and agriculture folks from across the country, people who want to see the latest in agricultural technology, gather information, improve their bottom line, their quality of life," says Chip Blalock, executive director of the Sunbelt Ag Expo.
"But it's also for consumers to come in and see what farmers are doing to produce that safe, abundant supply of food, fiber and shelter."
So basically, the Georgia National Fair helps foster the future farmers – all those 4-H, FBLA, FFA, etc., kids – who will one day be patrons of the expo, which is celebrating its 35th anniversary this year.
Farm Science Fair
Most years, Barry Martin has a scheduling conflict that prevents him from going to the Sunbelt Ag Expo, a personal detriment because he is a third-generation farmer who gets a lot out of the annual event.
"It's always a learning experience," says Martin, who grows peanuts, cotton, corn, wheat and grain sorghum on his farm outside Hawkinsville, in a bend of the Ocmulgee River. "I like to keep my eye on the technology upgrades, especially the upgrades in tilling equipment, and really, all the latest technology on display. The expo is the first place you'll see this stuff."
But most years, the expo begins the same day as the Ocmulgee Electrical Membership Corporation's annual meeting, and Martin is president of the EMC's board of directors. It's the kind of job you volunteer for that becomes a priority. This year, though, the two events are a week apart and Martin has extra incentive to get to Moultrie.
In July he was named the Sunbelt Expo Georgia Farmer of the Year and is therefore the state's nominee for the Southeastern Farmer of the Year Award, which will be announced at the expo, a competition sponsored by Swisher Sweets (whose little brown cigar butts have no doubt been tilled into dirt from here to Kentucky).
"Yeah, I'll be there this year," he says. "This is a great honor, and the schedule works in my favor this time."
Last year it worked for 80,000 attendees, who braved torrential rains for the privilege, but most years the expo brings about 100,000 people to Spence Field, site of an old Air Force base in Moultrie. People from all over the Southeast – from the world, Blalock says – fill motel rooms for 60 miles around, injecting about $20 million into a 20-county region.
That impact doubles over the other 362 days of the year, because Sunbelt Expo (which leases Spence Field from the city of Moultrie and maintains it year round) hosts a bunch of other stuff – auto swap meets, arts and crafts shows, motor coach conventions, a huge summer field day, among other things.
The expo can be mind-blowing for anyone who sets out to see everything, with 1,200 commercial exhibitors showing off the latest in farming technology, crop science, conservation and home products.
Plus, there is a 600-acre research farm, a veritable precision agriculture testing ground, where patrons can take part in hands-on harvesting demonstrations and equipment tests throughout the show. The expo also works with land-grant universities from across the Southeast, which put their cutting-edge research on display every October in Moultrie.
Some things that have become commonplace in farming, some of the basic tenets of precision agriculture, like GPS-guided tractors, were being shown at Sunbelt in the 1980s, and the equipment keeps evolving at a science fiction pace.
"GPS technology has become the norm. Who knows, 10 years from now there might not be a person on the tractor, whether you're plowing, planting, spraying or harvesting. We might be operating it from our smart phones," Blalock says.
From breakthrough research in crop science to new technologies in irrigation and energy designed to conserve resources and money, the expo has been the stage for the latest advancements in agriculture. This year it may be the newest technology in drain tiles, and next year it will probably be drones that can fly over distant crops and transmit high-res images, extending the farmer's field of vision.
It takes all year to plan the three days of the expo, on an average annual budget of under $1.9 million (with a staff of 11 that grows to about 170 during the event). A private nonprofit 501(c)(3), it receives in-kind support from the state departments of agriculture and economic development, but no state or federal funding.
"We are funded solely by exhibit fees, gate receipts, commercial grant support and commercial farm income," Blalock says. "We run a pretty efficient business."
Black has worked to increase the state department of agriculture's presence at the expo since becoming commissioner two years ago.
"We used to have a little 8' by 10' booth. I didn't think that was adequate, so I asked Chip for some ideas," Black says.
Blalock told him about a metal building near the venue entrance that needed renovation, so Black called his pal Zippy Duvall, president of the Georgia Farm Bureau, who also wanted to enhance his group's presence at the world's biggest farm show. So they put their shekels together and created the Georgia Agricultural Building, and it's pretty much the first thing visitors see when they walk through the gate.
"Now we have a facility that can be used all year," Black says, "and a fitting showplace for the farm bureau and department of agriculture during the Sunbelt Expo."
Staying Power
John Callaway is rolling through the tall-grass heartland with miles to go before he reaches Manhattan, Kansas, so he has time to talk on the phone about a thing that has captured his attention, occupied his thoughts and elicited his actions for almost a quarter century, the Georgia National Fair.
Callaway, who retired in 1998 after 30 years with the UGA extension service and has a cattle farm near Hogansville, is on his way to the annual meeting of the Beef Profit Alliance, something he's looked forward to.
"We're here a few days early. I want to visit some ranches, see how the real cowboys live," he says, driving past acres and acres of cattle and pasture.
Every year since the national fair began, the Callaway clan has made the trek to Perry for that chunk of October, and for other shows, because this is a 4-H family through and through.
"Oh yeah, I was there for the groundbreaking, when Joe Frank Harris was governor. And I remember the first fair very well, the fall of 1990," says Callaway, who now serves on the Georgia Agricultural Exposition Authority (GAEA), the governor-appointed board that oversees the fair and the fairgrounds.
"Our stepson, Wes Pope, was in the 10th grade that year, and he had a champion steer at the first national fair. He came back in the state livestock show in February and won again with the same steer. And now my grandson is getting started."
Wes named his son Callaway, after his adoptive family, and now Cal Pope is showing cattle at the fair.
"One of the most rewarding things about this job is seeing the kids who came out here to show cattle and ride the rides and eat the corndogs years ago, come back here with their kids. We've created some family traditions," says Bob Irwin, who, as chief operating officer at the fairgrounds, has the biggest set of keys.
"And I'm not planning to leave," he says. "I've been here since before Day One. I was a laborer during construction, and after that I worked in the barns."
Hint: He used a shovel. And he's not above using one now. Actually, that's sort of a recurring theme if you talk to the fairgrounds staff, that willingness to pitch in, even on the dirty jobs. Part of it is necessity, part of it, austerity.
There's a lot of work to do, and they have fewer people to do it. Total staff has been cut from 86 to 54 during the economic downturn, according to Moore, who says the remaining staff has risen to the occasion. He's setting some examples himself (eschewing a staff car for starters, a perk for previous directors).
It's the day before the National Barrel Horse Association (NBHA) Youth Championships – a new and huge event at the fairgrounds – and Moore, the big boss, is delivering shavings to the horse stalls.
"If you're too good to take out the trash, you're not good enough to work here," says Jim Floyd, agriculture and youth director. "You've got to be willing to do anything and everything. That's the attitude around here, and it comes from the top of our board down to everyone else."
Moore has made it his mission to get the fairgrounds to self-sustainability, and they're very close to being there. In 1990, state appropriations comprised 62 percent of the GNFA's operating revenues, with the authority generating the rest (approximately $4.2 million versus $1.3 million). Last year's GNFA self-generated revenue was almost $7 million (about 87.4 percent of the total), versus the state's $994,700 (12.6 percent).
The Georgia National Fair easily accounts for the largest portion of income, causing about $1.5 million a day in economic impact, and $1.3 billion since 1990. After last year's national fair, Moore wrote the Georgia Department of Revenue a check for $178,000. That was just the gate tax.
"The department of revenue sits here daily and collects from our out-of-state vendors, which puts us at around half a million dollars to the state tax people," Moore says.
"The caveat is, the vast majority of vendors here are Georgia folks with Georgia tax ID numbers, so the department of revenue doesn't collect from them while they're here. Those folks pay their taxes quarterly, so the actual state tax revenue number is larger than that half a million."
The successful recruitment of two NBHA events – the youth championship in July and the world championships (Oct. 27-Nov. 3) – gives the GNFA another nudge toward total self-sustainability. These are events with global reach – China had a team competing at the last world championships.
Moore says, almost shyly, "We kind of stole the youth championships from Jackson, Mississippi. It was there for many years."
The adult event, the world championships, moved across the state to Perry from Augusta (where NBHA is headquartered).
"These events immediately became our largest non-fair events," says Moore, who was expecting about 7,000 people a day for the youth event in July.
And it all comes down to location. If you drive down I-75 from Atlanta toward Florida, you can't possibly miss the fairgrounds. Look for the big clock tower. It'll be on your left if you're driving south.
"It took a community and regional effort. There were something like 14 different sites putting in bids for the fairgrounds. It's something the communities here came together on, something that started from scratch," says Moore. "Makes you proud."