Power Players: Finding Better Ways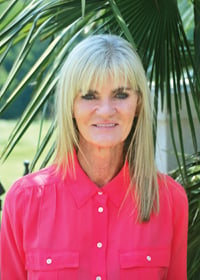 Over the years, sisters Patti Gilmer and Pam Thomas, owners of Kid's Stuff, a children's clothing store in Gainesville, watch-ed parents easing their young children into swimming using water wings and blow-up inner tubes, always thinking there had to be a better way. Both items were cumbersome, and neither placed children in a safe floating position in the case of real trouble.
When they heard a proposal for sewing flotation material into the swimsuit, the sisters knew they'd discovered a good idea.
"We bought [the idea] in 1992 then began developing it," says Gilmer. "We worked with it, tested it." She says they also had the benefit of youth on their side. "Part of the reason we went ahead with it was because we were young," she adds. "Back then we didn't know any better. We just said, 'Let's start a business. Let's manufacture it!' We had no idea what we were getting into."
Years later, Gilmer is the President of Future Prod-ucts Corporation/My Pool Pal®, the maker of high-quality, American-made, patented flotation swim-wear for children. They also manufacture Aqua Force®, a "Swimwear Flotation Device" especially made for boating, Swimsters® swim diaper products and sun-related accessories.
In 1994, they started a successful medical and aquatic therapy division, creating flotation swimwear for children and adults with medical and therapeutic needs. Theirs is an Ameri-can manufacturing success story that takes a detour through China.
Overwhelmed by interest in the original flotation swimwear, Gilmer chose to license the product to other manufacturers. "I licensed our product to a local company that had their own manufacturing facility," she says. "With all the growth going on at that time, we thought it would be the perfect blend. It didn't work out over the long haul." She licensed to another company but eventually had to move the manufacturing to China. It wasn't a good fit.
"There are great people working in China, but working with Chinese manufacturers just wasn't for us," she says. Because she was dealing with products designed to keep children safe, Gilmer couldn't compromise on quality control; she was receiving swim-wear without the appropriate thickness of flotation material. "The quality simply wasn't consistent," she says. "By the time you redo and go through the hassles, it's not cost-effective." In-stead she decided to bring manufacturing back to the U.S., even if it meant slowing growth.
After lining up suppliers, a manufacturing site in Alto and a partner plant in South Carolina, where the bulk of the manufacturing was done, Gilmer was able to tackle the next issue: finding workers to sew at the Alto plant. It turned out she didn't have to look more than five miles down the road to the Lee Arrendale Transition Center, part of the Arrendale State Prison. The Transition Center, which opened in 2008, offers select offenders the opportunity to gradually reenter society through education, life skills and employment.
Gilmer interviewed, hired and trained five women to work on My Pool Pal's re-usable swim diaper line.
"They've earned the right to be in the program. It's great because it offers the women an opportunity to learn a skill and learn how to socialize again. It's good for everyone. It teaches everyone a lesson." With the additional employees, the Alto plant was able to get up to the volume needed within three weeks. It was a win-win.
One of their most exciting new markets is the aquatic therapy/medical division, developing swimwear and other accessories for children and adults. "Our suits are excellent for people going through rehab, for long- or short-term physical therapy, children with autism or who are paralyzed," she says. "Wearing our suits enables them to play and swim and brings tremendous confidence."
Currently Gilmer has 60 employees; the company is small but well-known and well-respected. Despite having to cut back on the marketing budget, their reputation enables them to sell to companies ranging from L.L. Bean and department stores to Walmart and through their own website at www.mypoolpal.com. "We can't grow as fast as we'd like," she says, "But this time, we're doing it right."