Political Notes: October 2012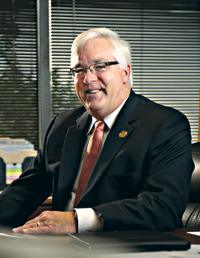 Chair Races: Cobb County Commission Chair Tim Lee defeated Bill Byrne in the August Republican primary runoff, guaranteeing himself another four years in office – there is no Democratic opposition in November. Byrne, a former Cobb chairman who held office from 1992 through 2002, hammered away at Lee for his support of the failed T-SPLOST referendum but ultimately lost, garnering 47.64 percent of the votes to Lee's 52.36 percent.
Incumbent chairs Eldrin Bell in Clayton and Elizabeth "B.J." Mathis in Henry, both T-SPLOST supporters, didn't fare so well in their runoff elections.
Veteran Democrat and one-time Atlanta Chief of Police Bell lost to former Clayton Sheriff Jeff Turner, earning 32.66 percent of the votes to Turner's 67.34 percent. Turner has no Republican opposition in the Novem-ber election.
In Henry County, the GOP's Mathis lost to Tommy Smith, a former mayor of Hampton, by a 41.54 percent to 58.46 percent margin. Smith faces Democrat Carlotta Harrell in November.
New Clayton Sheriff – Maybe: In a development that must have Alabamians and Mississippians grateful that there's a Georgia, Clayton County voters elected former sheriff Victor Hill to his old job. He defeated incumbent Kem Kimbrough with 53.68 percent of the votes. Trouble is, Hill is under indictment on some 37 felony counts, which could interfere with his plans to take office.
Should the cases not be settled by Inauguration Day next January, Gov. Nathan Deal is required by state law to step in and name a commission to determine whether or not Hill can reclaim his office and, if not, to name a new sheriff.
The Sound and the Fury: In one of the summer's noisiest races, Doug Collins, who had the endorsement of Gov. Nathan Deal, defeated fellow Republican Martha Zoller in the runoff for Georgia's new District 9 Congressional seat. He will face Democrat Jody Cooley in the Nov. 6 general election.
In District 12, Repub-lican Lee Anderson won a close race and will face Demoocratic incumbent Rep. John Barrow in November.
Charter Schools Amendment Foe: Georgia Schools Superintendent John Barge has come out against the proposed charter school amendment to the state constitution that will be on the November ballot. In opposing the amendment, which would ensure the state's authority to approve and fund charter schools, Barge breaks with fellow Republicans, including Gov. Nathan Deal.
Opponents of the amendment say it would divert public funds from traditional public schools and undermine local school boards' authority. Proponents believe the dollars would be well spent on state charter schools.
In a statement, Barge said, "I cannot support the creation of a new and costly state bureaucracy that takes away local control of schools and unnecessarily duplicates the good work being done by local districts, the Georgia Department of Education and the state Board of Education."
He estimates the restoration of the Georgia Charter Schools Commission and funding for the charter schools it authorizes would divert some $430 million annually from traditional public schools.
Barge indicated that he supports the concept of charter schools but not as authorized or funded by the proposed amendment.
The 3 Percent: A memo from Board of Regents Chancellor Hank Huckaby to University System of Georgia presidents, provosts and chief business officers gave notice that "effective immediately" all schools' budgets are reduced by 3 percent for the current Fiscal Year 2013 and the upcoming Fiscal Year 2014 to comply with the Governor's budget reduction instruction. The schools had been asked to submit budget plans that included the 3 percent reduction earlier in the year.
"Governor Deal's approach to the budget is to make state government more strategically focused and accountable for performance," Huckaby wrote. "The expectation is agencies will identify low-priority or under-performing programs and eliminate these programs and/or rethink service delivery. The Governor's instructions encourage targeted requests and reductions rather than broad, across-the-board reductions."