Art Of The Meal: Past Present
An old-school "American plan" inn, where everyone sits down for dinner at the same time. The quality and culinary skill displayed in the cooking is impressive.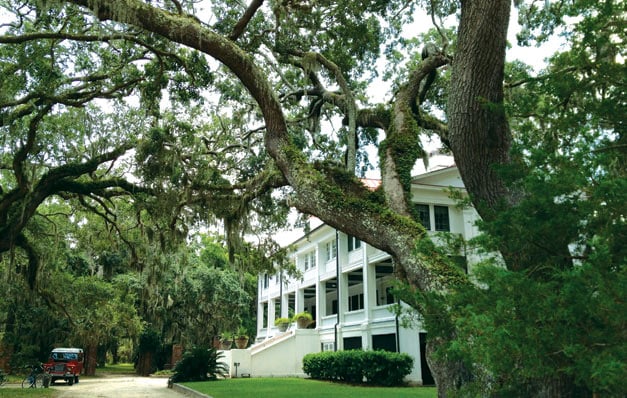 Greyfield Inn
Cumberland Island, Georgia
All meals included in the nightly rate; alcohol extra.
866.401.8581 or 904.261.6408
www.greyfieldinn.com
Dress Code: Daytime is very casual. At dinner, men are required to wear jackets and "comparable attire" is suggested for women.
You can start counting the reasons to go to Cumberland Island's Greyfield Inn from the time you board the little ferry, making the half-hour crossing from Florida's Amelia Island. Before you touch shore, you might catch a glimpse of wild horses among the twisted, moss-draped live oaks, or the chimney from Thomas Carnegie's ruined summer mansion, Dungeness. You might cross paths with a flock of wild turkeys as you make your way from the dock.
Greyfield, built in 1900, was once a Carnegie daughter's home and is the only inn on the island. (Primitive camping is permitted in the large national park.) As unique as its surroundings, the three-story structure with a wide, cool porch is a time capsule of original antiques, books, artwork, shells and ephemera. Lucy R. Ferguson, the Carnegie granddaughter who opened her mother's home to the public in 1962, peers from a living room oil portrait, dressed in the garb she preferred here – gypsy-style headscarf, peasant dress and huge knife in a scabbard at her waist. She and her husband loved the island's raw natural habitat, and from the time she first opened their home, she strove to incorporate both her family's sophisticated background and their devotion to this wilderness. As a result, Greyfield is a living example of the island's storied past.
With no wifi, TV or even reliable phone signal, you'll find yourself pulling old tomes from the inn's library and reading. You'll sprawl on the comfortable porch swing, under the constant buzz of hummingbirds fighting for the feeder. You'll bike to the gloriously unspoiled beach, and in warm weather, swim or fish in the surf. If it's cool, you can linger near one of several crackling fireplaces. In October, if you're lucky, you might get to do both. Slightly tanned or well-warmed, you'll dress for dinner. Dinner! Ah yes – another reason to go.
Greyfield's cuisine may not be its main attraction (and why would it be, with everything else beckoning?), but it is a big part of the fun. The food is very good, starting with a full Southern breakfast, then on to the cold picnic lunch (thick sandwiches on whole-grain bread with fresh salads, perfectly sized for your bike's wire basket), and a four-course dinner. The nightly tariff (ranging from $395-$595 per night) can be daunting, but includes all meals and snacks for two people. Alcohol is available, at extra cost, on the honor system.
Breakfasts and lunches are informal, but dinners are a little like those once served from the antique buffets: Gentlemen are required to wear jackets, and after mingling over hors d'oeuvres in the parlor, guests file to the candlelit dining room after a bell announces the dinner hour.
This is not a full-service resort, but an old-school "American plan" inn, where everyone sits down for dinner at the same time, to the same plate. (You may, of course, specify special dietary needs.) Given the challenges of cooking for so many differing palates with Greyfield's somewhat primitive kitchen and small staff, the quality and culinary skill displayed in the cooking at dinner is impressive – entrees include wild salmon, New York strip steak (served medium-rare) and old-fashioned fried chicken. I was also pleasantly surprised to find such dishes as tuna tartare; an appetizer of caramelized fresh corn, served with corn ice cream; and a cold avocado soup, dotted with microgreens and small pools of good olive oil.
Many ingredients (such as an appetizer of thin-sliced grilled eggplant wrapped around mozzarella, or the salad of heirloom grape tomatoes) come from Greyfield's own gardens or local fishermen. Others are high-quality imports, such as one night's appetizer of Humboldt Fog, Sweet Grass Dairy's Black Swan, Boucheron (goat) and Camembert cheeses, dotted with raspberries and candied pecans, with a tray of salami, prosciutto and Serrano ham. One dessert was an amusing play off malted milk balls – a crispy, deep chocolate Kit-Kat-like bar in a pool of malted milk chocolate.
At dinner, we've encountered South Georgia businesspeople, tourists from Europe, Asia and the Netherlands, Florida daytrippers, young honeymooners and couples who've made Cumberland a regular stop for decades. Children under 6 are not allowed at the inn, so the atmosphere is quiet. You may linger at the table for coffee and dessert, or take it upstairs to the parlor, or to the porch's rocking chairs, to listen to the insect and amphibian symphony.
If you need more reasons to go, count the stars.
Speaking of old-school South Georgia meals …
Pasture to Plate, the open-pavilion restaurant at the state's largest certified organic farm, White Oak Pastures, is now open to the public, serving lunch Monday-Friday, noon to 2 p.m. What was once a primitive spot for employee lunches is now an open-air restaurant serving the staff and anyone else who wants to visit the family farm, specializing in grass-fed beef, lamb and poultry, and sample the food. One chef's choice meal will be offered daily, much of it grown or raised at the farm. $10 includes beverage. 22775 Highway 27, Bluffton. 229.641.2081.