Art By Design
The Savannah College of Art and Design has helped rejuvenate Savannah. Its new museum continues that tradition.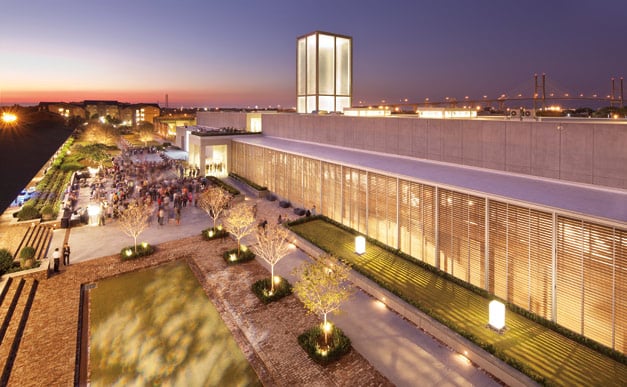 A giant lantern more than 80 feet tall sits on the corner of Martin Luther King Jr. Boulevard and Turner Street in Savannah. It is a beautiful sight at night, especially from Sidney Lanier Bridge as you are coming into the city. Certainly one of the largest light fixtures in the world, it shines as a symbol of illumination and the ability of design to reinvigorate communities throughout the city and the world.
Savannah College of Art and Design is a mini-city within a city, and one of the most beautiful cities in the world, at that. Savannah is home to other schools, but it was SCAD, which opened in 1978 and has expanded to include 65 buildings and three satellite campuses, 11,000 students and 700 faculty, that made Savannah into a college town.
The lantern both illuminates and represents a broader purpose for the newly expanded SCAD Museum of Art: to unite the historic city with modern concepts and simultaneously accommodate old structures and ideas.
The expansion added 65,000 square feet of exhibit and classroom space and rehabbed an area of the city that had fallen on hard times. The original 19th-century structure once housed the Central of Georgia Railway.
"The City of Savannah's partnership with SCAD is definitely one of the biggest assets for students," says Savannah native Nikita Carpenter, '12, who earned a BFA in film and television. "The availability of unique building spaces and the college's reach throughout the city makes the student experience dynamic. Residents, businesses and the local government put forth the effort to help SCAD and its students thrive."
"The SCAD experience cultivates more inquisitive minds, more creative thinking and more innovative solutions, all qualities sought by employers in today's global economy," says Paula Wallace, SCAD founder and president.
"The lantern concept was important," says Christian Sottile, AIA, Dean of SCAD School of Building Arts and lead architect for the project. The fixture matches the height of Kiah Hall, which was the first structure to be occupied by the museum in 1992. "We wanted it to be visible from the bridge and guide you into the city."
"Rebuilding" the depot wasn't an option; the ruins and scattered Savannah gray bricks adjacent to Kiah Hall represented little more than a sketchy walk for dorm students on the other side of the property.
"The expansion of the SCAD Museum, conceived by President Wallace, created a landmark opportunity for revitalization, as well as a dramatic rescue of this historic landmark," says Sottile, whose architecture firm, Sottile & Sottile, was part of a design team under Wallace and her husband Senior VP Glenn Wallace that also included Lord Aeck & Sargent, Dawson Architects, SCAD Design Group and SCAD Executive Director for Design and New Construction Martin Smith.
The catalyst for Wallace's vision came when SCAD was given a portion of one of the largest collections of African-American art and artifacts in the world from local resident Walter O. Evans. The gift gave SCAD an opportunity to improve the block with a collection that complemented "the historical significance of the district and its heritage," says Sottile.
The 82,000-square-foot museum incorporated the former headquarters of the Central of Georgia Railroad, the masonry ruins of the freight warehouse constructed in the mid 19th century, and hundreds of bricks forged by slaves that were scattered around the property and are now treated with historical reverence. "We have a monetary value for each brick – so every one is important," says Sottile.
The expanded museum stabilizes the west side of Savannah, making a former hot spot for criminal activity safer for students and residents with well-lighted, landscaped walking paths. "The residence halls in the historic west boundary were constructed before the museum among the remaining Savannah gray brick railway bridges of the Central of Georgia Railroad district," says Sottile. "The new museum courtyard creates a natural center and expansive greenspace for this historic district and connects the circulation paths from these residences into the heart of Savannah."
The museum also has a terrace and large outdoor projection space, a conservation studio, a cafe and an atrium. As in the SCAD-Atlanta campus, galleries and exhibits are spread throughout, integrating the students with visitors. A giant, 12-foot-long touchscreen in the lobby, designed by Pentagram, helps visitors navigate their experience and emphasizes the futuristic elements of SCAD's technology curriculum.
The Collection
In the first sampling from the Evans Collection presented in the museum, the bricks run through it, a metaphor inserted by "curating artist" Fred Wilson ("Life's Link: A Fred Wilson Installation Inspired by the Collections of Walter O. Evans) representing the divide between culture and life. His selections from Evans' collection include not just big names like Romare Bearden and Jacob Lawrence but snatches of historical posters and period photos to evoke the history of black people, not just black art. He has called it the "most poetic" of all his projects.
Isolde Brielmaier, chief curator of exhibitions for SCAD, emphasizes that this is black history presented in a new age of multicultural influence. Assigning Guatemalan Dario Escobar nearly equal space for new pieces ("Singular-Plural") that incorporate sports equipment could be perceived as a statement on the role of athletics in minority relations.
In a side gallery adjoining the two spaces, devoted to recipients of fashion arbiter and longtime Vogue contributing editor André Leon Talley's Lifetime Achievement Awards, mannequins are adorned with dresses designed by the 2012 honoree, couturier Ralph Rucci. This is a space for the future as well as the past.
Brielmaier has no intention of segregating black art within SCAD (other SCAD galleries have featured African Americans such as Trenton Doyle Hancock), and in this vein the museum should be seen as a system-wide collaboration of SCAD associates – alumni, board members, students and administrators – who have seen SCAD through a rise in its connections that reflect a growing multicultural and international presence.
Simultaneously, the museum and its exhibits are a celebration of its hometown and a vast improvement on one of its most neglected gateways. It is SCAD doing what it has learned to do best.
Environments
"The ethos of SCAD as an institution is to honor and engage the potential of the built environment, re-imagining building uses within their existing contexts," says Sottile. "This philosophy has extended to all SCAD locations, from a 20th-century landmark in Hong Kong to a medieval village in Lacoste. SCAD provides a living model of the power of place: a truly reciprocal, symbiotic relationship."
"In every SCAD community, our students develop a heightened awareness of their environment, thanks in large part to tailored curriculum, collaborative projects and cross-disciplinary courses," says Wallace. "Last spring, SCAD Hong Kong students in photography, historic preservation and graphic design worked together in such a course to produce a book chronicling the built environment and culture of Sham Shui Po, one of Hong Kong's oldest and most culturally significant districts. The resulting book, Tilting the Lens: Telling the Story of Sham Shui Po, is a celebration of the people, architectural heritage and ever-changing cityscape of Hong Kong."
"As an inaugural program in the SCAD School of Building Arts nearly 35 years ago, our Historic Preservation department has been a constant force in the evolution of SCAD's adaptive reuse ethos," says Sottile. "Today it is redefining the next generation of the discipline. With the addition of the SCAD Museum of Art, we are asking new questions about conservation, reclamation and the future of the past."
There's also the question about how a museum functions as a space. The Evans collection is vast, and combined with SCAD's Earle W. Newton Collection of British and American Art and SCAD's own permanent collection, which includes modern artists from Pablo Picasso to Carrie Mae Weems, artworks could have taken up nearly the entirety of the 82,000-square-foot museum.
Instead, says Sottile, "The museum adds a significant complement to the more than 65 historic buildings that make up the Savannah campus. For every square foot of exhibition space in the museum, there is a square foot of classroom space. Additionally, it extends learning resources to other SCAD locations worldwide through exhibition programming and event broadcasts from the 250-seat theater."
SCAD's success with historic preservation in Savannah has helped it establish campuses abroad. The Lacoste, France, campus opened when the Lacoste School of the Arts – founded in 1970 by American painter Bernard Pfriem – donated its historic buildings to SCAD in exchange for its investment in their renovation and restoration.
As in Savannah, SCAD went on to expand into other historic areas, and it has now also restored the Maison Basse, four 15th-century structures near campus formerly owned by the Marquis de Sade. The campus celebrates its 10th anniversary this month with the opening of the Maison Basse as art facilities for SCAD students – it's also open to the Lacoste community.
"The goal of SCAD is to nurture and cultivate the qualities of each student through challenging and relevant curriculum, in an inspiring environment, under the leadership of motivated professors," says Scott Linzey, vice president for enrollment management.
"At our four physical locations and online via eLearning," he says, "we give students the opportunity to prepare for their chosen field in a range of dynamic cultures, customs and business models, building personal and professional networks around the world and ultimately gaining a more global perspective on art, architecture and design."
The School
There is a lot more to the college than historic preservation and reuse. SCAD offers degrees in nearly 40 areas of study, as well as minors in nearly 60 disciplines. Its students frequently work closely with some of the more than 20,000 alumni in myriad professional capacities.
There is even a robust sports program: The SCAD Bees compete at the intercollegiate level in cross country, equestrian, golf, lacrosse, soccer, swimming, tennis, and track and field. The Bees sent 20 teams to NCAA postseason competition between 1996 and 2003, and during the 2001-2002 season, every SCAD athletics team logged a winning record. Cross Country Team Head Coach Avard Moncur recently competed – and won a gold medal – in the 4 x 400 meter relay for the Bahamas at the London Olympics.
The design element of the school attracts a broad spectrum of students and majors.
"SCAD's largest degree programs include graphic design, animation, illustration, fashion and photography," says Linzey. "Other areas experiencing sizable growth include design management, fashion marketing and management, industrial design, visual effects and sound design."
Students and faculty are no doubt seduced by SCAD annual events, such as the SCAD Fashion Show. A bit of a cross between Lifetime's Project Runway and The CW's America's Next Top Model (on which Talley was once a former host), this year's event featured designs by students along with those by Ralph Rucci.
SCAD is all about letting its students rub elbows with professionals. Le Galerie Pfriem in Lacoste presented "Streaming Spirits: New Prints by Valerie Hammond and Kiki Smith" this summer; the prints were all made at SCAD-Atlanta, according to SCAD Master Printer and SCAD Atlanta Printmaking Chair Robert Brown – another in-house project that gives students a glimpse at the professional world.
Such programs must be flexible for design and creative students, says Linzey. The students who designed clothes for SCAD's fashion show represented a broad variety of majors and departments. "Many of our students elect to pursue multiple majors and minors, and our degree program offerings must expand in step with our students' diverse interests, as well as the demands of the industries our students are preparing to join," he says.
"Service design, a program launched just three years ago, is a prime example of SCAD's academic program development. Across a wide range of sectors including retail, healthcare, military, finance, transportation and entertainment and media, strategic-level design of service systems and experiences is critical to today's consumers," says Linzey. "In 2009, SCAD became the first university in the nation to offer both B.F.A. and M.F.A. degrees in service design. To date, graduates from this program have a 100 percent employment rate upon graduation, with starting salaries averaging more than $70,000 in the industry."
This month's Savannah Film Festival is a significant annual event, at which many award-winning studio films (such as last year's The Artist) are screened before their release date. Each year honored guests such as Jane Fonda and Michael Douglas arrive to sprinkle stardust on the city. The school says nearly every department benefits from the festival experience, which draws an average of 40,000 attendees. It is a major perk for students.
"The film festival the college puts on is probably the most unique out of any festival hosted by a college and is a networking extravaganza," says Carpenter, the recent graduate. "It's incredible. It's humbling. It's surreal."
"Nearly a third of our Savannah and Atlanta students [are] pursuing degrees in film, television and the digital and performing arts," says Peter Weishar, Dean of the SCAD School of Entertainment Arts. "The SCAD faculty who motivate and inspire these students are highly experienced and credentialed industry professionals, with over 350 feature films, three Oscars and eight Emmy awards to their credit."
The meteoric trajectory of Georgia's film industry, abetted by tax credits, can also be partially credited to SCAD, says Weishar. "Through our academic programs and signature events, SCAD has brought an influx of high-quality talent to Georgia, bolstering our state's creative infrastructure and attracting production companies from around the world. In the past year alone, Savannah and CBGB have been filmed here in Savannah, with each production employing more than 30 SCAD graduates, current students, faculty or staff."
SCAD also produces highly specialized animators who have fed Georgia's gaming industry. To that end, the school has established the Game Developers eXchange (GDX), an annual event in May for gamers and professionals. This year featured keynote speaker Dave Inscore, art director at Zynga East, the creators of FrontierVille and presentations on the future of social gaming. Other participants included Jeremy Ernst of Epic Games and Joe Maris from Microsoft.
"From the Savannah Film Festival to other signature events like the GDX, the environment at SCAD nurtures a crucial dialogue between current industry leaders and the next generation of talented students preparing to join them," says Wallace.
"Since our founding more than three decades ago, SCAD has been a pioneer in intuitively anticipating the shifting needs and interests of students and industry alike," she says. "To be adaptable in today's high-speed creative economy is a cornerstone of the SCAD educational model."