Sports Legends: Coach For Life
Jack Fligg taught his Grady High players more than just football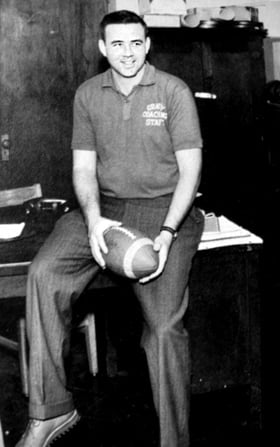 Jack Carlisle Fligg had many honors during his 60-year football coaching career, but none compare to the one he received last May when some 30 of his former Grady High School players paid him a surprise visit and brought him new Grady Grey Knight headgear.
Stricken with cancer and weakened by chemotherapy, radiation and surgery, he was moved by the tribute. "I don't know where I will be tomorrow," he told me, "but I will remember this as long as I live."
Fligg has faced and conquered tough challenges before and never backed off. He went to Grady in Atlanta as head coach in 1958, taking over from the legendary Erskine (Erk) Russell.
Following in the footsteps of a giant, Fligg be-came Region 3-AAA coach of the year and was named Athletic Director of the Year.
From Grady, he went on to become an assistant coach at Georgia Tech, Alabama, West Virginia and Kentucky. He coached a total of 400 games, but he says the ones that were most meaningful to him were at Grady, where his win-loss-tie record was 38-14-8.
It was not so much the wins at Grady that the visit and helmet presentation to Fligg were all about. It was about the Grady players' love and appreciation for what he did for them.
Here is what some of his former players at the presentation said about coach Fligg.
Norman Greenberg: "He was like a second father. He preached that the word 'cannot' is not in our vocabulary because you can. Never give up. Most of all he was there for us. He wanted us to be men as much as he wanted us to win. He encouraged us to encourage our teammates."
James C. Howard, star running back on the 1959 Grady team: "It was not so much X's and O's as it was making us adults – teaching us to take responsibility. Coach got the maximum out of a bunch of average athletes." For three seasons, Howard would play football on Friday nights. He would not get home until 11 or 11:30, but at 6 the next morning he would be out front of his house waiting for his ride to his Satur-day job. "Winning was important, Coach told us, but acting like adults was more important."
Larry Entrekin: "Coach told us the importance of being organized. Our practices were broken down into 15-minute segments, and we would then hustle off to the next drill. We would go from a tackling drill to a blocking drill, to a pass rush and then to a pass protection, and that is the way it went for two hours. There was no standing around; we were always moving. I never remember coach ever belittling a player. Coach always said that if we never quit, that if we kept giving 100 percent on every play, the opposing team would tire in the fourth quarter and we would go on and win the game. That statement has stuck with me all my life."
Lane Wolbe: "The closeness and caring he showed us as players, the example he set and the demands he placed on us helped us be-come men. When he moved on to the University of South Carolina, he recruited Heis-man Trophy winner George Rodgers, but nothing has endured more than the relationship he had with his Grady High players."
Matt Fligg, his son and head football coach at Monroe Area High School, who was born one week before his dad's first game at Grady: "From the time I can first remember, I wanted to be like my dad. I started imitating him on every thing he did. My father was my idol. I was going to be a football coach, just like my dad."
And from his wife, Jonell: "Jack was a football coach when we married back in 1954. I knew from the start of the demands and long hours, but the upside is that our whole family was a team. For seven years at Grady, we never missed a game. When the kids were small and the weather was freezing, we watched and cheered from our automobile, parked right next to the Grady Stadium."
Editor's Note: Jack Carlisle Fligg died Aug. 11 at his home, according to The Atlanta Journal-Constitution.