Political Notes: September 2012
ups, downs and in-betweens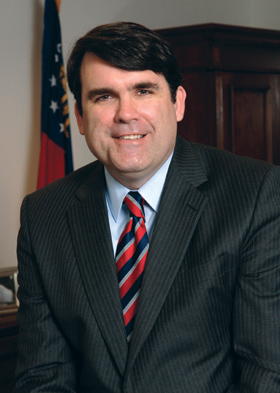 On To Plan B: Even as TSPLOST supporters were coming to grips with defeat and opponents were celebrating victory in the hours and days after the statewide referendum that sank the penny transportation sales tax in nine of 12 regions of the state, there was talk of what the next step would be. About the only thing both sides agreed upon during the campaign was that "something" had to be done about traffic and transportation; now they are trying to determine what that will be.
The TSPLOST passed in the Central Savannah River Area District, which includes Augusta; the River Valley District, which includes Columbus and Americus; and the Heart of Georgia Altamaha District, which takes in Dublin.
It was defeated handily in the Atlanta Regional District with 62.4 percent voting no and 37.6 percent voting yes. The defeat came in spite of a nearly $8-million campaign funded by the business community and support from the likes of Republican Gov. Nathan Deal and Democrat Atlanta Mayor Kasim Reed.
Voters in the Georgia Mountains District, in and around Gainesville, gave the measure its worst defeat – 75 percent of voters against it and only 25 percent for it.
Eaton vs. Oppenheimer: Incumbent Repub-lican Public Service Com-missioner Chuck Eaton survived a primary challenge by fellow Republican Matt Reid and will face Democrat Stephen Oppenheimer in November. He is the only PSC member who has general election opposition.
Victory for Ethics Reform: Republican and Democratic voters made it crystal clear they want to derail the gift-giving gravy train that runs from lobbyists to lawmakers. Each party's primary ballot included an ethics question. The Democrats asked, "Do you support ending the current practice permitting unlimited gifts from lobbyists to state legislators?" and got a yes from 72.6 percent of their voters. Republicans asked, "Do you support ending the current practice of unlimited gifts to state legislators by imposing a $100 cap on such gifts?" and got a yes from 87.2 percent of their voters.
Now it's up to state lawmakers to follow through in the 2013 session.
City Lights: Voters in northern DeKalb County approved a new City of Brookhaven, with 54.6 percent voting yes and 45.3 percent saying no. The outcome is a victory for Republican Rep. Mike Jacobs, who championed cityhood. He faces Democrat Sandy Murray in the November general election.
Voted Out, Voted In: Rep. Steve Davis (R-McDon-ough), first elected in 2004, lost to challenger Dale Rutledge in the Republican primary. Davis, one of the statehouse's most conservative legislators, pulled 34.6 percent of the vote to Rutledge's 65.4 percent. Rutledge has no Democratic opposition in the November general election.
In a race between two Atlanta Democratic incumbents redistricted into a primary election fight, Rep. Pat Gardner defeated Rep. Rashad Taylor, winning 62.7 percent of the vote to Taylor's 37.2 percent. She has no Republican opposition in November.
Incumbent Rep. Doug McKillip, a Demo-crat-turned-Republican from Athens, lost a super-close race to fellow Republican Regina Quick in the summer primary, likely helped by some "crossover" voters. McKillip successfully sponsored the so-called "fetal pain bill" in the last session, which prohibits abortions after 20 weeks rather than 26, which had been the limit. Quick has no Democratic challenger in November.
Former State Sen. Jeff Chapman, a Republican from Brunswick, is headed back to the Gold Dome in January, but this time as a state representative. He defeated John Tuten in the Republican primary and has no Democratic opponent in the general election. Chapman created a stir when he criticized development plans for Jekyll Island involving Linger Longer Communities, plans that were ultimately curtailed.
Heading Mayors' Group: Norcross Mayor Bucky Johnson is the new chair of the Metro Atlanta Mayors Associa-tion – MAMA for short – which in-cludes mayors of 68 cities from 10 Atlanta area counties. Johnson succeeds Johns Creek Mayor Mike Bodker, who became the Georgia Municipal Association's third vice chair in June.
Togetherness: Voters in Macon and Bibb County said yes to a consolidation plan that will take effect in 2014.