Honoring Ethical Leadership
Columbus businessman Bill Turner is tapped for the Blanchard Award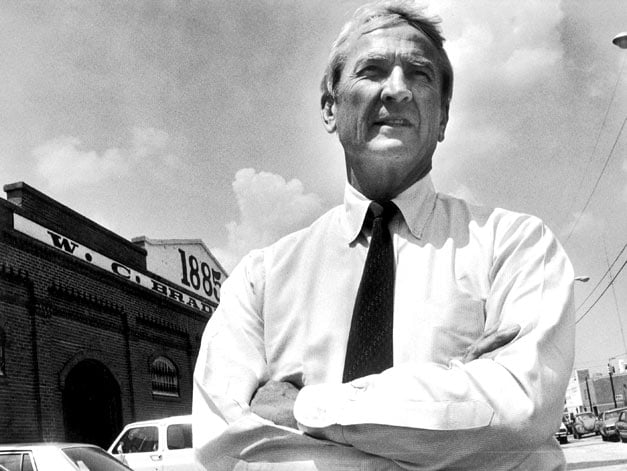 In 1998, Synovus Financial Services Corporation, the Columbus-based company where William "Bill" Turner served as Chairman of the Executive Committee, was named the "Best Place to Work in America" by Forbes. A reporter from the magazine interviewed him, wanting to know the secret to the company's success. "I told her the same thing I've told everyone, 'love,'" recalls Turner. "She asked me to give her a business term for it. I said, 'Lady, it's love.'"
To some, his answer might sound simplistic, but Turner has the results to back it up. He led some of Georgia's most successful companies, including Columbus Bank & Trust, which later became the lead bank in Synovus, and the W.C. Bradley Company. Founded by his grandfather in 1885, the W.C. Bradley Company is a privately owned, multi-brand supplier of consumer goods including Char-Broil (grills), Zebco Brands (rods and reels), and Lamplight Farms (indoor/outdoor lighting).
Through business and personal involvement, Turner has made a profound and lasting impact on the state. He had a lead role in developing the practice of servant leadership and turning Columbus into a hub for the philosophy, founding the Center for Servant Leadership in 1999. Turner sat on the board of directors of Coca-Cola from 1980 to 1996, a pivotal time of profit and transition as the company passed from Robert Woodruff's leadership to Roberto Goizueta's.
Appointed by former governor Joe Frank Harris, Turner served on the Board of Regents of the University System of Georgia from 1986 until 1995. He was also a trustee of Emory University and was instrumental in bringing the women's softball competition of the 1996 Olympic Games to Col-umbus. He even threw out the first pitch of the games. His family's Bradley-Turner Foundation is one of the top 15 private foundations in Georgia.
With such a legacy, it's fitting that Turner was selected as the 2012 recipient of The Blanchard Award for Outstanding Stewardship and Ethics in Business. The award, established in 2009, was named after its first recipient and Turner protégé, James H. Blanchard, former chairman and CEO of Synovus.
Originators of the Blanchard Award include Margaret DeFrancisco, president and CEO of the Georgia Lottery Corporation; Phil Jacobs, principal, The Pendleton Consulting Group; Chris Clark, president and CEO, Georgia Chamber; Paul Voss, Ph.D., founder and president, Ethikos; T. Rogers Wade, chairman, Georgia Public Policy Foundation; Joseph M.A. Ledlie, president, The Ledlie Group; and Neely Young, publisher of Georgia Trend magazine.
Helping Others
"When we hit the depth of the Great Recession, a few of us were talking about the fact that the only thing in the news were the horrible people who had ripped off their clients and had done seriously un-ethical things in business," De-Francisco says. "You weren't hearing about people who all day, every day operate their businesses with the utmost integrity. We thought creating an award would recognize that and perhaps counteract the other news." This year's award was scheduled to be presented on August 27, at the James Blanchard Leadership Forum in Columbus.
"They're going to be singing the praises of this choice everywhere Bill Turner has been serving for all these years," says Blanchard. "That includes the Board of Regents and Emory University, Coca-Cola, Syn-ovus and his Sunday school class at St. Luke United Methodist Church. And that's just a partial list. Everywhere the song is going to be the same because Bill Turner is the same wherever he goes. His talk has never varied from his walk."
Turner's reach went far beyond the business realm. He taught a senior high Sunday school class for more than 50 years, making himself available, any time, to listen to the concerns of the young people he taught. Though his initial reason for teaching the class was self-serving – he thought it would look good on his resume – Turner calls the experience transformative. "I got so much out of it. I still have 'kids' who come by to see me," he says. "I don't try to solve their problems. I just listen and try to lead them to the basics. All people are fighting battles."
Teaching the class was preparation for his full embrace of servant leadership in business, something he'd seen modeled for decades by his grandfather and father as they guided the family businesses through good and bad times. "I didn't invent servant leadership," says Turner. "I inherited it. When I started reading and preaching it, I thought, 'Man, my family has been doing that for years.' I just added a few wrinkles to it." One of the most significant wrinkles Turner added, in addition to profit sharing for all employees, was the Employee Assistance Plan (EAP) and creation of the Pastoral Institute (PI), a counseling center.
"When I took over [W.C. Bradley Co.] as CEO, I wanted everyone to love me; firing people wasn't something I liked to do," he says. "But if they weren't performing, that was my only option." His solution was to hire Susan Wiggins to become vice president of stakeholder relations and to start the EAP and PI. Turner recalls, "If someone wasn't doing the job I could say, 'Here's your record. You have two choices. You can go to the Pastoral Institute, and let's find out what's going on. I don't want to get mixed up in your personal life, but you need to straighten out whatever it is. Or you can lose your job.'"
Solid Results
It's tough love, but it's a program that works, says Wiggins. "Faced with losing their livelihood, most people will take this opportunity to try to hold onto their job," Wiggins says. "But the other way it can be used is personally. We pay for it, but your visit is kept completely confidential. We get a bill for it, but we don't know [why] you went."
To the charge that such a concept is "paternalistic," Turner replies, "It may or may not be, but I care about the people who work here. We're doing it because it's the right thing to do. I think I've been able to help people find what they really want to do. Some people were in the wrong slot. The employee makes their own choice about their personal life and personal development."
More than 140 organizations, businesses and churches in Columbus avail themselves of the PI; more than 90,000 people are directly affected by the services offered. "Of all the things Mr. Turner has done, the EAP and PI might be the most significant," says Wiggins. "It's affected so many lives and families."
In receiving the Blanchard Award, Turner gets to affect yet another life. The award comes with a $25,000 scholarship that is presented to a graduate student chosen by the recipient of the award. It is the perfect way to honor a man who lives to give.
"His hand has been involved in almost every good thing that happened to our city," says Stephen T. Butler, Turner's nephew and chairman of the board at W.C. Bradley Co. "And yet he has always given credit to others." That goes back to Turner's favorite four-letter