Georgia Gold
Three companies with staying power.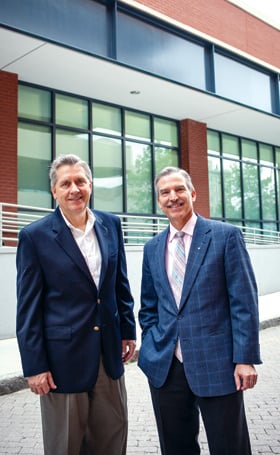 This month we introduce readers to three more Georgia businesses that have been around for 50 years or more: Stevens & Wilkinson, an architectural, engineering and interior design firm in downtown Atlanta; Hatcher, Stubbs, Land, Hollis, & Rothschild, LLP, a 140-year-old law firm in Columbus; and Tanner Health System in Carrollton.
Stevens & Wilkinson
Atlanta
Drafting tables and T-squares have given way to computer screens and Building Information Modeling (BIM) software creating realistic three-dimensional drawings, but one thing has remained constant at Stevens & Wilkinson – its location. Founded in 1919, the architectural, engineering and interior design (AEI) firm made a deliberate decision to remain in the Fairlie-Poplar Historic District of downtown Atlanta.
"The founders and those who came after them loved the city and felt a civic obligation to remain downtown," says Lee Morris, executive vice president and general counsel to the firm. "A lot of other companies left. There were some lonely times in the 1970s."
Originally named Burge & Stevens after founders Preston Stevens and his Georgia Tech classmate and World War I buddy, Flippen D. 'Flip' Burge, the firm has been responsible for the design of hundreds of projects in Atlanta and the southeast including Georgia Baptist Hospital, Tower Place and the nation's first housing project, Techwood Homes, which became a model for public housing. They introduced contemporary architecture to Atlanta, a prime example being E. Rivers Elementary School built in 1949.
In 1940 James "Jimmy" Wilkinson, a licensed engineer, joined the company, making Burge & Stevens one of the country's first combined architectural and engineering firms. The firm became known as Stevens & Wilkinson in 1947, a year after Burge's death. Some of Atlanta's most successful architects, including John Portman, cut their teeth at Stevens & Wilkinson.
The firm enlarged its footprint, opening an office in Columbia, S.C., in 1978. Between the two locations, there are approximately 95 employees, and the company is run by seven principals, three in Atlanta and four in Columbia. It is routinely ranked in the top 15 AEI firms in the region, generating $13.5 million dollars in gross revenue in 2011.
"We're an older practice, but we've been early adopters of technology from the very beginning," says Bill Clark, one of the firm's principals. "We were one of the first to adopt CAD [computer-aided design and drafting] and were early adopters to BIM, taking the tools we have, technology-wise, to the next level. It's good for our clients but it's really a tool for us, helping us become more efficient and more creative while giving us the opportunity to share with the client very early on in the process what a building might look like three dimensionally."
Stevens & Wilkinson earned an award-winning reputation for transforming areas of urban "desert" into oases. "It's gratifying," says principal Ron Stang, "Even if you're just taking a parking lot and putting a building on it or taking an empty building and bringing it back to life." The principals are enthusiastic proponents of historic preservation and adaptive reuse. "The 'greenest' thing we can do is to save an old building," says Clark.
Case in point: the historic Winecoff Hotel on Peachtree Street. "It sat vacant for 20-plus years, and it's now the Ellis Hotel," says Stang, who oversaw the pro-ject. "Now it has a farm-to-table restaurant with a balcony over Peachtree." – PR
Hatcher, Stubbs, Land, Hollis, & Rothschild, LLP
Columbus
In 1872, a young man returned to his hometown of Columbus – law degree from the University of Virginia in hand. He hung out his shingle above a store on Broad Street and waited for his first clients.
In time they came, and 140 years later they continue to come. The man was Samuel Bass Hatcher, and the law practice he started – now Hatcher, Stubbs, Land, Hollis, & Rothschild, LLP – is among the oldest and most highly regarded firms in the state.
From its earliest years, Hatcher Stubbs represented a number of Columbus's leading businesses and public institutions, including the Merchants' and Mechanics' Bank, of which members served as president and vice-president, says John M. Sheftall, a partner and unofficial historian for the firm.
The Columbus public school board was founded by John Peabody, an early partner at Hatcher Stubbs and long-serving president of the board. The firm also represented Eagle and Phenix Manufacturing Company, Central of Georgia Railway, Columbus Fertilizer Co., Muscogee Ice Co., Col-umbus Iron Works, Tom's Foods, Inc., Royal Crown Cola, First National Bank and other leading businesses in the community.
Today, Hatcher Stubbs is located in the Corporate Center, where it has been for more than 50 years, and its 18 lawyers – "big by Columbus standards," says Sheftall – serve clients throughout Georgia and Alabama with a broad range of sophisticated legal services in the areas of litigation, corporate real estate and trusts and estates. "Within our litigation group, we have very strong practices in the employment law area and also in the medical malpractice area," says Sheftall. "We do a lot of medical malpractice defense work."
Hatcher Stubbs is organized into specialized practice groups that allow the firm to draw on lawyers' specific knowledge and skills, says Sheftall. Members of the firm are consistently recognized for excellence in their specialty areas. "Three of us are fellows of the American College of Trust and Estate Counsel, the leading group in the area of trust and estates law; three are fellows of the American College of Tax Counsel and American College of Employee Benefits Counsel," he says. "Those groups are sort of the ultimate achievement from the standpoint of recognition by your peers. You have to be invited to join those groups, and they are very selective and restrictive. That is an indication of the quality of our attorneys in those particular areas."
Managing partner Charles T. (Chuck) Staples has seen a lot of growth – of Columbus and the firm – since he joined Hatcher Stubbs right out of law school in 1971. "I just think we have been very fortunate through the years to have good people, both lawyers and staff, and good clients," he says. "It has been a good place to be involved."
As the firm celebrates 140 years, the attorneys are optimistic, says Sheftall. "We are bullish on the future." – MAD
Tanner Health System
Carrollton
In 1943, when many of Carrollton's roads were still unpaved, emergency surgeries were often performed on kitchen tables and the only ambulance in town was a hearse, Carrollton businessman C.M. Tanner offered his community a challenge. He would put up $75,000 – a huge sum at the time – to build a hospital if the community would match or raise additional funds.
More than 70 local organizations accepted the challenge. Area school children contributed pennies and nickels, and a Hill-Burton grant provided federal funding. With the further support of Roy Richards, the first chairman of the City-County Hospital Authority and founder of Southwire, the area's largest employer, who wanted to ensure his employees had access to good healthcare, Tanner Memorial Hospital opened in November 1949. Its first patient was an expectant mother, who delivered shortly after midnight November 7.
In the years since, tens of thousands of babies have been born at Tanner, and what was originally a small community hospital has grown into a four-hospital healthcare system serving a 10-county region and providing services that rival those of much larger metropolitan medical centers.
"When we are recruiting physicians, I think they come thinking we are going to be a rural facility, but are surprised about what we offer," says Loy Howard, president and CEO of Tanner Health System. "We are a state-of-the-art healthcare facility taking care of very complex cases."
The system's offerings include the Roy Richards, Sr. Cancer Center (originally the Tanner Radiation Center) established in 1988; the Tanner Heart and Vascular Center, which opened in 2008 and recently celebrated the 2,000th heart saved through its angioplasty and stint program; and Willowbrooke at Tanner, a 52-bed inpatient behavioral health facility opened in 2009.
Despite an economic climate that has forced the closing of many hospitals, Tanner continues to grow, says Howard. A $61-million expansion scheduled to open in August includes a 40-bed, 32,000-square-foot emergency department with dedicated diagnostic imaging, four new surgical suites and a new short-stay area for outpatient surgery.
One of the largest economic engines in the region, providing a total of 5,000 direct and indirect jobs, Tanner manages to maintain a hometown feel and for many holds memories of simpler times, says Howard. He recalls one patient who told him that her father planted the old oak trees that stand in front of the hospitals. Tanner board chairman John H. Burson, M.D., remembers having a paper route as a boy along the street where the main hospital now stands.
As the fifth administrator of Tanner, Howard has seen significant changes and progress since he arrived here in 1994, and it is his mission to see that progress continues. "To survive 50-plus years, for us to survive 100 years, we have work hard to stay progressive," he says. "We have to be sure we are working to meet our patients' – our customers' – needs. We work hard on that every day." – MAD