Dalton/Whitfield County: Rethinking And Retooling
An emphasis on diversification and education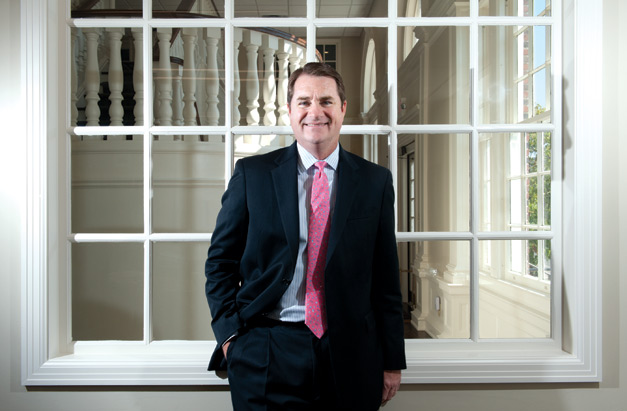 In Dalton and Whitfield County, they are going through the "big reset."
This Northwest Georgia community, bisected by Interstate 75, has long been proclaimed the "Carpet Capital of the World" in honor of the industry that has dominated the region for decades. The dangers of being a one-industry town became all too apparent when the housing market collapsed and the soaring demand for carpets and floor coverings dried up. Being an industrial capital didn't seem like such an honor once all those jobs started to disappear along with the markets that feed them.
"We had the building bubble burst, and it affected all sorts of building replacements, new home sales and all that," observes County Commission Chairman Mike Babb. "That affected carpet mills, which affects us tremendously – not just in Whitfield County, but all of northwest Georgia."
After acknowledging just how bad things got, Babb likes to invoke the Mark Twain quote about reports of his death being greatly exaggerated. It's true the county has taken a beating, but Whitfield still stands as one of the largest centers of manufacturing in the state even after job numbers fell from 67,000 to 60,000, according to Babb.
"We still are the capital of the carpet industry for Ameri-ca," says Dalton Mayor David Pennington. "People need to realize that even at our nadir, we're still a jobs engine for all of northwest Georgia even during this housing depression that we're in."
Even as they acknowledge the continuing role of the carpet industry, local officials realize that things have changed – probably forever. The goal now is diversity rather than reliance on a single industry. The emphasis is on aggressively seeking out companies that can offer good-paying jobs, while also fitting into the impressive infrastructure Whitfield County has built so well over the years.
"You do that by retooling and putting some innovation into how you do economic development," says Brian Anderson, president and CEO of the Greater Dalton Chamber of Com-merce. "I don't think any of us knew just how different we would have to be. That sounds bad if you don't like change, but it's good if you can leverage these opportunities to do things differently."
New Technology
After years of economic growth tied to weaving carpet, local leaders looked closely at how this industry has reacted to economic turmoil. When orders fell, as the industry knew they would eventually, plants invested heavily in technology that dramatically changed the way products were made. Weaving gave way to an extrusion process that required fewer but more highly skilled and compensated workers.
"The new technology has actually been a positive thing for the industry," says John Wells, chairman of the Carpet and Rug Institute, an industry trade group. "It has allowed the industry to thrive. Some of the technology is really in material changes. Certain yarns and fibers that had been dyed are now dyed in a pre-fiber or chemical state so it eliminates the [separate] dyeing pro-cess. Technology has also sped up the process and allows carpet to meet [demands from] more parts of the marketplace."
The industry as a whole has also become much more environmentally conscious.
Dalton has benefited from carpet and floor covering being "one of the few large-scale manufacturing industries that remains predominately in the United States," adds Wells, who is also president and CEO of Interface Ameri-cas. "I think the technological advances have helped that."
Carpet isn't going away, but in order to reclaim at least some of those lost jobs the county must attract new kinds of industries. That will take work and preparation.
Some of those new companies will be locating in a new industrial park just two exits south of Dalton on I-75. It is one of just 17 Georgia Ready for Accelerated Development (GRAD) sites in the state, and economic developers are seeking to capture the overflow growth from Chattanooga's VW plant, which opened in 2011, by focusing on distribution for automotive suppliers along with chemical, plastics and even high-end retail projects. The 184-acre Carbondale Business Park has already secured XL Brands, which purchased a 16.3-acre site to expand its production and shipping capabilities with a 122,000-square-foot facility.
IVC, a Belgium-based vinyl company, also selected Dalton for its North American headquarters – a $75-million investment that has brought 115 new jobs to the area.
"Diversity has really been our focus as far as business recruitment," says Elyse Cochran, executive director of Dalton-Whitfield County Joint Development Authority. "In the last four years, more than half of our vacant industrial warehouse space has been filled. Much of that is existing industries that are growing and have taken a lot of that vacant space."
But that doesn't mean Dalton is looking for any and all comers. The emphasis is on being selective within the industrial categories economic developers are targeting. While the area has infrastructure, water and workers, it lacks large tracts of land to accommodate massive operations.
"We don't have 1,000-acre tracts," says Anderson. "We want more jobs and capital per acre than probably anywhere else in the state."
Workforce Education
A critical aspect of attracting those jobs is being able to offer a trained workforce that is comfortable with modern – and often high-tech – industrial processes. Education is one area where county leaders acknowledge they have some catching up to do.
"You're in a state that has a poorly educated workforce, and we're in a community that's worse than the state," says Pennington.
"If we don't turn that around, our community and our state don't have much of a future."
That realization recently prompted county, city and school system leaders to formally announce their support for a community-wide literacy initiative. The program aims to ensure that all children are reading at grade level or better by the third grade.
"Children's learning starts four years before they even start school, explains Pennington. "So the community needs to be behind helping these kids from zero to four years old."
Local officials say only 45 percent of students who read below level by third-grade finish high school within five years compared to more than 60 percent who read at grade level and nearly 80 percent who read above grade level. The city and county school systems pledged to deploy the Literacy Collab-orative program, which uses intensive programs to help students develop strong reading and writing skills. Whitfield County Schools will invest $800,000 to begin the program in its six elementary schools with the highest poverty levels.
These developments are part of a larger effort by educators to ensure that local schools are turning out graduates who can offer local industry the skills they require for employment. Dalton High School overhauled its manufacturing career path. Classes will eventually concentrate more heavily on robotics and other high-tech skill sets. The hope is that this training will be a better path to a job and entice students to stick around.
"A bad economy makes it less appealing for someone to drop out," says Anderson. As a result, graduate rates are rising even under a new, more restrictive formula, he adds.
Although Whitfield has one of the highest unemployment rates in the state, there are still jobs going unfilled. Local chemical plants regularly have between 50 to 100 available positions, from chemists to technicians, which are finding few qualified takers.
Dalton also got some welcome news when Georgia Northwestern Technical College decided to open a local campus as well. The school will offer a wide range of technical career tracks such as electronics and industrial systems that will supplement Dalton State College's medical career programs.
"It's really hard to fill roles in electronics, megatronics and mechanical jobs," says Anderson. "These are guys who work on, repair and install machinery. They're not there."
Retail Uptick
Whitfield's position as a jobs center has also contributed to a recent upsurge in retail sales. People commute to Dalton from throughout the region, and increasingly they're shopping before going home. Prices are more attractive here due to a sales tax that dropped to one of the lowest in the South last January, according to Pennington.
"We're at a nickel when all the surrounding counties are at seven cents, and Chattanooga and Cleveland are at nine and a quarter," he explains. By going from seven to five cents, the county was able to put almost $35 million back into the local economy, he adds.
There are also more retail businesses being started in Dalton, although most were on the drawing board prior to the reduction in the sales tax. Stimulating the economy is likely to make opening more businesses a little easier.
Tourism has become another growth engine for the region recently. The hotel/motel tax hit a record in 2010 and then climbed another 11 percent the following year. Through the first half of 2012, revenues were running 16 percent ahead of 2011. A big part of those numbers are coming from sporting events such as the Georgia Police and Fire Games, Georgia Special Olympics, Bicycle Ride Across Georgia (BRAG), softball and tennis tournaments, and a host of other events, according to Brett Huske, executive director of the Dalton Area Convention and Visitors Bureau.
Sports events brought an economic impact of $6 million to the local economy, compared to $3.2 million for group meetings – the two sectors that can be readily tracked by the CVB.
"Our success has been a combination of marketing those existing events and then bringing a number of new ones on," he explains.
While Dalton still has its share of empty storefronts, there are now many more empty office spaces than retail. There's even a doughnut shop run by a Cambodian family open just a block off the main drag.
Recently, the chamber moved its office from a location on the interstate into the historic post office. They were joined there by the Carpet and Rug Institute.
In October, the downtown rolled out its long-awaited public art in the form of colorful peacock statues. "Peacocks on Parade" is modeled after the brightly painted cows of Chicago, according to Veronica French, director of the Down-town Dalton Development Authority.
The choice of peacocks harkens back to the city's early fame as a maker of high-quality chenille bedspreads. Be-ginning in the 1920s, old U.S. Highway 41 was the major automobile route from Chattanooga to Atlanta, running through downtown Dalton. Travelers would see these colorful homemade bedspreads hanging in the front yards of homes to entice buyers all along the roadway. Many had a familiar peacock design, and it is that history the statues are meant to honor, according to French.
Dalton's historic downtown has un-dergone revitalization over the past few years. More businesses are moving in, and there's even something of a nightlife.
"There's been a big increase in the past year," says French. "It's very not-able in the evening because before, after 5 there wasn't a whole lot going on. Now you see people walking. They'll have dinner at one of the wood-fired pizza places and then walk down Hamilton to get dessert at The Sweet Spot. There are a lot of families coming downtown now."
Community Snapshot
Local Leaders
Brian Anderson
President & CEO
Greater Dalton Chamber of Commerce
706.278.7373
anderson@daltonchamber.org
Mike Babb
Chairman
Whitfield County Board of Commissioners
706.275.7500
mbabb@whitfieldcountyga.com
Elyse Cochran
Executive Director
Dalton-Whitfield County Joint Development Authority
706.278.7373, ext. 114
cochran@daltonchamber.org
Population (2010 estimate)
County, 102,599
Dalton, 33,128
Per Capita Income (2010)
County, $24,515
Georgia, $34,179
Unemployment (May 2012)
County, 11.1 percent
Georgia, 8.9 percent
Top Employers
Shaw Industries, Mohawk Industries, Beaulieu Group, Whitfield County Schools, Hamilton Health Care System, Tandus Flooring
Sources
Greater Dalton Chamber of Commerce, Georgia Department of Labor, U.S. Census Bureau