Art Of The Meal: It Takes A Village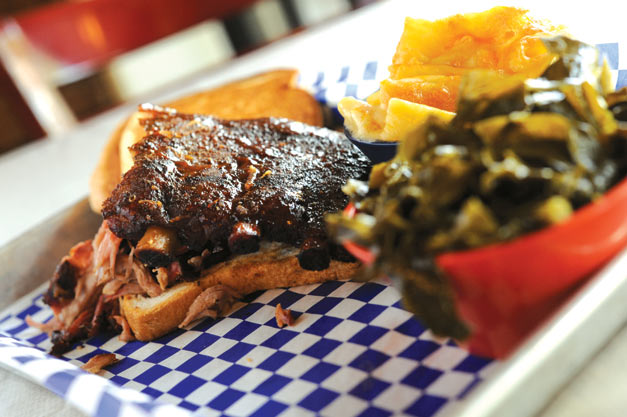 Community Q BBQ
1361 Clairmont Road, Decatur
404.633.2080 or www.communityqbbq.com
Hours: Lunch and dinner daily
(closing at 7 p.m. Sundays; 8:30 weekdays and 9:30 weekends or "whenever the meat runs out").
Parking: Free in attached lot.
Dress Code: Jeans, shorts, bill caps – anything but tennis togs.
The Mandarin ideogram for the word home illustrates the Chinese notion of prosperity: A roof with a pig under it. In Georgia, that might be amended slightly, to add woodsmoke curling from a chimney.
What better represents a rich homecoming than pork? That's especially true in Georgia, where the barbecue is always pig-centric. Georgia pitmasters may argue over what kind of wood ought to be used for smoking and which cuts make the best-tasting pulled or chopped sandwich, but the sauce is an extra. Oh, I love me some good homestyle vinegary or mustardy or molasses-sweetened sauce. But the taste test is whether the first strand you pull out of that pulled pork sandwich is tender, smoky and just fine on its own. After that, if you want to gild the lily with just a little coleslaw … perhaps a pickle … and a squirt of tangy sauce … knock yourself out.
Decatur's aptly named Community Q gets it: The Georgia-style, go-it-alone pulled pork and ribs are the tent pole, the mainstay, the centerpiece on the family reunion picnic table. But just like the family reunions you're glad you went to (the ones that didn't erupt into political arguments or quietly melt the kids into lumps of tortured boredom), Community Q offers a little something for everyone. You wouldn't have to look at the menu to grasp that, but just glance around the room, with all ages and cultures represented, chowing down with gusto – Rachel Maddow fans and Fox News watchers, apolitical sports fans and skateboarders, families with small kids and young couples on dates.
The 'cue starts in Georgia, but travels across the U.S., picking up brisket, sausage, St. Louis-style ribs, beef ribs, and yes, chicken – pulled and on the bone – along the way. Squeeze bottles on the tables allow a choice of sauces – sweet or vinegary.
The smoke is authentic, if provided by gas-fired wood and an electric thermostat. No slave to any sort of tradition except taste, co-owners David Roberts, Stuart Baesel and Jim Laber are "self-taught. … We've just experimented till we found what works," says Roberts. That would make them just like generations of pitmasters, except a little less sweaty.
It would also make Roberts a bit disingenuous: He was once chef de cuisine under legendary Atlanta chef Guenter Seeger, of Seeger's and the Buckhead Ritz-Carlton. Baesel is a former pastry chef. This humble Decatur barbecue place may be a world away from their beginnings, but their training shows in the respect they demonstrate for their ingredients.
What sets Community Q apart is that the barbecue is just the beginning. The sides are incredibly good, farm-fresh and unafraid of vegetables. As much as I loved the crisp-edged pork ribs (THE outstanding dish I tried), sweetly smoky chicken and tender pulled pork, I would go back for the "kitchen-sink" salad alone, and it would be just about a meal. (Yes, you can even take a vegetarian friend here.) On this particular day, the ever-changing salad was a big bowl of fresh baby lettuces, thin-sliced radishes, roasted cauliflower, pickled beets, sliced apple, marinated mushrooms, new potatoes, boiled egg and a sprinkling of lady peas – a bounty of the farmer's daily offerings. Barbecue shack staples like baked beans, mac and cheese, hand-cut fries and especially good greens, as well as house-made slaw, are available as well.
But pay particular attention to the list of specials near the counter, where you order: They may well include black-eyed peas with rosemary and bacon or smoked sweet potatoes with braised kale. The farmer is a key member of this Community – little bags of many of these same ingredients are for sale in zinc washtubs under the list, labeled by the farms they came from.
Nearly stupefied by the sheer volume of food we ate, we couldn't even contemplate banana pudding, Georgia strawberry bread pudding or Rice Krispy treats with milk chocolate and caramel. But that's OK – we'll be back. This is a community we're proud to belong to.