The Sky Is The Limit
Georgia's aerospace industry is thriving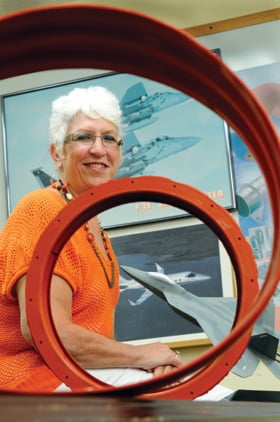 The flying robot invasion has already begun. Lethal, battle-tested drones (unmanned aviation vehicles or UAVs) are being used in Pakistan, and the military wants more of them. Selected universities, law enforcement agencies and aerospace firms currently are operating UAVs in limited domestic airspace.
And in a few years, through federal coercion, more robots will be sharing the friendly skies over your neighborhood with passenger planes and other traditional aircraft.
All of which could ensure a lucrative future for an already soaring aerospace industry in Georgia. Last year, Georgia's worldwide aerospace exports topped $5.75 billion – fourth highest in the U.S.
"It is an industry that definitely keeps me busy," says Steve Justice, director of the Georgia Center of Innovation (COI) for Aerospace, which operates under the Georgia Department of Economic Development (GDEcD). "We've got 500 companies spread out all over the state, and it's so geographically diverse, it's sometimes hard for people to get a handle on it."
An engineer by training, Justice has worked for some of Georgia's blockbuster aerospace and aviation companies throughout his career. Today, he is Georgia's aerospace guy, so his boss, GDEcD Commissioner Chris Cummiskey, depends on Justice and the COI to, "think ahead, look for new ideas.
"We want to keep focusing on what the next major movement in aerospace is," Cummiskey says.
Congress gave a pretty good hint of at least one of the next major movements in February, when it passed a law requiring the Federal Aviation Administration (FAA) to open national airspace by late 2015 to civil and commercial UAVs. Leading up to that, the FAA is going to designate six UAV test sites around the country, and states are lining up for the opportunity.
"There's a lot of potential for Georgia, and there are a lot of people running the numbers right now on how much economic activity might result," says Lora Weiss, lab chief scientist at the Georgia Tech Research Institute (GTRI), one of the leading brain-centers in the development of fully autonomous (or pilotless) UAVs for the Department of Defense – actual flying robots that think for themselves, can communicate with other autonomous robots (in the air or on the ground) to spy, hunt, kill, whatever.
Georgia Tech, along with Middle Georgia College and state industry leaders like Justice, are part of a public and private collection of entities pitching the FAA this summer, "going after the economic activity that we think would follow if Georgia gets selected [as a test site]," Weiss says.
The expectation, of course, is that such a site would attract supporting industries and create jobs – parts and aircraft makers and suppliers, maintenance and logistics people, technicians and researchers, adding to the more than 80,000 people (fifth in the nation) currently employed in all facets of Georgia's aerospace industry.
Sharp Ascent
In 1993, when she was still living in Los Angeles, Dianne Zimnavoda was contacted by the state of Georgia.
"They had formed a consortium of power companies, universities, state government agencies, and they were looking specifically to recruit aerospace companies. Somehow we made their short list," says Zimnavoda, president of RCF Technologies, the company her engineer father founded in Los Angeles in 1975. They make specialty seals, hoses and couplings for aircraft out of an extremely heat resistant and proprietary material called Rishon.
"I met with a whole group of people, toured the larger aerospace places, and they basically raved about the state, how awesome it was to work here and so forth. Then I visited areas of the state I thought I'd be interested in," Zimna-voda says.
"Our customer base is pretty much anyone you've ever heard of in aerospace. I ship around the world. But the parts we make are relatively small and extremely lightweight, so we use carriers like FedEx and UPS, which means we can be located anywhere – it makes no difference where I manufacture."
So she moved her small, cutting-edge aerospace company from Los Angeles – "they're not interested in business there," Zimnavoda says – to the home of the world's most famous onion.
"Vidalia made us a very good offer," she says. "Gave us land, put up a building, and we've been here ever since."
And she's seen the aerospace industry skyrocket. In 2000, Georgia's aerospace exports were $801 million. They've grown 618 percent since then. They grew 31 percent between 2010 and 2011 and 23 percent the year before that.
Job growth hasn't been nearly as dramatic, but there has been some – 3,600 jobs in the past five years, to go with $982 million in projects from new or existing aerospace companies, according to GDEcD.
The biggest chunk of that is attributed to Gulfstream Aerospace Corporation, which manufactures business jets and announced in November 2010 that it would spend $500 million and create 1,000 jobs in a seven-year expansion project at its Savannah plant.
"I think we've done pretty well, been consistent. Our total aerospace employment has gone up while other states have been losing jobs," Justice says.
The total job tally is up about 3.7 percent over the past five years, according to Justice, although the aerospace employment pulse has been uneven, with companies shrinking and expanding like balloons.
"It would be fair to say that aviation and aerospace was heavily impacted by the economic downturn," says Haley Dunne, communications director for Bombardier (maker of the Learjet), the Canada-based aerospace company that opened a service center in Macon two years ago.
"We've had to reduce production on several product lines. There have been layoffs, but we've fared better than most. We invested in our company through the downturn, and we're expanding again."
Bombardier, the world's only manufacturer that makes both trains and planes, employs about 70,000 people worldwide, about 5,000 of them devoted to servicing and maintaining aircraft for a variety of clients. They employ about 160 in Macon and expect to be adding more jobs after signing a nine-year heavy maintenance agreement with Republic Airlines.
One of Bombardier's neighbors in Macon's Middle Georgia Regional Airport is TIMCO Aviation Services, which has rebounded after "a rough patch in the road for a few years," according to Keith Statzer, general manager of TIMCO's Macon facility.
"The years 2008 and 2009 were hard for us. We got down to 100 employees, but we've added jobs. We're coming back."
Timco is one of the world's largest independent aircraft maintenance, repair and overhaul (MRO) providers; its airframe facility has been in Macon since 1999. Over the past two years, they've added the Boeing 767 to their workload, modifying their 115,000-square-foot plant to accommodate the planes and adding personnel. They're up to 300 employees at the Macon facility now.
Build Mode
Macon is in the middle of an area that boosters have dubbed Georgia's "Aerospace Corridor," a calling card that tries to prop up the aerospace activity and potential of the region near Robins Air Force Base, home of the Warner Robins Air Logistic Center (WR-ALC), where advocates are working to defend the mission of the massive military complex.
"Our goal in life is to make sure we are well positioned for the future, no matter what the national economic, political or social situation is," says retired Major Gen. Rick Goddard, senior advisor to 21st Century Partnership, a coalition of regional political, business and civic leaders focused on Robins' continued wellbeing.
Goddard is the former WR-ALC commander, and a former Republican Congressional candidate. His top priority is maintaining the base's military mission: "If this country has to go to war, we need to have the critical mechanisms in place. That's what these logistics centers are all about."
Goddard, who piloted an F-100 fighter in 227 combat missions during the Vietnam War, is fighting for the future of the WR-ALC, one of three Air Force logistics centers in the U.S. (The others are in Oklahoma City and Ogden, Utah.)
"Each one is totally different, so we're hoping the Air Force will realize they need these three logistics centers going forward," says Goddard, thinking ahead to the next BRAC (Base Realignment and Closure) process.
President Obama has suggested another round of BRAC for 2013. Goddard figures it might actually be 2015 or 2017, so 21st Century Partner-ship is gathering itself to make a case for Robins' continued existence.
Meanwhile, Goddard is worried more about being slowly nickeled and dimed into irrelevance: Pending and prolonged cuts in the nation's defense budget (the Aerospace Industries Asso-ciation predicts a million jobs nationwide could be lost) and the recent realignment of Air Force Materiel Command, resulting in the loss of hundreds of civilian jobs at Robins.
"What we don't want," he says, "is death by a thousand cuts."
A deep cut was made in Marietta, where the last F-22 Raptor rolled off the production line at Lockheed Martin in December, ending a 20-year, $65-billion program for the corporation, America's largest military contractor.
The end of the F-22 did not result in immediate job losses, says plant general manager Shan Cooper.
"We've been fortunate so far. We've transitioned a lot of folks over to the F-35 program. I'd like to say that we'll have no layoffs, but I can't say that," Cooper says. "We have placed some people in the P-3 and C-130 programs, and we'd like to keep everyone on board if possible.
"Meanwhile, we're focusing on modernizing and sustaining the F-22. The aircraft that are already out there will need to be maintained, and we know the F-22 better than anyone else."
Lockheed, which shares runway space with Dobbins Air Reserve Base and employs about 7,800 people in Marietta, sends green ripples across the state, spending about $325 million a year with 350 different suppliers in Georgia.
One of those is RCF Technologies, about 200 miles away in Vidalia.
"Lockheed just informed us that a very small part we make has been designated as the part for the C-130 aircraft, so our orders for that are up to 3,000 a month," says Zimnavoda, who employs 32 people at RCF.
"For two solid years nothing was being done in the way of design anywhere in the industry, everything was on hold, people were closing down. We lost two thirds of our income."
But now they're making parts for Boeing's 787, and two years ago they started branching into high-performance auto racing, Formula One and some NASCAR.
"Thank heavens," Zimnavoda says, "we're back in build mode."
Robots Are Flying
Congress gave the FAA until Sept. 30, 2015, to fully integrate UAVs into domestic airspace. But in April, the FAA released a list of more than 60 U.S. public and private entities that are already authorized to fly drones. It took some legal arm-twisting – the FAA was responding to a Freedom of Information lawsuit filed by Electronic Frontier Foundation.
The list included the usual suspects – Defense Advanced Research Projects Agency (DARPA), the different U.S. armed forces, NASA, local and federal law enforcement agencies, and about two dozen universities. The Georgia Tech Police Department's Office of Emergency Preparedness and the Georgia Tech Research Institute were both on the list.
The robots are flying. Justice at the Aerospace Center of Innovation expects to be flying them this year, "to support our agriculture sector," he says.
"We're working jointly with universities and companies to test them. One of the things we're looking to do is to gather imagery of farms, peanut fields," he says. "Generally speaking, the idea is to ultimately help farmers increase their yields. It's the intersection of aerospace technology and agriculture."
Georgia is well equipped in aerospace research muscle – Tech's Daniel Guggenheim School of Aerospace Engineering, for example, is considered one of the best in the nation. Then there is the work of Weiss and her colleagues at the GTRI who are developing the next generation of humanless flight.
Weiss says she works in the area of robotic autonomy, "making them fully autonomous, so they can make robust, reliable, proper decisions on their own, in unforeseen situations, as opposed to trying to script everything – if you see this, do that.
"And we're looking at how they collaborate with other UAVs, or ground vehicles, and machines made by different manufacturers, with different software architecture – interoperability of disparate UAVs."
The current trend is for humans to fly the drones from remote locations (the Air Force trains more pilots for UAVs than for any other weapons system). Human-controlled drones have been used by the CIA to hunt down suspected terrorists in Pakistan. Unfortunately, they've also been responsible for a number of civilian deaths.
After four decades of research in robotic flight, the drones are pretty capable of doing the work on their own – as Weiss and her colleagues have demonstrated, last year, for example, in the U.S. Army Robotics Rodeo at Fort Benning.
But if the thought of autonomous robots making life and death decisions gives you discomfort, you're not alone.
"Researchers are doing a great job of making these machines smarter, capable of thinking for themselves," Weiss says. "But robots making the decisions – that makes people nervous."
Humans wouldn't be rendered completely inessential, though. Not by a long shot. As robots and unmanned systems proliferate, maintenance and operations could become big growth areas, Weiss says, adding, "instead of human operators being 'in the loop,' or totally in command of the UAV, operators will be 'on the loop.'
"So, the robot is making decisions autonomously, but the operator is there to hit the override. If this was cruise control, it would be like taking the wheel or hitting the pedal."
In other words, you may not be driving, but you can always hit the kill switch. Just in case.