Political Notes: August 2012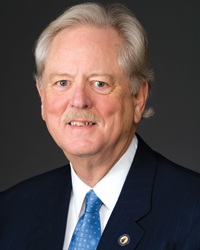 On The Water Front: After much legal wrangling, Georgia won two big battles in its long-running water wars with neighboring states. One win was courtesy of the U.S. Supreme Court, and one came from the U.S. Army Corps of Engineers.
The court announced this summer that it will not grant a request from Alabama and Florida to review the decision of the U.S. Court of Appeals for the Eleventh Circuit, which reversed a federal judge who sought to deny Georgia water from Lake Lanier. The Supreme Court ruling means the Court of Appeals decision stands as law and Georgia can access water from the lake. That victory was punctuated by a legal opinion filed by the Corp of Engineers with the appellate court that says the corps has authority to approve the Lake Lanier water supply request that Georgia submitted in 2000.
Attorney General Sam Olens says the decisions mean, "Finally, the state and its neighbors can put decades of litigation behind them and find ways to work together in meeting rooms instead of facing off in courtrooms."
The Corps decision, Gov. Nathan Deal says, "will help us not only plan for Georgia's future growth, but it will also give us greater certainty regarding existing resources."
New Georgia Justice: Keith R. Blackwell is the newest justice on the Supreme Court of Georgia, succeeding Justice George H. Carley, who resigned. Blackwell was previously a Georgia Court of Appeals judge and is a former assistant district attorney in Cobb County.
Top Democratic Delegate: Rev. Dr. Joseph Lowery, a long-time Civil Rights leader, was elected unanimously to chair the Georgia Democratic Delegation to the party's national convention in Charlotte in September. Lowery received the Presidential Medal of Freedom, the nation's highest civilian award, from President Obama three years ago.
Ports Board Chair: Savannah businessman Robert S. Jepson Jr. was elected chairman of the Board of Directors of the Georgia Ports Authority. He was appointed to the board in 2008 by former Gov. Sonny Perdue and served as vice-chairman. He succeeds Alec L. Poitevint, who was chair for the last two years. Jepson is chairman and CEO of Jepson Associates, a private investment firm.
Former Chairman Stephen G. Green, elected to a one-year term, will serve as vice chairman; Roy H. Fick-ling will remain as secretary/treasurer.
New board appointments made by Gov. Nathan Deal are Ken Cronan and James Walton from Gainesville and Hugh M. Tarbutton from Sandersville.
New Money Man: Greg Griffin is the new state auditor, appointed by Gov. Nathan Deal to replace Russell Hinton, who retired after 13 years. Griffin's appointment must be confirmed by the General Assembly when it meets in 2013.
Lawmakers Honored: A trio of state legislators has been honored by the Georgia Chamber for contributions to enhancing the state's economic competitiveness. House Majority Leader Larry O'Neal (R-Bonaire) and State Sen. Tim Golden (R-Valdosta) are the Chamber's Legislators of the Year. Sen. Charlie Bethel (R-Dalton) is the Freshman of the Year.
Chamber President and CEO Chris Clark called the lawmakers "true champions of the state business community through their leadership on critical legislation that will encourage growth and investment."
O'Neal was singled out for his work in passing the comprehensive tax reform package, HB 386, and Golden for efforts that resulted in approval of SB 402, which amends the state pension system to allow assets to be allocated toward certain types of alternative investments. Bethel was honored for his leadership role in finding a solution to help the state repay a federal loan made to the Georgia unemployment insurance trust fund. It is estimated that the measure will save Georgia employers some $250 million in repayment penalties, the Chamber says.
Healthcare Ruling: Reaction in Georgia to this summer's Supreme Court ruling that declared the Afford-able Care Act constitutional was divided, predictably, along party lines. A joint statement by Republican Sens. Johnny Isakson and Saxby Chambliss expressed disappointment and urged the law's repeal, as did statements from Gov. Nathan Deal and Attorney Gen-eral Sam Olens. Georgia was one of 28 states that originally challenged the law.
On the Democratic side, Fifth District Congressman John Lewis called the ruling "a great victory for the Ameri-can people," and State Rep. Stacey Abrams, Atlanta, the House minority leader, said it will "help millions of American families achieve better access to medical care."
From another quarter, Georgia Chamber President and CEO Chris Clark issued a statement saying the ruling would be detrimental to employers and employees.