Art Of The Meal: Little Hawaiian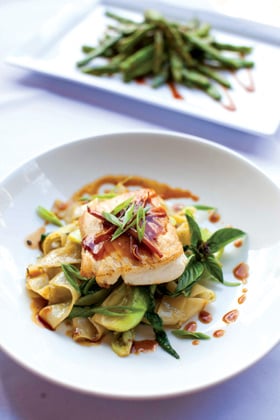 Little Hawaiian
Seafood Grill & Tiki Lounge
206 Rome St., Carrollton
770.838.1220 or www.littlehawaiianrestaurant.com
Open: Lunch, Sundays-Fridays. Dinner, Mondays-Saturdays.
Reservations: Accepted.
Parking: Plentiful on-street and in nearby lots.
Dress code: Hawaiian shirt and flip-flops.
Well, wax my surfboard. When reader Steve McCutcheon wrote to recommend a Hawaiian restaurant in Carrollton – complete with tiki bar – I have to admit I had my doubts.
Carrollton is lovely, but it's not exactly the first destination that pops into your head when you're craving a mai tai. Still, Little Hawaiian's website offered up some intriguing tidbits: Chef/Owner Tano Phommasith grew up in Hawaii and started his cooking career there; after he married wife Cristi, a Carrollton native, the two opened the restaurant in 2003. A long, long menu hinted at the chef's exuberance, as well as a special labeled: "Dude: Free ice cream!" I am so totally there.
Carrollton's little town square looks lively and prosperous these days, and the nearby University of West Georgia means lots of foot traffic. There's a tented bandstand for summer music listening a block or two away, several restaurants with outdoor tables and a well-stocked CSA (community-supported agriculture) store.
Little Hawaiian is a couple of short blocks off the square, in a beautifully restored old warehouse. (The 8,500-square-foot space started as a mule barn.) Walk in the front door, and the feel is more like a giant, airy thatched hut, with Hawaii's state flower, the hibiscus, imprinted in the stained concrete floor at the entrance, tall bamboo poles creating a screen between dining areas, and dark exposed beams along the 16-foot ceilings. Surfboards, vintage postcards and sepia prints of native dancers add to the tropical vibe.
Carrollton has clearly embraced Little Hawaiian – diners packed the place at a recent lunchtime, with everyone from students and locals to suited businesspeople. And why not? In addition to a lengthy regular menu (steaks, grilled fish, sandwiches), a long list of specials changes daily.
Many "Hawaiian-style" items are entry-level, Southerner-friendly dishes with the de rigueur additions of pineapple and jasmine rice. But you'll also find sushi, "tempura-fried" green tomatoes, wok-tossed asparagus, a tofu noodle bowl with napa cabbage and peppers, and pan-seared North Carolina snapper. If that kind of thing seems too exotic, you can retreat to safer zones involving meatloaf, mashed potatoes and fried pork chops, as well as vegetables that are often local and organic – the kind of healthy, home-cooked meat-and-three food you used to find on every small-town square. Little Hawaiian is not here to challenge you or change your perceptions – everything, including the menu's devotion to "fresh Dole juices" – wants to meet you where you are and throw you a nice little party. (In fact, Little Hawaiian proudly displays its local award as "best caterer.") This is the kind of place that pays attention to comfort and details.
The food is consistently well-executed, the service is spot-on and the house special mai tai delicious. Which is not to say the food isn't exciting: We took the "very spicy" menu challenge of Bang Bang noodles, described as rice noodles with fish, shrimp, chicken, mushrooms and peppers with "chef's Green Hornet sauce." Yowza! When this guy says something is spicy, he means it. Still, we loved the dish – it isn't the kind of hot that overwhelms the flavor, and the supple rice noodles serve as balm.
The grilled mahi is simple and good; the garlicky green beans a fond reminder of the old-school Chinese standard; the "Hawaiian slaw" fine, if indistinguishable from the Georgia variety. "Black and blue sashimi" is a fine meal-opener, seared with Cajun spices and served with wasabi, soy and ginger. Boneless pork chops are crisply deep-fried, the kind of guilty pleasure that makes you want to get out and plow the North 40 – or maybe harvest some pineapples.
Still, it would take many visits to get a real handle on the very best of Little Hawaiian's voluminous menu – a chore I'd be happy to tackle if I lived nearby. I'd certainly want to sample the housemade gelato (sadly, the free ice cream special was no longer an option). But I adored our dessert – the housemade coconut bread pudding contained both coconut ice cream and caramelized pineapple, a one-upped version of the Southern-style pineapple upside-down cake. It's a perfect metaphor for the entire restaurant – "mahalo" spoken with a Southern accent.