University With A Mission
Mercer thrives on service learning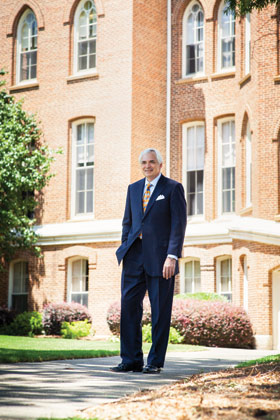 By definition, a university seeks to expose inquisitive, enthusiastic students to ideas and experiences that lead them to discover how they can contribute to society and build communities. Mercer University, a private university founded in Macon in 1833 with ever-expanding campuses in Atlanta and Savannah, more than lives up to that ideal in unique fashion, wedding rigorous academic programs to its historical mission of service to others.
"Mercer is big on finding your calling," says Professor of English Andrew Silver. "It's not just about resumé stuffing. It's about creating an urge to make your life a calling."
The school was founded by Georgia Baptists; it remains faith-based but has had no formal religious affiliation since 2006.
"From the outset of their Mercer experience, students are encouraged to get outside the confines of the campus," says Dr. Mary Alice Morgan, Mercer's senior vice provost for service learning, who oversees programs woven into the curricula of the university's 11 colleges and schools, which include Liberal Arts, Law, Pharmacy and Health Sciences, Medicine, Nursing, Engineering, Business and Economics, Theology, Education, Continuing and Professional Education, and Music.
Within those disciplines, emphasis is placed on service learning, combining in-class academics with community service or community-based research. Mercer's service-learning component was nationally recognized by the Carnegie Foundation for the Advancement of Teaching, which awarded the school its highly prized Community Engagement Classification.
The result is a student like Chelsea Flieger, a Suwanee native who arrived at Mercer in 2008 with the goal of becoming a teacher but ended up graduating in May with a degree in Leadership and Community Service and minors in Spanish and Communication. "My Mercer experience was very different than I planned for it to be," she says. While taking political science and leadership classes, Flieger discovered a passion for community service. Halfway through her sophomore year, she attended the Clinton Global Initiative University Meeting in Miami with several other students.
"All these statistics had just come out. Forbes magazine had ranked Macon the 7th most impoverished city of its size in the U.S.," she says. "We knew that's where we wanted our focus to be."
Flieger and her fellow students created LEAP (Local Engagement Against Poverty), returning to Mercer with a commitment to accrue 10,000 service hours. More than 250 volunteers showed up at their first service day, logging several hundred hours of community service. "We realized that students liked the service day and wanted to be involved in the community, so we started setting up projects," she says. "First we did it a couple times a semester, and now we do them almost every weekend."
For her efforts, Flieger was named the Gulf South Summit Award winner, but she's quick to share the love. "This isn't a one-person effort," she says. "We couldn't do it without the volunteers that come out each week that give us a couple hours of their time."
She gives credit to Mercer. "I can't imagine having these experiences at any other college," says Flieger. "Mercer isn't just about academics, and everyone here fosters that culture. I think I've learned far more outside the classroom than inside it, especially with the work I've done in LEAP."
Positive Impact
Those words are music to the ears of Mercer President Wil-liam Underwood, who came to the university in 2006. Under-wood continued introducing and strengthening Mercer's pre-mier academic programs with an eye toward developing the whole student: taking students off the campus and into the world, whether across the street through community service learning or across the ocean through a unique service learning and study abroad program called Mercer on Mission.
Though it wasn't his brainchild, he brought the Mercer on Mission idea and implemented it almost immediately after his arrival, tapping university chaplain Craig McMahan as the program's director. "I really love the impact it has on the students' lives," says Underwood. "[This program] does what I think higher education is supposed to do. Our students experience how rewarding it is to use your gifts and talents to help someone else. They begin seeing that as something that leads to a meaningful life."
More than 140 students and faculty from each of Mercer's schools and colleges will participate in Mercer on Mission this summer, taking impactful research and service to 11 sites in countries including Brazil, Cambodia, Kenya, India and Vietnam. The program lasts five weeks, includes two weeks of classroom instruction and three weeks of boots-on-the-ground service and is partially underwritten by Mercer. "The cost to the university is $450,000," says McMahan. "The university pays for everything, wheels up to wheels down. You travel for free, you take courses at a cut rate, but you get full credit and have the transformative experience of a lifetime."
Mercer on Mission has become a signature program at Mercer – yet another tool in the recruitment toolbox. Not that the university needs much help; it's ranked No. 9 in the South in the 2012 "Best Regional Universities" category by U.S. News & World Report.
Dr. Penny Elkins is Mercer's senior vice president for enrollment management and a proud Mercer graduate. "We are at a very critical juncture," she says. "For the last six years, we've been in a period of refining who we are as an institution. We have a strong sense of our beginnings running through our programs. We have a strong commitment to our students and strong push toward the question, 'What will you do with your life?' That's what we're all about."
Enrollment is at an all-time high, 8,336 in fall 2011, with the student population dispersed among the three campuses, Macon, At-lanta and Savannah, as well as Re-gional Academic Centers in Doug-las and Henry counties, Eastman and Newnan, which offer the same caliber of academics as the traditional campuses.
The footprint is expanding. Mercer's Medical School is building a campus in Columbus in partnership with The Medical Center and St. Francis Hospital, an expansion in keeping with the mission of Mer-cer's medical school, preparing phy-sicians for rural and medically un-derserved areas of Georgia. Stu-dents will begin clinical rotations this summer.
Health Advances
Programs in health sciences account for much of Mercer's explosive growth, especially at the Atlanta campus, located inside the Perim-eter near the junction of I-285 and I-85. "Growth industries in the next few years are in allied health services," says Provost Dr. Scott Davis. "Instructionally, that's a sweet spot for us." Mercer wisely tapped into that data and positioned itself to respond to the demand for high-quality health sciences education. Approximately 25 percent of Mer-cer's full-time students are enrolled in health sciences programs.
The Atlanta campus is home to the highly regarded Georgia Baptist College of Nursing and the College of Pharmacy and Health Sciences (COPHS), ranked fourth among private pharmacy schools and 43rd overall by U.S. News & World Report.
In a move that expedites future growth, university trustees recently voted to create the Mercer Univers-ity Health Sciences Center, encompassing the School of Medicine, located in Macon and Savannah, the COPHS and College of Nursing, located in Atlanta.
The new Health Sciences Center will expand in July 2013 by adding a fourth academic unit, the College of Health Professions, incorporating the Physician's Assistant and Physical Therapy programs, currently housed within the COPHS. The Public Health program and other future health science programs will also come under the College of Health Professions umbrella.
Dr. Hewitt "Ted" Matthews, longtime dean of the COPHS, was also named senior vice president for Health Sciences. He's excited about what it means for Mercer's students. "It enhances our ability to offer programs in multiple locations," he says. "But I think the biggest benefit is the increased emphasis on inter-professional education – learning alongside other health professionals. I'm hopeful that we will produce a collaborative-ready healthcare professional providing better patient care."
"Connectedness," a common theme in Mercer's ethos, goes beyond basic connections of students to professors or to their fields of study. For example, Mercer builds connections into the education delivery system. Qualified freshmen are able to obtain guaranteed placement into Mercer's professional schools and programs, including medical, pharmacy and law.
"We take advantage of the connection between units that big universities will never do because they're self-contained for all sorts of reasons," says Davis. "These opportunities, for undergrads to come in [and] matriculate all the way through to their professional degree, really makes a lot of sense."
Mercer is connecting its journalism program to the Macon community in an innovative way, combining journalism with community development at the new Center for Collaborative Journalism, funded in part by $4.6 million in grants from the John S. and James L. Knight Foundation. The center seeks to bring a "medical school model" to the journalism program, says Tim Regan-Porter, director of the center and president and CEO of Decatur-based Paste Media Group. "With medical school, you go through your courses then you're actually practicing in a hospital with doctors who are watching over you," he says. "Students are serving the community directly, the community is benefitting and they're learning. We want to take that same idea and bring it to journalism."
Macon's The Telegraph moved its newsroom into the new center, located in Mercer Village one block from campus. Journalism classrooms will inhabit the same space, along with a Georgia Public Broadcasting (GPB) radio studio. "We'll integrate The Telegraph and GPB into the curriculum," Regan-Porter says. "Projects won't just be papers turned in to the teacher – you'll be researching something for The Telegraph. Your work will have impact. You'll go to class right next to the newsroom. You'll know what it's like to work on a daily newspaper and work collaboratively on stories."
Transformations
One of the center's admittedly audacious goals is to "transform the city." But it's one Regan-Porter believes is within reach. "Mercer has been involved in transforming the community for about a decade," he says, "And they've done it with forethought and intelligence, respecting the residents. That type of behavior serves the center well because we want to get out in the community and see what the problems are and encourage dialog." The very location of the center in Mercer Village is a reminder of how much the university has contributed to revitalizing the city.
Mercer Village is a mixed-use, high-density development anchoring the College Hill Corridor, an ambitious urban redevelopment project that sprang from a senior capstone course and follow-on course taught by philosophy professor Dr. Peter Brown. Research turned into a proposal that turned into the College Hill Alliance, a department of the university that ad-ministers grants to community organizations and individuals for projects to carry out the master plan in the corridor. Grants have leveraged about $26 million in private investment in the corridor.
Brown, a longtime resident in the corridor, says it was the third time he taught the course but the first time a group of students had taken their idea so far, with such a lasting impact. "It's one of the broadest collaborative efforts that we've seen in Macon in decades," he says. "I don't think anything else has brought as many different segments of the community together in such a positive way. That kind of self-confidence, a sense of ownership on the part of the community, is tremendously important."
Thirty years ago, interaction be-tween the university and the community was limited. Today a trolley runs from Mercer Village to downtown from Wednesday through Sunday and a thriving, fluid relationship exists in the community. "We want our students to be involved with the Macon community, but we also want the Macon community to be involved with Mercer," says Carrie Ingoldsby, director of campus life. Mercer events like concerts and especially athletic events are a big draw for the community.
An NCAA Division 1 university, Mercer's basketball team generated excitement with a 27-11 record and a big win in the CIT (CollegeInsider.com Postseason Tournament) this past season. In 2013, Mercer will field its first football team in 70 years; the university broke ground on a football/lacrosse complex in fall 2011. They'll play against teams in the Pioneer League such as Drake, Valparaiso and Butler.
"It's non-scholarship football, the same type they play in the Ivy League," says President Underwood, an enthusiastic proponent of college athletics. "I like athletics because of the co-curricular learning opportunities. That's why I like theater here, music and student government. All those activities have and offer similar attributes. Generally speaking, sports has the effect of building community. People who don't agree on hardly anything will get together and pull for the same thing."
Combining community building with education is one of Mercer's strengths, says Professor Silver. "At Mercer, students care about their education. They feel like the education itself matters, beyond their eventual profession," he says.
It has a similar effect on those who work at Mercer. "I came to interview at Mercer on a beautiful spring day and thought, 'I'd love to teach here,'" he says. "That day, 14 years ago, I had the exact same impression that I have today. First impressions can sometimes be misleading, but in this case, Mercer has proved to be as transformative to me as it has to my students. I knew it was a place where I was going to feel at home and where I could find a community that cared about one another – as people, as colleagues – and that's kind of cool. Fourteen years later I remember walking across this quad thinking, 'This is too good to be true.' But it wasn't."