Finding The Power
Rich in sunshine and trees, Georgia is poised to capitalize on the demand for alternative energy sources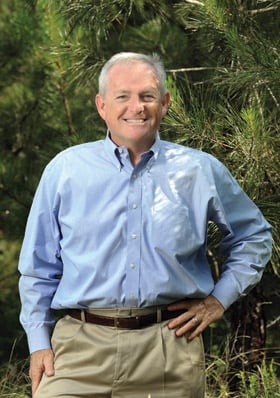 As a declaration of independence from oil barons far away, alternative energy represents a span of solutions to replace fossil fuels with renewable resources. It has become increasingly clear that the potential to capitalize on the shift is huge, especially in the Peach State.
According to a 2009 study the American Solar Energy Society coordinated with Management Information Services Inc., a combination of renewable energies and efficiency can displace 1.2 billion tons of carbon annually by 2030, the amount scientists believe will stop climate change. The study calls for a split of 43 percent renewables and 57 percent efficiency to meet the goal.
Of the 4.5 million jobs the study says will be created, the greatest numbers will be generated by solar photovoltaics, biofuels, biomass and concentrating solar power sectors. That's good news for Georgia, which is rich in both sun and biomass crops like pine. The alternative energy gold rush has affected nearly every corner of the state.
"We have a vast amount of trees – 25 million acres – growing 38 percent faster than they are being utilized," says Georgia Department of Economic Development (GDEcD)'s co-director of the Georgia Center of Innovation for Energy Jill Stuckey, now serving as interim director of the state's Herty Advanced Material Development Center.
"In addition, housing starts are down by 80 percent. We've found that we are able to use the trees profitably by selling them to Europe, where countries have mandates to supply 30 percent of electricity with biomass in a larger strategy to be free from coal in 15 years."
Biomass is a combination of trees and forest waste that can be "dropped in" to power plants as concentrated pellets, offsetting or replacing coal or oil. The process is controversial because it still causes carbon emissions, but the source material is indeed renewable, and it is already replacing a lot of business that would be otherwise lost in the forestry field.
"Georgia's forest products industry is the largest in the U.S. and adds $23 billion in economic impact," says Georgia Forestry Commission Chief Forester Nathan McClure. "The great part is that increased markets for biomass and wood products provide incentives for private forest owners to continue to invest in reforestation and other good forest practices."
"I think of us as Iowa in 2002 – 25 million gallons of ethanol production a year. Six years later it was 3.6 billion. I think Georgia can do the same thing," says Stuckey. "We once shipped 51 million tons of wood products, and now it's down to 37 million. The United Kingdom plans to import 15 million tons from 2015 to 2016, and the rest of the European Union needs 30 to 40 million tons. There are big numbers out there, and we hope to get some of it."
Georgia now has the world's largest biomass pellet facility (Georgia Biomass in Waycross, a subsidiary of RWE), which exports 750,000 tons a year, in addition to 15 different biomass-related companies, says Stuckey. "There is more than a billion dollars worth of projects on the ground at the moment," she says. The Port of Brunswick has invested $5 million in a facility devoted solely to pellet export to allow it to move a million tons a year.
Georgia isn't just exporting biomass. A collective of electric membership cooperatives around the state has joined Green Power EMC, a nonprofit that facilitates such projects as a 17-megawatt biomass-to-electricity plant in Rabun Gap. Operational since 2003, Green Power EMC includes 39 utilities and has generated 125 million killowatt-hours (kWh) of green energy.
Most of Georgia's renewables come in the form of hydropower (from our rivers) and landfill methane (which can be converted to natural gas and counts as biomass). In the bigger carbon equation, a broader variety of renewables is ideal, and solar and wind energy are claiming a larger part of the picture.
Sun Systems
Solar is playing an increasingly greater role in energizing Georgia, encompassing projects of modest size and some ambitious ones.
Albany Water, Gas & Light teamed up with the Albany Area Chamber of Commerce to install a solar system on the chamber roof that will generate 7,000 kWh annually. Leaders are collaborating with Norcross-based solar panel manufacturer Suniva and hope the panels will attract more solar industry.
Another Georgia company, Radiance Solar, hooked up with Macon leaders for the Damaste Real Estate solar energy project, a rooftop photovoltaic array that will produce 32,000 kWh a year. Damaste's project is part of Georgia Power's Buyback Program, which pays $.17 per kWh for clean energy. The incentive is projected to save Damaste $27,000 and divert 23 tons of carbon dioxide a year.
Georgia Tech installed a 120,000 kWh system on the roof of the G. Wayne Clough Undergraduate Learning Com-mons, which features 360 Suniva panels and is expected to offset 80 tons of carbon dioxide annually, as well as draw attention to its University Center of Excellence for Photovoltaics Research and Education (UCEP), one of only two designated centers in the country.
The biggest solar project in Georgia, however, represents a new trend in real estate: self-powered developments.
Jacoby Development, Inc. Senior Vice President Scott Condra's initial idea was to build a solar farm to power a new mini-city, Aerotropolis, on the former Ford site in Hapeville near the Atlanta Airport. The 30-acre solar project fell through, but Condra remained interested in building a solar farm. "We had already worked out a deal with Cobb EMC, and we decided we still wanted to do it," says Condra. "Not that we were looking to get into the business, but we saw an opportunity."
Working with New York firm Smart Energy Capital LLC, Jacoby purchased a site farther southeast in Davisboro in Washington County three times as large as the original to create the Azalea Solar Facility – it will be the largest in the state and one of the largest in the southeast.
"We are delighted that Azalea chose our community," says Charles Lee, executive director of the Development Authority of Washington County. "While the 1,500 power consumers that will be served by it aren't in our immediate area, this electricity will contribute positively to answering the power de-mands of other areas of the state."
Azalea is expected to generate 10 MW that would be sold to Cobb EMC through a 25-year purchase agreement. "Solar is a commercially viable source of power," says Cobb EMC President and CEO Chip Nelson. "Cobb EMC is pleased to be a recipient of the energy output of Azalea and will continue to seek cost effective resources for its consumers."
Condra expects more deals between real estate and alternative energy companies to emerge in the future. "Solar is attractive; the sun is free so there is very little operating expense, and you can fix your rates for 20 years," says Condra.
"The fact that we were able to build this product and deliver it to Cobb EMC at a good rate without state level subsidies is very exciting for the industry as a whole," says Michael Grenier, managing partner at Smart Energy Capital. "All across the nation, solar is growing at high double-digit rates."
Condra says Jacoby has been interested in alternative energy since its signature Atlantic Station development in Atlanta came online in 2005. "We started thinking then about how we can make large mixed-use more sustainable. We could do a project within the mixed-use, plus stand-alone projects. LEED building has become so big in the last 15 years that now that's the minimum as far as sustainable development is concerned. The trend going forward is how to generate your own power and have some left to put back on the grid. The next thing will be improving transportation in and around your development, whether with smart cars or whatever."
Plugged In
Alternative energy is currently building on auto companies' experiments with hybrids and electric power. Georgia has a strong auto manufacturing sector – Kia in West Point, Honda in Tallapoosa and Aerotropolis's future anchor tenant, Porsche, in Hapeville; and three of the biggest electric car companies are headquartered here (E-Z-Go and Klub Kar, both in Augusta and Yamaha in Newnan).
"There does seem to be a synergy there," says Scott McMurray, senior project manager at GDEcD. "Electricity storage for electric cars and in general seems to be key [to alternative energy strategies] as well as Smart Grid [a national program to customize electricity use to the user]. Using Smart Grid, you can turn on your light at home and see how much you're using in relation to how much is generated. From there if we can figure out a way to store unused power on a large scale, at that point alternative sources will migrate from the periphery to a central part of the dialogue."
One company, GS Yuasa Lithium Power in Roswell, is researching smaller lithium ion batteries for the electric car; on a larger scale, the company also creates batteries that go into satellites and the space shuttle, says McMurray.
GE has established its Smart Grid division headquarters in Atlanta, and Georgia's battery and fuel cell industry also includes Saft, Exide, Fiamm and GS Battery.
Cities as diverse as Woodstock and Savannah have installed charging stations. In Peachtree City, 10,000 golf carts have become standard family transport. EFACEC, a Portugese company with a plant in Rincon and offices in Norcross, makes giant transformers that power cities and also builds chargers that can power your electric car in 25 minutes.
Georgia Power offers a program to give electric car owners a special rate that can save them 13 percent annually if they charge at night.
About half of carbon emissions are from automobiles, and President Barack Obama has set a goal of one million electric cars on U.S. roads by 2015, eliminating 2.4 million tons of carbon a year.
"There is a lot of interest in batteries, particularly in the transportation industry, as well as in large renewable energy supplies," says Georgia Tech Research Institute's (GTRI) Center for Innovative Fuel Cell and Battery Technologies Director Tom Fuller, also with Georgia Tech's School of Chemical & Biomolecular Engineering.
"In solar and wind power, the challenge is how to store the energy and use it later, so you can adjust the times of day to demand ratio. How can we store it for large-scale power generation applications?"
Fuller has been working with Toyota on how to build better batteries, winning a recent $200,000 gift from the Hartley Foundation. Still, the will to fund the last leg is lacking, says Fuller. "Whether for storage or for electric or fuel cell vehicles, the barrier is still cost. We can make bigger and better batteries, but they are more expensive." Storage technologies compete with natural gas as the go-to backup for depleted reserves, such as a day with no wind or sun, says Fuller.
"Because of the availability of oil and natural gas, I personally believe any significant push to develop other technologies is going to come from placing a value on carbon emissions. And in the last two years, that's completely disappeared from the conversation."
Maybe not completely. Georgia Power, a subsidiary of Southern Comp-any, is building two nuclear plants, Vogtle 3 and 4, in Burke County. When finished, the mammoth project will power half a million homes. It's not charity work: Georgia Power customers are already helping pay for it via higher bills. The inevitability of carbon tax is probably in play, as well as the investment risk and shuttering of increasingly regulated coal plants.
The company points out the economic benefits as well as energy advantages. "This project will provide up to 5,000 construction jobs at the peak and add millions in revenue to the tax base of Burke County," says Southern Comp-any spokesperson Mark Williams. "Wages and salaries paid to construction workers and permanent staff have economic multiplier effects."
Georgia Power expects nuclear energy will merely contain Georgia's growth demand, he says. It also invests in other alternatives and currently uses 1,100 MW of renewable energy, mostly hydro, representing seven percent of its capacity. By 2020, the company hopes to increase non-nuclear renewables by 300 MW and will spend about $1 billion to do so.
Other states like Virginia have incorporated green energy into their flat rate (as Georgia Power did with its nuclear program). "More than 4,000 customers participate in our voluntary Green Energy programs, which have been active since 2006," says Williams. "EarthCents, a portfolio of energy efficiency programs, attracted 200,000 customers in 2011 who saved more than 130 megawatts of energy."
Air Power
Georgia's wind industry is yet another potential growth industry, says GDEcD's McMurray. Like biomass, the broader demand for wind has grown companies such as ZF Industries, which expanded auto manufacturing operations in Gainesville to include wind turbine gearbox construction, and Hailo, which has brought wind turbine construction to Elberton.
According to the U.S. Department of Energy, Georgia could supply up to 1,000 MW of onshore and offshore wind energy by 2030, creating 20,000 manufacturing jobs. Southern Company research with Georgia Tech, however, indicates that Georgia's offshore winds must be stronger to justify construction, according to Georgia Power's website.
That hasn't stopped students at North Habersham Middle School in Clarkesville from building a 55-foot-tall wind turbine to learn more about wind power, complementing their solar panel on the outdoor classroom built in conjunction with Appalachian Regional Commission and local utilities, as well as Green Power EMC. Nor did it stop Six Feet Under restaurant in Atlanta from building a 45-foot tower in its Westside parking lot overlooking Atlanta Water Works, working with Marietta's Soenso Energy.
People want to own their own power, and ground level efforts, like the EarthCents numbers, are significant, representing the industry within the alternative energy industry – efficiency. It encompasses all forms of alternative energy and represents half the solution. But there are hurdles.
Georgia, like Florida, still ranks at the bottom of states investing in smart energy, in spite of the fact that we are two of the sunniest states in the country. "Neither Florida nor Georgia is among the 29 states with policies that require utilities to tap renewable sources for a minimum percentage of the electricity they provide. This is a lost opportunity, and a costly one, for state residents," Boston's Union of Concerned Scientists, an anti-nuclear group, recently wrote to The New York Times.
In Georgia, an effort to expand alternative energy availability and remove a key restriction stalled earlier this year. Senate Bill 401, introduced during Georgia's legislative session, would have allowed third parties to enter the alternative energy market, making installation of equipment easier for users and removing restrictions for decentralized power generators.
It would facilitate green energy use, but at a cost, says Georgia Power's Williams.
"The only current restriction in Georgia is against third parties selling electricity on a kilowatt-hour basis unless they are qualified as a public utility," says Williams. "But allowing third-party entities that aren't public utilities to sell electricity undermines the integrity and structure of the entire electric system in Georgia."
Although the bill died in committee, it draws attention to the fact that Georgia set its policy rules for alternative energy in 2001, more than a decade ago. Since that time, costs have dropped considerably, making the need for new rules more explicit; we will likely hear more conversation about how alternative energy options can be improved in Georgia.
As the Georgia Conversancy noted, "We claim a small victory in that more Georgians are now demanding the right to install alternative energy systems in their own homes."