Birds Of A Feather
A family farm becomes a successful hunting operation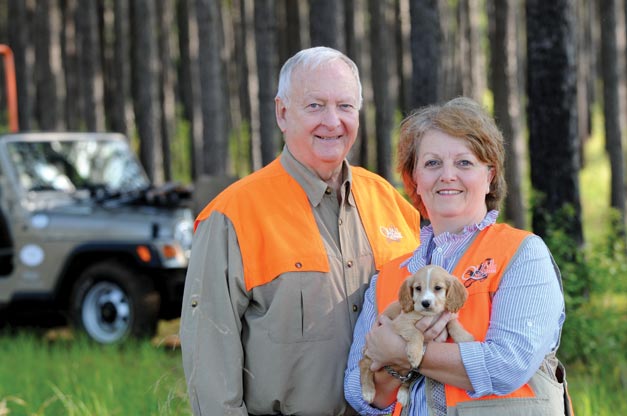 A modest attempt to supplement the family's farm income on the part of Tommy Newberry and his wife, Ann, in 1960 has grown to a multi-million dollar operation for Kay and Paschal Brooks, the couple's daughter and son-in-law.
Quail Country Plantation (QCP), located deep in southwest Georgia in Arlington, is a high-end commercial quail hunting enterprise that's operated continuously for close to 53 years. The plantation does a brisk business in the hunting off-season by hosting conferences, seminars, reunions and even weddings. That sort of diversification made a world of difference during the recent economic downturn. While similar operations lost customers, QCP managed to maintain business at near normal levels. In fact, in the midst of recession, QCP moved forward with an extensive expansion and renovation, enhancing its property even further.
It's a business that's also a labor of love for Paschal, who has a thriving dental practice with his son in nearby Blakely. "I grew up in Colquitt, 18 miles south of Arlington, and quail hunted with my father and my uncle. I loved it all my life," he says. "Kay and I married, and I hung out here a lot. I learned the ins and outs of running a commercial quail hunting operation, and I liked it."
The couple jumped at the opportunity in 1992 to purchase the 360-acre farm and continue running the quail hunting plantation. It was as much a sentimental decision as a business one. "It was a big draw for us to own the original family homeplace, which Kay's father owned and [her] grandfather owned before him," Brooks says. "We love nothing more than taking one of the Jeeps and riding through the woods."
Over the years, Brooks purchased four adjacent farms, bringing the total acreage to roughly 1,480 acres. They lease out 450 acres of irrigated farmland to a local farmer and lease an additional 2,500 acres for themselves, giving them a total of 3,500 acres of land to offer to quail hunters and other plantation guests who visit from all over the country. In addition to hunting quail, guests can shoot clays at the 13-stand outdoor sporting clays course or at the five-stand, a 2,000-square-foot covered area with five shooting stands and six computer-operated clays machines.
Brooks handles day-to-day operations of QCP from his dental office, where he works four days a week. The other three days, he's on the site.
Family Affair
"If I didn't have a good staff, I could not do what I do," he says. There are six QCP employees in the off-season, April through September, but during the hunting season, October through March, the number of employees on the plantation swells to around 25, including 10 part-time guides as well as additional kitchen and housekeeping staff. It's definitely a family affair.
Kay, who works full-time as CEO of the Albany Area Community Service Board, also puts in part-time hours at the plantation as do their daughter-in-law, son-in-law and even their grandsons, who are paid to play with the puppies in the kennel. "None of us can do it full-time, but all of us can do it part-time," jokes Brooks. He needs all hands on deck because this isn't a humble hunting camp.
The plantation boasts a 14,000-square-foot, Orvis-endorsed Wingshooting Lodge. The lodge has the comforts of a hotel in a rustic, wooded setting and features 14 rooms, two lounges, a dining room, fully equipped commercial kitchen, and a large screened-in back porch that accommodates outdoor cooking. Many of the off-season events take place in the plantation Pavilion building, part of the 2007 expansion. The large, stand-alone building overlooks Mill Creek and has a wraparound deck.
The Orvis endorsement is significant. Brooks calls it a fancy way to advertise. "There are a lot of folks who look at the Orvis website for Orvis-endorsed lodges," he says. "There are only 22 Orvis-endorsed quail hunting lodges in North America, and we're one of them."
The plantation also has Orvis endorsements on its gun program – it sells custom-fitted, Italian-made shotguns – and the hunting dog program. The plantation houses the only Orvis-endorsed English Cocker Spaniel kennel in the world.
An 18,000-square-foot hay barn was converted into a state-of-the-art dog kennel with 58 dog runs and the capacity to house 116 dogs. The staff breeds puppies and often trains them for the owners. Brooks calls the dogs the "heart and soul of Quail Country Plantation." The kennels are a small but important revenue generator for the plantation.
One of Brooks' biggest challenges is planning the many details of a hunt while keeping the numbers manageable. Most of the hunting groups are parties of two to six staying for two days.
Personal Touch
Although they can accommodate up to 28 hunters, the owners prefer smaller groups to maintain a personal touch with their guests. "The base of our business is repeat customers," says Brooks. "We have a group of veterinarians that comes in each year to do their continuing education and hunt. We have another group [of hunters] out of Boston who come down every year. In February 2013 it will be the 26th or 27th year that they've come down, continuously."
That sort of loyalty doesn't just happen. Brooks, his family and staff plan every detail of the guest's stay to ensure a superior experience for the $675 per day hunting fee. "That includes a day [six hours] of quail hunting, lunch, a guide, a Jeep and dogs," he says. "We clean the birds and pack them. If you want to spend the night and have dinner and breakfast the next day, it's an additional $180."
Brooks estimates they gross about $1 million from the hunting operation. "We're making a profit and are proud of it," he says.
They're also generating a nice economic impact in Early County. Close to 2,800 guests visited QCP from April 2011 through March 2012. This past March, QCP hosted the Annual National Vizsla Field Trial, a five-day event bringing 78 quail-hunting dogs and 115 human guests from every corner of the country. "I don't know how you figure up economic impact, but ours has to be pretty significant," he says.
"Most of our people drive in. They buy gas; they go to convenience stores. Their purchases generate local sales tax. We try to stock as much as we can from local vendors. In our pro shop we carry items that are produced locally. My goal isn't to be the biggest; it's to be the best. And if we're not the best, we're real close."