Transportation Game Changer
July's statewide referendum will determine Georgia's economic future. There's a lot at stake for all 12 regions.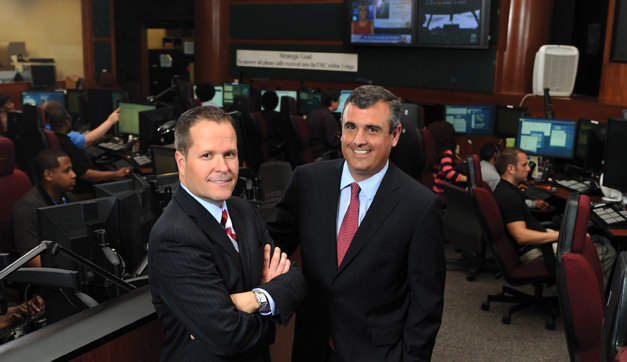 "We will deepen the port. Make no mistake," says Chris Clark, president and CEO of the Georgia Chamber of Commerce and one of the most aggressive supporters of the Regional Transportation Referendum (RTR), also known as the T-SPLOST.
The Savannah Harbor deepening project and the RTR are so inextricably linked that political leaders including Gov. Nathan Deal and Atlanta Mayor Kasim Reed are joining a host of civic organizations, including the Metro Atlanta Chamber, the Atlanta Community Food Bank and the Council for Quality Growth, to push for statewide passage of the 10-year penny tax July 31, which would raise $18 billion for transportation.
"The reason our port is the fastest growing is because our road and rail network is so efficient," says Chris Cummiskey, commissioner of the Georgia Department of Economic De-velopment, another top RTR advocate. "If Zell Miller and other former administrations hadn't done something to make the port more of a growth engine, we would now have little to no success in advanced manufacturing."
It is expected that a deeper Savannah port will triple the cargo that comes through Georgia. With plenty of traffic congestion already, it is unclear how Georgia could handle that traffic without additional investment in transportation.
It is also unclear how Georgia can sustain growth in logistics-related sectors that depend on moving goods quickly and efficiently – sectors believed to be leading us out of the recession – without strengthening the highway network, which has suffered due to lower gas tax revenues. Without an additional tax, there is no way to keep up what we have, much less build anything new, proponents say.
The RTR, created by General Assembly leaders and the administration of Gov. Sonny Perdue, will give citizens in 12 regions of the state the chance to opt in or opt out of imposing the penny tax in their respective regions for local transportation projects that were determined by their leaders. If the measure is approved, revenues must be spent mostly on the locally compiled project lists, with 15 percent allotted for local discretionary spending.
Most local leaders who had a hand in the two-year process of crafting the lists for their communities have a vested interest in promoting it; the process eliminated a lot of controversy by allowing citizen input and discussion through local town hall meetings and roundtables.
Still, Metro Atlanta's transit component has attracted opposition from Fayette County leaders and from some Tea Party activists who have questioned whether an expanded transit system will create the need for a permanent tax. Other referendum foes, from Dalton to Valdosta, are opposed to any new taxes. However, beyond the Fayette County Board of Commissioners' unanimous disapproval, there seems to be little in the way of an organized effort to defeat the RTR.
People are desperate for more transportation funding and the improvements it will bring, but the referendum itself is complex.
"We went 20,000 miles in every corner of the state hearing about issues, and behind better education, transportation infrastructure was what they wanted," says Clark. "What we heard is that we've fallen behind in investment, and we have to move forward. We get less and less from the federal government [gas tax] because of fuel efficiency, and we're already at the bottom in the country [48th] for local investment."
It was an eye opener for Clark, who proclaims that neither he nor the Georgia Chamber is pro-tax. But he was an economic developer in Fayette County and a chamber president in Hawkinsville-Pulaski County (before he served as Georgia's commissioner of the Department of Natural Resources), and he knows the difference transportation can make.
"I can't remember how many projects, at the end of the day, came down to me begging for money from the state to do an ingress or egress or a stop light or an overpass," he says. "And if you try and fund it locally, you have to bond it out over 20 years. With this thing [the referendum], the 15 percent of discretionary funds they didn't have before is an incredible economic tool – it's the hammer."
The Georgia Department of Transportation has partnered with counties on penny taxes before, but that money could never be used for maintaining projects, only for building them. Furthermore, roads leading out of the county were rarely included, leaving them to languish on GDOT's to-do list.
Clark says he found that in the Columbus region, for instance, some transportation projects have been on the GDOT list for 40 years. Others, like the widening of Georgia Highway 133 from Albany to Valdosta, which will give Moultrie four-lane access to Interstate 75, are critical to that region's success, says Clark.
"Even business groups that oppose more taxes know it's something their communities have to do," says Clark. "I haven't been to any region in the state where chambers and economic developers aren't supporting it or at least educating people on it. There's no other group besides businesses that are going to push this through."
Local Advantage
For Georgia to sustain its competitive advantage, every region needs to pass its RTR, according to Savannah's Page Siplon, Center of Innovation (COI) for Logistics director for the Georgia Department of Economic Development.
"We need each node in that chain and system to step up and participate," he says. "Companies don't expect you to have all the answers, but they expect you to have a plan, and it's our Freight Plan, RTR, Competitiveness Initiative and other efforts that are creating jobs for Georgia today."
"Regions that pass the RTR will have a leg up on regions that don't," says Clark, "but if the coast passes it and middle Georgia doesn't, there is a hole in the middle and things can break down."
That's the beauty and the flaw of the RTR, which critics say passes on the cost of maintaining Georgia's transportation network to local governments, which are grouped together in a sometimes-incongruent fashion. Fayette County doesn't like being lumped in with Atlanta, and Athens doesn't like not being linked to Gwinnett County. (Still, plans to fix Highway 316 to Athens made the Gwinnett cut.)
The regions may be imperfect, counter proponents, but the local control established through oversight committees provides a level of accountability that would be lacking in a statewide tax. "You could say the state kicked the can, but you could also say it's a people's vote," RTR supporter Paul Bennecke, of Marietta-based Red Clay Strategies, recently told the Metro Atlanta Chamber.
The final list emphasizes results over pork: Dublin would get a bridge across the Oconee River that would reduce ambulance times in the north part of Laurens County by 15 minutes; Northwest Georgia would fix the bizarre interchange at Interstate 75 and Highway 411 leading to Rome; Crisp County's Intermodal Industrial Park would have a better link to the inland port in Columbus; and Macon's Fall Line Freeway would finally get finished.
The process of compiling priority projects around the state was rarely controversial, Clark says. "The regionalism Georgia Trend often talks about is finally happening," he says.
There is also the carrot of proven success tied to rail and port access. Georgia had a blockbuster year for advanced manufacturing in 2011, and logistics is the reason, says Cummiskey.
Advanced manufacturing now accounts for nine percent of Georgia's gross domestic product, and it's growing, says Cummiskey. "For many, manufacturing was dead 20 years ago, and low-wage [manufacturing jobs] won't really come back," he says. "But advanced [manufacturing] will, and both quality and wages are going up around the world. We would not have had our growth this year if not for the [proposed] port deepening, and to an extent, the RTR – the fact that we have a plan."
Georgia's job growth in 2011 and 2012 has often been logistics-related. Caterpillar announced 1,400 hires in the Athens area; Lowe's Distribution, 600 in Floyd County. FedEx brought 450 new jobs to Gwinnett; Kia Motors brought 1,000 more employees to Troup; and Mitsubishi Electric brought 500 jobs to Chatham.
If the RTR passes in all regions, Georgia could create nearly half a million construction jobs – hardly insignificant – but Cummiskey says that the jobs advanced manufacturing represents will endure well beyond 2023, when the tax ends.
"Advanced manufacturing is the industry of the future," says Cummiskey."Keeping our transportation network efficient is the No. 1 part of the RTR. Currently, cargo [here] can be transported by rail or truck as fast as anywhere else in the country. And 80 percent of the marketplace is now east of the Mississippi."
Failure to pass the RTR would give other states an instant edge, says Cummiskey. "We're a right-to-work state, yes; but we're not the only one – a lot have pro-business climates. Companies with 1,000 or more employees want commutes for their workers under 30 minutes. Charlotte has made a big push at Atlanta and is on the short list a lot more often than it used to be."
Funding Questions
Despite the transparent process for determining each region's projects, there is some confusion about the RTR. The money must be spent on the projects on regional lists, but it will also free up money for GDOT to use elsewhere, on such statewide projects as the widening of Interstate 85 to South Carolina.
Some have questioned whether the RTR would provide enough to pay for the state's decades-old backlog of road projects. However, Community Improve-ment Districts, Tax Allocation Districts (TADs) and other quasi-governmental entities can play an important role in leveraging funding for the coveted federal match.
Perimeter Community Improvement Districts (PCID) in Dunwoody, for in-stance, will receive $112.5 million from the RTR to fix the Interstate 285/Georgia 400 interchange, which was ranked the "least reliable corridor" in the country by Texas Transportation Institute last year. A small city of 200,000 motorists passes through daily, including 30,000 trucks required to stay in the two right lanes of I-285.
Because PCID taxes local businesses and has secured federal support, it is leveraging the funds for a total of $450 million. The project will reduce congestion 28 percent, according to PCID, which projects the 4.2-square-mile employment center will grow by 15 million square feet of office space and 11.9 million square feet of retail by 2036 – growth that would be jeopardized by failure to pass the RTR. The district currently generates $300 million annually for the state in tax revenues, with 29 million square feet of office space and six million in retail.
Perhaps a quarter of a billion dollars in extra revenue for Georgia is at stake, with more for other CIDs and TADs, which number more than 20 in Metro Atlanta.
Some foes of the referendum are fundamentally opposed to taxes, but there are opponents in Metro Atlanta who fear that the transit portion of funding will create a burden the rest of the region will have to bear beyond the 10-year sunset.
"The RTR is not permanent, but it will come," says Fayette County Com-missioner and RTR opponent Steve Brown. "It has to come. [Regional leaders] don't have the first clue about how to pay for [transit]."
Indeed MARTA, which would re-ceive RTR money for a new line connecting Emory University to Decatur, has been handcuffed operationally and working in the red for years. An attempt to reform its funding model and create a new governance system for the agency, which also supports bus service throughout the region, collapsed in the 2012 session.
Some money for operations and maintenance (O/M) of transit projects is built into the RTR. "The majority of funds proposed are only funds to do the actual project, but there is an exception on some of the transit/rail projects that do have a portion dedicated to maintenance," says GDOT Deputy Commissioner Todd Long.
Other Successes
Other clues to paying for O/M can be observed in how Charlotte has managed its rail system. The LYNX system is responsible for $288 million in completed development and $522 million under construction, reports the Charlotte Area Transit System (CATS). LYNX exceeded 20-year ridership projections in its first three years, but fares aren't the payoff: It's the return on tax revenues that are paying for the system.
According to the University of North Carolina-Charlotte, housing prices a-round the light rail stations near downtown have jumped 15 percent. Devel-opment along the LYNX Blue Line is predicted to generate $16 million annually in property taxes. CATS predicts a total of $1.4 billion in new development spawned by the line by the end of 2013.
Self-taxing districts can fund infrastructure based on these rising values and use these revenues for leverage to generate public-private partnerships (P3).
Charlotte's city council has created a "Freight Oriented Development" funding district based on the premise that improvements to Norfolk Southern's freight line will bring about increased use, which could mean more warehouses and distribution centers. The new tax revenue would pay for the commuter line to Lake Norman and fill funding shortfalls.
In New York City's Chelsea District, the High Line park converted one mile of historic elevated freight rail tracks to greenspace that brought in two million visitors – half of them tourists – in its first 10 months. According to the Village Other, the High Line has doubled its original $150-million cost in revenues and has spawned two big projects – a luxury hotel by Andre Balazs and the new home of the Whitney Museum of American Art.
The High Line is expected to leverage $13 million annually in rising surrounding property values when finished.
Up To Speed
If Metro Atlanta's RTR passes, the city indicates the available funding will speed up the BeltLine completion date (now projected for 2031) by 15 years. It's hard to gauge the future ridership of the BeltLine (which includes 22 miles of streetcars and light rail) and MARTA's expansion, but if Charlotte is any indication, more riders may use it than expected, and the coordination of routes will certainly help fill in the "last mile" gaps in the region's transportation network so coveted by employers.
There may be some truth to the claim that ridership in and of itself will "never justify the cost," as Fayette's Brown says. "How do you measure success?" he asks. "Getting cars off the road? How many justify the expense? We have no metrics."
But rising real estate values and tax revenues aren't insignificant, says RTR proponent Sharon Gay, an attorney at McKenna Long & Aldridge and an expert on TAD financing. She says if Metro Atlanta's RTR passes, communities could see up to a 20-fold multiplication of their transportation funding from federal sources.
"According to ARC [Atlanta Regional Commission] analysis, the 80 percent federal funding is already there, and we've just been unable to provide the 20 percent needed to match it," says Gay. "So between the RTR projects and the 15 percent local discretionary spending, that match becomes huge. You can also use your CIDs or TADs to provide even more leverage."
That ratio may be lower but still significant for other Georgia cities, and there is the possibility of private investment. "It's possible the RTR will create more interest in P3, though we're slow as a nation to do that generally," says Gay.
Proponents have admitted there are many variables that will impact the success of the RTR list, but they aren't impossible hurdles. The alternative, as RTR supporter Doug Calla-way, executive director of Georgia Transportation Alliance, puts it, is to fall into the irreversible disinvestment spiral characterized by cities like Detroit.
(In response to RTR Advocate Atlanta Mayor Kasim Reed's "What's your plan B?" question to detractors in his State of the City address, "That's it," says Callaway. "Detroit is our Plan B.")
Charlotte recently announced it was expanding LYNX by nine miles to the University center – doubling its length and probably the city's revenues. "Charlotte is getting 50 percent federal money for this $1.16 billion project," says Gay. "We've not been able to get that money for years, because we didn't have a source for the state and local match."
Still, it's the human message that may decide the vote. Traffic is a statewide problem, and any solution – even a somewhat confusing one – may be perceived as better than nothing.
"The fact is it will create $9 billion in travel time reduction savings, on top of $18 billion in revenue," says Red Clay Strategies' Bennecke. The human value of that time may be harder to measure.