2012 Power Women
Meet four Georgians – a university administrator, a soccer coach turned life coach, a mayor and a businesswoman – who thrive on challenge and hard work. In achieving their successes, they are changing their worlds and making a difference.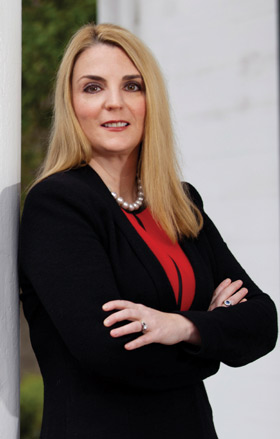 Dr. Jennifer Frum
Vice President for Public Service and Outreach, University of Georgia
West Virginia native Dr. Jennifer Frum was bitten by the international bug after traveling and living, briefly, in Europe as a teenager. Later, with degrees in political science and international relations in hand and an internship with a U.S. Congressman under her belt, Frum thought she would end up working for the State Department or an international development organization. Instead she's enjoyed a 17-year career in public service outreach at the University of Georgia, where, this past January, she was named Vice President for Public Service and Outreach (PSO), a position she'd held in an interim capacity since the previous July.
The PSO Division is essentially the face of UGA in every community in the state. As vice president, Frum oversees university resources extended statewide through eight specific units: the Archway Partnership, Carl Vinson Institute of Government, Fanning Institute, Center for Continuing Education (and its conference center and hotel), Marine Extension Service, Office of Service-Learning, Small Business Development Center and The State Botanical Garden of Georgia. The mission of PSO and the eight service units is to enhance quality of life in Georgia by addressing economic, social and community needs.
"This is a very interesting time for our state," Frum says. "Clearly we have some economic challenges and other issues where the resources of the university can come into play. Now more than ever at UGA, I hear faculty, department heads and deans talking about the opportunities to take the pure research that they're doing in labs across campus outside, to apply it to the practical needs of the state."
Frum is one of two women vice presidents in the president's cabinet and the first female vice president of PSO; she brings an extraordinary level of knowledge and familiarity to the position. She has worked in outreach administration since arriving on campus in 1995, serving as assistant director of UGA's Office of International Public Service and Outreach and leading development and implementation of projects in Africa and Latin America.
The international job had a profound impact on her. "You gain an appreciation for a functioning public works system or a functioning system of collecting local taxes and allocating them to basic services for people when you're in a hotel or room that doesn't have electricity or running water," says Frum. In 2006, Frum joined the Carl Vinson Institute, bringing her international experience to bear on the domestic side of community development.
She currently devotes much of her attention to economic development. The work of PSO and its units accounts for an estimated $333 million annually in direct and indirect economic impact statewide, according to a recent analysis. That's a big number that translates into specific projects, three of which Frum quickly rattles off.
"With grant funding from the National Sea Grant [College] Program, three oyster farms in Bryan, McIntosh and Camden counties were initiated in Georgia in April and May 2011," says Frum. Using techniques developed by graduate students sponsored by the Marine Extension Service, the green, sustainable oyster farms are on target to begin harvesting oysters within the next year, reviving a lost industry.
Meanwhile, the institute conducted a study assisting Brunswick in improving organization and developing efficiencies in service delivery; in north Georgia, the Archway Partnership in Dalton and Whitfield County is assisting in a project to rebrand the vital flooring industry.
Frum's biggest challenge isn't external. "I'm not a patient person," she says. "I'm excited about all the opportunities we have, but I want it to move quickly. But across the board, we have a group of people waking up every day thinking of how they can make the state better. That's our biggest asset." – Patty Rasmussen
Luma Mufleh
Founder, Fugees Family, Inc., and Fugees Academy
The kid was sitting over there in the passenger seat, clutching his stomach, complaining that he was hungry. Luma Mufleh wasn't falling for it.
"I figured he was conning me to take him to McDonald's or Taco Bell or something," says Mufleh, 37, who was giving the kid a ride home after soccer practice. "I told him, 'You'll be home soon, and you can get something to eat.'"
This is more than five years ago, and she'd only recently started the Fugees soccer team in Clarkston for refugee boys, survivors of war, serving as their coach and bus driver.
"He tells me it's that time of the month," Mufleh says. "I didn't know what he meant."
He meant the food stamps and money had run out. Mufleh found the boy's mother in a corner of the darkened apartment, rocking back and forth, lost and desperate.
"I looked through the cupboards and there's nothing, no food, and I got really angry. How does a kid that lives less than five miles from me, in the heart of America, go to bed hungry?"
She bought groceries, found out the mother was working at a hotel in downtown Atlanta, making minimum wage. Her paycheck barely covered rent and utilities.
"It was a rude awakening for me," says Mufleh, who responded by expanding her role in the lives of her players. It's a pattern that has repeated itself for Mufleh, who founded Fugees Family, Inc., a nonprofit devoted to helping child survivors of war and terror.
Today, she's kind of like a CEO with a coach's whistle and a staff.
Mufleh grew up wealthy in Amman, Jordan, a Muslim girl in love with sports. After graduating from Smith College in Massachusetts, she moved to Atlanta. Mufleh was running a café in Decatur in 2004 when she took the wrong turn into an apartment complex, changing her life and the lives of children whose earliest memories were fierce and bloody.
She saw about 10 kids – turns out they were war refugees from Sudan and Afghanistan – playing barefoot on the as-phalt, kicking a ragged ball around, and it reminded her of the pickup games she used to play in Jordan. Soon she was recruiting these kids and starting a soccer program through the YMCA.
Today the program serves 86 boys and girls, ages 10 to 18, who play soccer year-round. It includes after-school tutoring and soccer for 50 elementary-aged students, and they're closing in on 40 at the Fugees Academy, an independent school where kids get individualized attention. The Fugees use space at Clarkston United Methodist Church for their academy, and they rent field space from the city of Clarkston for soccer.
Now Mufleh is spearheading the campaign to build the Fugees a permanent home. Using donated money, they purchased 19 acres of foreclosed land in Clarkston about two years ago.
"We're going through the feasibility study now and trying to raise about $7 million for the first phase," says Mufleh, who envisions a school to serve 6th through 12th grade refugee students, practice soccer fields, a gym, community garden, theater.
Mufleh has become a soccer coach and a life coach for these kids and their families, helping parents find work and helping the kids see beyond the soccer field.
"So far, 18 of my boys are in college, all of them on academic and athletic scholarships," says Mufleh, who is unabashed about calling them her boys.
It's the little things that have nothing and everything to do with soccer, the stuff that happens away from the field and between the ears of children that seem to make Mufleh proudest. Like the boy she was tutoring several years ago.
"He used to fake headaches to get me to read to him. He wanted me to fill out the assignment sheets, wanted me to read him the questions," she says. "Finally, he looks at me and says, 'Coach, I can't read.' I was stunned. He was getting A's and B's in school, but he couldn't read. They weren't teaching him. I was ready to throw a fit."
Instead, she started the Fugees Academy, which helps to fill gaps in the boys' education and help them perform at grade level. And the boy with the fake headaches?
"He was in our school for two years, and at the end of that time, he had read the Harry Potter books," Mufleh says.
"To me, that has been one of our greatest accomplishments. Taking a kid who couldn't read, and helping him find his confidence, so that he could help himself. He's graduating high school next year.
"Those are the small victories that matter most, the little things that help children become good, strong young men." – Jerry Grillo
Edna Jackson
Mayor of Savannah
The mayor admits one thing: "I'm a hugger," she says. "A softie." Sitting in Savannah's old City Hall, wearing a suit pinned with a big pink flower (inspired, she says, by former Atlanta Mayor Shirley Franklin), Edna Branch Jackson describes a background that could have forged another kind of person.
In Savannah's Currytown, she grew up without indoor plumbing, much money to spare or a dad. Her mother was usually away, in Florida, sending her cook's wages home to her, her sister and her grandmother, who largely raised them. Jackson's home life, however, was stable and loving. "We were spoiled," she says, eyes widening. She was forbidden to cook or do housework at home, so she could focus on her homework and after-school activities. (She says neither she nor her sister, on marrying, "knew how to boil water.") Her grandmother, who had little formal education, was an avid reader, filling the house with newspapers, books and magazines.
Currytown (razed under "urban renewal" and replaced with projects) was a black neighborhood, but economically diverse – her neighbors were mostly poor, but they also included prosperous merchants and "real Southern ladies," like her godmother and next-door neighbor, who would invite the young girls over for tea. The close-knit community was a large extended family, in which "anyone could correct you," she says. But more often her family, friends and neighbors encouraged her: "They saw something in me I didn't see in myself."
Always vocal and quick to defend herself and her quieter, shyer sister, she joined Savannah's NAACP at age 9. Her grandmother thought it might be a good way to mold her budding contentiousness into something more diplomatic and positive. Legendary Savannah Civil Rights pioneer W.W. Law taught African-American history to his young charges, inspiring them with a narrative they had not heard in public school.
She found the experience so powerful that she was drawn to a career in education. "You have to be able to tell your story," she says. "How can you know where you're going until you know where you've been?"
When her sister entered college, the family couldn't afford to send Edna at the same time. She gladly volunteered to put it off, as she became more involved in the NAACP and the Civil Rights movement. Still a teenager, she joined downtown Savannah sit-ins and church "kneel-ins" to protest segregation, and at a Tybee Island "wade-in," still in her bathing suit, she was arrested and thrown in jail. "It wasn't so bad," she says. "We just sang freedom songs all night."
At 18, she escorted an integrated caravan of station wagons to the March on Washington, D.C., to hear Martin Luther King Jr.'s 1963 "I Have a Dream" speech.
She graduated from Savannah State in 1968 and earned her master's in education there in 1972. After a stint as a social worker, she joined her alma mater as director of emergency school assistance in 1971, retiring in 2001 after filling a variety of roles there in counseling, admissions, alumni affairs and recruiting.
The lessons she learned about standing up for herself and others too weak to do so followed her, especially once she entered politics. In 12 years as alderwoman, she earned support among Savannah's diverse business community, and she says continuing to bring Savannah's white, black and other factions together is among her top priorities.
Jackson has deftly sidestepped some potentially hot-button issues as recently as St. Patrick's Day, when she declined to challenge the 200-year-old Hibernian Association, a private club of some 800 men who have always invited the (male) Savannah mayor to their anniversary luncheon. "I will not break their tradition," she told the Savannah Morning News. "This year it is more important to build relationships, respect tradition and concentrate on moving forward. Maybe in the future they will extend an invitation."
For Mayor Jackson, Job One is jobs. She believes increasing them is the key to bringing Savannah back. Closely following is the issue of deepening the Savannah harbor to allow "supertankers" into the port. In a recent one-minute meeting with President Obama, she lobbied for crucial federal funding – while working in a conversation about the good food at Mrs. Wilkes'.
Jackson has acquired a group that functions much as her extended Currytown family once did. Female friends and colleagues, calling themselves the Mandingo Socio-Civic Club, are informal counselors and advisors, "telling me what I need to hear instead of what I want to hear" when she needs it most.
In the meantime, she does not worry that as a woman, she will be seen as soft and yielding when strength is required. "I'm a Southern lady," she says firmly. "My style of leadership is about making people feel good about what we're doing in this city." – Krista Reese
Mitzi Smith Moore
President and Owner, Sundial Plumbing
Sundial Plumbing President and Owner Mitzi Smith Moore attributes her professional success in large part to two factors: adversity and accountability. With a bachelor's degree in finance and management and just a quarter shy of completing her master's in middle childhood education, the end of a bad marriage left Moore the sole provider for a newborn and toddler. "I couldn't go to school anymore," she says. "I had food, formula and diapers to buy. I needed to earn a living."
She approached her father, Jack Smith, a successful Atlanta-area plumber, about a job in his office "just until the baby was a little older," she says. She was surprised to learn she loved the plumbing business, something she had grown up around, but until that point had never considered as a career. Soon, with her father's encouragement, she was going out on the truck digging ditches, cleaning sewers, installing toilets and fixing leaky pipes. "I got my journeyman and class I and class II licenses," she says.
Five years later, when her father decided to retire, Moore was promoted to site manager, which gave her the confidence to know she could run the business. Again, she approached her father – this time for help starting her own plumbing business. The two formed Sundial Plumbing, which she recently bought out. The Marietta-based company, which employs 50 and runs about 32 trucks, covers the greater Atlanta area.
While Moore doesn't go out on the truck these days, her image does. Her face is featured on 20 of her trucks – a decision she made to show her personal commitment to her business. "This shows customers I have a deep commitment to the company and a lot of accountability," she says. "I get a lot of calls, and that is sort of a statement that this is a company that is run by someone who is involved and cares and is available and accountable."
She has also established a policy that anyone who calls Sundial can speak to anyone with the company within one business day, with no automated runaround or voicemail. In fact, when the company recently updated its phone system, they paid extra not to have voicemail, she says.
While life didn't turn out exactly how Moore expected, she says she has no regrets and is grateful for the opportunities she was given and, in some ways, even for the adversity that brought her to where she is now.
Her management degree helps her with running her own business, she says. "Running a business in today's world is challenging," she says. "It would be difficult to be over-prepared for this. I don't know that I could have done what I have done with any less education than I have."
Her work toward a master's in education has been helpful in her position on the state's five-person Division of Master and Journeyman Plumbers of the Georgia Construction Industry Licensing Board – which involves preparing licensing tests and administering the law – and in her frequent talks to high school students, she says.
"I have had a lot of adversity, but I have been fortunate enough to see that most of those adversities have turned into opportunities," she says. "When I speak to groups of young people, I tell them in the oddest of places you will find opportunities and in the worst of adversity there is so much opportunity." – Mary Anne Dunkin