Power Players: Banking On His Hometown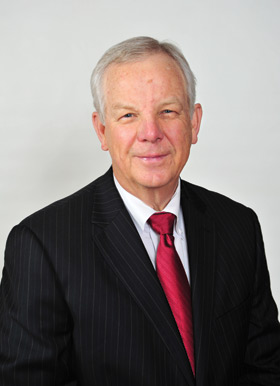 Ask Larry Kuglar, recently retired president and CEO of SouthCrest Finan-cial Group, whether he believes his career was anything special and he'll probably answer with a humble and firm "No." But the people of Cedartown and Polk County, aware of those he helped and the difference he made, would answer with a resounding "Yes."
Kuglar was a hometown boy, a product of the Polk County school system who became the first in his family to attend college. His parents worked in the textile mills. His grandfather was a huge influence who, despite a lack of formal education, was very well read.
Kuglar went to college on his own nickel, paying for tuition at West Georgia College in Carrollton by working and obtaining student loans. "My dear mother used to give me $25 a week to live on," he recalls. He graduated with a degree in economics. It was 1967, and the Vietnam War was reaching its peak.
"I was classified 1-A, but I went to a job fair and met with the Office of the Comp-troller of the Currency (OCC), which regulates national banks," he says. "As a federal employer, they couldn't discriminate against those of us who had a 1-A draft classification. I took that job and worked there for about six months before Uncle Sam issued his draft call."
Kuglar served in Viet-nam, not in harm's way, and got out of the military when his time was up. By then, he had married.
He opted to get his master's in business administration at the University of Georgia before returning to his job as a bank examiner for the OCC, where he remained for several years, living in the Atlanta suburbs. But in 1973 he made a career about-face. "On April Fool's Day I made the move to banking," says Kuglar. "I went back to my hometown of Cedartown and worked there for 38 years."
He worked on the lending side of the First Nation-al Bank (FNB) of Polk Coun-ty, a privately owned community bank that at the time had just opened its second branch. He became president and CEO in 1983, and he remained in that position until 2009.
"Community banking is special because of local decision-making, the personal relationships you build," he says. "It's the fact that not only do you have to concern yourself with the bank, you have to concern yourself with the community. You have to have that morning coffee club you go to and listen to their thoughts. You're involved in civic clubs, churches, the chamber of commerce."
Kuglar chuckles at comparisons to George Bailey and It's a Wonderful Life.
"That would be the perfect story," he says. "In reality, the decisions are a little more difficult to make and the results a little bit harsher."
In September 2004, Kug-lar led the FNB of Polk County to merge with the Bank of Upson in Thomas-ton. They formed South-Crest Financial Group, Inc., a holding company that included three other Georgia banks and one in Alabama. Despite some painful losses during the recession, SouthCrest is in good shape, he says. But the past five years overflowed with grim realities for the industry.
Since mid-2008, more than 75 Georgia banks have failed, many of them small community banks. "The good news is that everyone believes the remaining banks are stable," he says. "I think we're going to have another couple years of tough sledding due to various factors, but I look for the recovery of community banking in 2015 or 2016."
Kuglar, who served as chairman of the Georgia Bankers Association from 2002 to 2003, sees more bank consolidations on the horizon. "I remain concerned, but we will survive this," he says.
"Community banking will come back in a different mode. They will be pure banks, and I don't think that's all bad. Customers will be even more important, and hopefully this time we'll listen to them a little better and guard against risks we shouldn't have been taking in the first place."
He retired in September 2011, leaving SouthCrest in the hands of "fresh faces with fresh ideas," but he continues to consult with the company. And that's perfectly all right with the local boy who came home.