Political Notes: May 2012
Ups, Downs and In-Betweens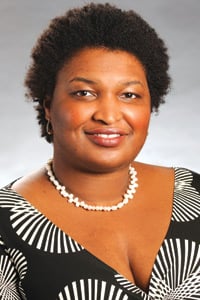 Gold Dome Winners: The 2012 General Assembly passed legislation to reform the state's criminal justice system by providing sentencing alternatives for certain non-violent offenders. The measure, HB 1176, was a cornerstone of Gov. Nathan Deal's legislative agenda for the year and had broad bipartisan support.
The Sunshine Laws governing public records and public meetings were strengthened with the passage of HB 397 introduced by Rep. Jay Powell (R- Camilla) and backed strongly by Attorney General Sam Olens.
Georgia voters will be able to weigh in on the issue of state-created charter schools in November, when they vote on a constitutional amendment passed by the legislature in response to a Georgia Supreme Court ruling that held that such schools interfered with local control of public schools.
Minority Report: As the session was winding down, House Minority Leader Rep. Stacey Abrams (D-At-lanta) told an Atlanta Press Club Newsmaker Luncheon her legislative strategy includes elements of collaboration and competition. "We collaborate [when] we can and compete when we should."
Abrams, the first African-American and first female minority leader in either legislative chamber, told her audience, "I've had a lot of experience being a minority, and I'm good at it."
She is proud of the working relationships she has with Gov. Nathan Deal and House Speaker David Ralston and believes compromise is a key element in crafting effective legislation.
"Leadership requires that we try to find compromise in the difficult spaces, not the easy ones," she says. Georgians don't care so much about partisanship, she says, "they care that their lives be made better."
She reviewed bills – which ultimately passed – that the Democratic caucus considers good (HB 386, the tax reform bill, and HB 1176, the criminal justice reform bill); bad (HR 1162, that would amend the constitution to allow the state to charter schools independent of local districts); and ugly (HB 681, which requires drug testing for welfare recipients, and HB 954, which limits abortions after 20 weeks with no exceptions for rape or incest).
Abrams talked about her travels to the rural parts of the state and says she feels no particular hostility directed at her because she represents the state's largest urban entity: "No one cares if you're from Atlanta. They care what you're going to do for them when you get back home."
Failing Grade: Georgia didn't just earn an "F" in a study that ranked state governments on transparency, accountability and anti-corruption measures, we came in dead last. Or, if you're a glass-half-full kind of person, we are No. 1 in corruptibility among all 50 states.
The State Integrity Investigation, conducted by the Center for Public Integrity, Public Radio International and Global Integrity, researched 330 "Corruption Risk Indicators" in 14 areas of government, including access to information, campaign finance, lobbying disclosure and ethics enforcement.
In a not-so-surprising related development, the recently concluded 2012 General Assembly session failed to pass any significant ethics reform legislation.
And if you really want to feel bad: The state with the highest marks for transparency and accountability is New Jersey, which earned a B-plus.
Awaiting Court Ruling: Georgia and other plaintiff states are awaiting a Supreme Court ruling, expected in June, on the constitutionality of the individual mandate provision of the Patient Protection and Affordable Care Act.
Georgia Attorney General Sam Olens, who was at the Supreme Court to hear the arguments, said in a statement: "The outcome of this case will drastically impact the course of this nation for decades to come, and the repercussions will be broader than just healthcare. I am encouraged by the past three days of arguments and look forward to the court's decision at the end of June."
New Academic Officer: Dr. Houston Davis starts his new job this month as the University System of Georgia's new chief academic officer. He comes here from Oklahoma, where he was vice chancellor for Academic Affairs for the Oklahoma State Regents for Higher Education.
The appointment was made by USG Chancellor Hank Huckaby, after a nationwide search.