Giving Back
Architect Robert L. Brown Jr. has spent his career combining business and social responsibility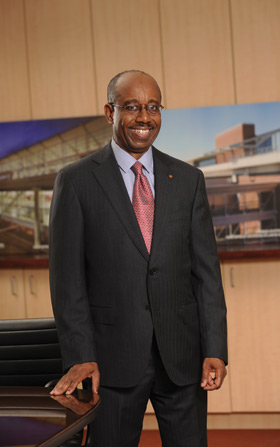 When Robert L. Brown Jr. set off from Dublin to study architecture at Tuskegee University, he had never actually met an architect. But he had spent a lot of time working with his father, a builder and small businessman, and he knew what he wanted to do.
"My dad installed a lot of roofs," Brown says, "Some of them were very, very steep. I remember saying if I ever got down from the roof, I'd rather design those things than build them."
Brown is the founder and CEO of Decatur-based RL Brown & Associates, Inc., an architectural firm whose work includes The Ray Charles Performing Arts Center at Morehouse, the Birmingham Civil Rights Institute, the Drew Charter School at the Villages of East Lake, projects at Tuskegee, and schools and libraries throughout the metro area. He has spent his career creating good design and is a member of the College of Fellows of The American Institute of Architects.
His other job has been in community service: He was the longtime chair of The Fulton-DeKalb Hospital Authority, which oversaw operations of the Grady Hospital system until 2008; he chaired the Georgia Chamber of Commerce and served on the State Board of Corrections. He currently holds board or leadership positions with the Metro Atlanta Chamber, Georgia Part-nership for Excellence in Education, Geor-gia Department of Transportation, Citizens Trust Bank, Georgia Historical Society, Agnes Scott College and Georgia Power.
For his professional and civic achievements, Robert L. Brown Jr. is Georgia Trend's Most Respected CEO for 2012.
Mentors and Influences
Even though he was without an architect to advise him early on, Brown never lacked for good counsel. His parents – his mother was a seamstress – were his earliest mentors and role models for running a business and for immersing himself in civic work.
"They were small business people, sole proprietors," Brown recalls. "I watched how they really cared for their customers, watched how they dealt with their customers. They both had diverse customer bases – customers that were black, customers that were white. I liked the fact that being in business was also about building relationships and cultivating relationships. They always gave back to their communities. Dad was a Mason, Mother was an Eastern Star. They worked tirelessly. They took me to church every Sunday – I grew up in the Baptist church."
Brown is the youngest of four children and the only boy.
As his career developed, he added other mentors – among them DeKalb's Manuel Maloof, construction pioneer Herman Russell and businessman Felker Ward.
"Now, I like being a mentor to others," he says, and shares a text message from a student at Georgia College in Mil-ledgeville thanking him for some good advice.
The Tuskegee architecture program he began in the early 1970s was a six-year course, and he graduated magna cum laude. While he was still in school, he was recruited by the Atlanta architectural firm Aeck Associates, now Lord Aeck Sargent. One semester he worked in Atlanta and drove to Tuskegee three days a week for afternoon classwork – aided by youthful energy and the "extra" hour he gained when he crossed the Alabama state line and entered the Central Time Zone.
From Aeck, he joined a larger firm, Fry and Welch/Stevens & Wilkinson, and became part of the team that worked on the Atlanta airport terminal, which opened in 1980; it was a historic construction effort propelled by the late Atlanta Mayor Maynard Jackson, who made sure mi-nority contractors had a slice of the pie.
After the airport was finished, Brown was approached by Dilling-ham Construction to work as a project architect, unusual at a time when architecture and construction were typically separate operations.
"The key was it gave me an op-portunity to see how things were built," Brown says. The experience al-so changed his perspective and his working habits.
At the time, architects kept fairly regular business hours. "So when I showed up [at the site] the first day at 8:30, they'd already been there since 5:00. The whole work ethic was different in construction. But you know what I did? I applied it to design. I still get up early."
In 1984, he started his own business in Decatur. He was a sole proprietor, just like his father before him.
Meeting Manuel
His passion for civic involvement got a nudge from the late Manuel Maloof, the famously curmudgeonly DeKalb County CEO, proprietor of Manuel's Tavern and staunch supporter of Grady Hospital.
"I met Manuel at a function," Brown says. "We had an exchange about infrastructure in the county. If you knew Manuel … the interaction was challenging for me. I asked him what he was going to do about infrastructure in DeKalb County. He said, 'I'm taking care of DeKalb County.' It was a testy response.
"But I have to tell you he became one of my most significant mentors. He called me to his office one day and said, 'I want you to sit on the board at Grady.' I said, 'Manuel, I've never been to Grady.'
"He said, 'You'll do fine. I just want you to look after the poor people. You care about things. You care about people.'"
A bit reluctantly, he accepted an appointment to the Grady board, where he served 20 years, 14 of them as chairman – arguably the toughest volunteer gig in town.
"I learned about how to balance supply and demand," Brown says. "I watched those CEOs [on the board] and how they dealt with it, the business model – contracting with two counties, plus what we were able to get from other sources. That's how you balanced the budget.
"Today that's still a challenge. The key is to keep Grady viable to take care of people who need that care. That's the main thing. All the activities around Grady are to care for 'the least of these.'
"The frustration was getting the community to embrace it wholeheartedly. They always wanted that confidence that it was being run like a business, using sound business principles. Being a teaching hospital presented other challenges.
"I learned how to manage a business without having all the resources you need. You provide contributions to these nonprofits at the same time you're learning from these CEOs and terrific board members who are giving their time. That became a passion," he says.
Brown was a hands-on chairman, who often rode with the EMS crews on Friday nights. "That was a different experience," he recalls. "We went to some pretty tough situations, including Little Vietnam," the name given to the war-zone-like East Lake Meadows public housing project, now torn down and replaced with a new community that Brown's firm helped build.
Once, Brown put himself in the position of a homeless person trying to get a "Grady card" for access to healthcare at the hospital, to learn first-hand what it was like. He used the experience as a Leadership DeKalb project. "I stayed at a homeless shelter and went to Grady – the staff didn't recognize me. I wanted to see what a homeless person had to endure."
He got the card, but wasn't entirely happy with the experience. "I took that back to the administration," he says. "I thought the process could be streamlined."
He believes one of the best things that happened on his watch occurred when Children's Healthcare of Atlanta took over the management of Hughes Spalding Children's Hospital at Grady, originally built for African-American patients in the days of segregation, then converted to a facility for children. "Now we have this collaboration to take care of children. It's the greatest investment we can make. I drive by and see the facility, and it just warms my heart."
His involvement in community affairs deepened and broadened over the years. He served on the state corrections board, where he advocated building fewer prisons and looking for ways to rehabilitate prisoners – ideas that are now getting some attention from legislators. He urged a ban on smoking in prison facilities.
Brown worked with the Georgia Early Learning Initiative, called GELI, to ensure that poor children from birth to age 5 receive proper care and nourishment, and Smart Start, to help prepare children for school.
"All this connects – early learning, helping reduce the prison population, the work I was in. You try as an architect to look at how something could be designed to deal with the whole, not just the pieces, to connect the pieces into an image, just like a design that everyone can see and be inspired by. When you are designing a building, you want people to share the vision. It's the same thing in society."
His journey continues with the Georgia Partnership For Excellence in Education – "taking it up another level, to do the research and make sure we provide the data to those making the decisions." From his vantage point on the board of Agnes Scott College, the women's school in Decatur, he has the opportunity to see all his education interests come together, providing opportunities and helping, as he puts it, to "direct young women into the world."
His civic work helped sharpen his business skills. Nonprofits he worked with "all had budgets, all had missions and goals and objectives, and all had to be run like a business. You couldn't control your 'customers,'" the inmates of the prison system, but you had to manage the budget. You couldn't control who came into Grady, but you had to manage.
"Seeing how those challenges were dealt with, how you have to make tough decisions and be able to do it and still maintain your mission – that to me was the most challenging, the most frustrating. You saw what really worked, and it was balance. If you were too tough, you created an environment that caused difficulty. It was challenging."
Building the Business
RL Brown & Associates is now in its fourth Decatur location, on the eighth floor of the Renaissance Building, where it has been since 2001. At one point, the firm had 35 architects, although it is smaller now.
Brown entered architecture at the point it was changing, embracing new models and expanding the role of the architect.
In the early days of the profession, he says, the architect was a master builder who designed a building and made sure it was built to design – not unlike his father. "My dad used to do concrete work, carpentry, heating and air conditioning. He would sketch it on a napkin."
A significant change has been the rise of the design-build system of project delivery, in which the design and construction is typically handled by a single entity, as opposed to the more traditional design-bid-build that required the project owner to hire an architect for the design and a contractor for the construction.
The design-build concept was part of Brown's original business plan in 1984 and remains a key component today. "We have a collaborative approach with the contractor to be sure we work together to eliminate conflicts and eliminate areas of difficulty with scheduling and budget."
His firm is currently working on projects in Georgia and Alabama and has completed projects in South Carolina.
"We use our firm as a vehicle for our employees to give back in the community," he says. "It's more than just designing buildings. It's investing in the community."
Such investment pays off in business. "Not that you give back for that reason, but people get to know you. You develop relationships. I saw how my dad and mother used to develop relationships in the community."
His is quick to credit his employees whose hard work makes it possible for him to devote time to civic service.
Brown believes his community involvement was responsible for the opportunity to work on the school that was part of the revitalization of the East Lake neighborhood spearheaded by developer Tom Cousins. "He was creating a better community. It was a dream to be able to be part of it, to see what a vision came from 'Little Vietnam.' It doesn't get much better than that."
His work with the Birmingham Civil Rights Institute was especially rewarding – his wife, Barbara, is from Birmingham.
This he traces back to his work on the Atlanta airport. "Maynard Jackson wanted to provide an environment and opportunity for African-American architects, and then [for me] to get the chance to work on the architecture for the Civil Rights museum – all of it is sort of connected. If I hadn't had the opportunity to get a start in business through the vision of a mayor like Maynard Jackson and some of the others, it would have been very difficult."
Brown is especially proud of the historic preservation work he has done for his alma mater, founded as Tuskegee Institute in 1881 by Booker T. Washington and one of the country's premier historically black universities.
He got a call one morning from the Tuskegee president; the main academic building was on fire, and he asked if Brown could come and help find a location for students to have classes. "When I got there the building was still smoking. This wasn't about a business project; this was going down there assisting them so classes could continue."
He became involved in helping with plans for a new building, but quickly saw the value of preserving some of the old ones.
"One day I was on campus and I said, 'Tuskegee is a national historic site, and we have buildings vacant.' The John Andrews Hospital and other buildings around campus were vacant and in some state of deterioration. 'Instead of building a new building, why don't we preserve the buildings we have on campus?'
"This is what Tuskegee allowed me to do: Develop a program of adaptive reuse. We took the hospital and patient rooms to convert to faculty offices and the surgical suites to lecture rooms. We took an older building and created a museum out of the building built in 1940 – it's the National Center for Bioethics in Research and Health Care." (Some of the funding came in the form of reparations from the federal government for the U.S. Public Health Service's infamous Tuskegee Syphilis Study, for which President Bill Clinton formally apologized.)
Besides his nonprofit work, Brown sits on the board of the Citizens Trust Bank, one of the oldest African-American-established financial institutions in the country, and Georgia Power.
"I've worked in that arena with such terrific CEOs – Allen Franklin, David Ratcliffe, Mike Garrett, Paul Bowers. When you get a chance to see CEOs at work in a corporate culture second to none, you see that they give back, and it reinforces the mission. You see how business and social responsibility combine. You wake up every morning excited, knowing you are connected to institutions like colleges, banks, power companies, all geared to building their communities."
Georgia Power President and CEO Paul Bowers calls Brown "an invaluable member of the Georgia Power board of directors since 2003" and cites his leadership role as chair of the board's nuclear committee.
"I've been so blessed to have so many opportunities, linking that to cultivating relationships, navigating the business environment and being friends to those leaders," Brown says. "One project leads to another. You take advantage of those opportunities where you can work and volunteer your time, and you use that somewhere else."
The continuing challenge, he says, is balance, and family is a big part of that balance. He and Barbara have two children – a daughter, Robyn Denise Brown, who is a student at the University of Georgia, and a son, Robert L. Brown III, a Tuskegee graduate who is in business with him. His father, the master builder, died in 2010, but he was able to share in his son's success and know he had taken his advice and his example to heart.
"That passion for giving back to your community just comes in so many different forms," Brown says. "That to me is one of the key drivers in leadership, for individuals to have mentors and share that wisdom. Daddy always said 'Don't let that follow you when you check out. Share that wisdom.' You get back from the nonprofit side and connect with the profit businesses – they do the same thing your little business does. It sort of completes the loop."