Expanding Global Capacity
Hartsfield-Jackson's new International Terminal, set to open this month, gives the airport 12 new international gates and a new front door.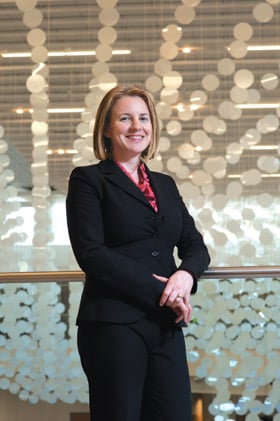 It's the middle of February, the day after an absent-minded hip-hop artist was arrested for carrying a .45-caliber Glock in his carry-on bag, which isn't as uncommon as it probably sounds, not at Hartsfield-Jackson Atlanta International Airport.
"It's surprising how many people forget they have a weapon at the airport," explains Aviation General Manager Louis Miller, without a hint of irony.
When you're the boss of the world's busiest airport, you can say such things without being sarcastic, because you actually get a chance to see such things.
"We've had 10 of these already this year," Miller says. "These aren't criminals I'm talking about, but you have to treat them that way. It's a federal crime.
"They actually approach the security checkpoint with a loaded weapon in their carry-on luggage or purse or somewhere on their body. They've forgotten it was there, and of course, they get stopped every time, because the screening is so effective."
It's supposed to be. It's the main point of removing your shoes and otherwise disgorging stuff when running the airport security gauntlet. And it's nice to know that the occasional careless passenger won't slip past the TSA even as Hartsfield-Jackson keeps setting passenger records in a lousy economy.
Last year was the busiest yet, when 92.4 million passengers moved through the airport, a 3.5 percent increase over 2010 (89.2 million), and a 2.6 percent jump over the previous best, 90 million passengers in 2008.
That kind of traffic supports the largest business enterprise in Georgia – there are about 58,000 airline, concessionaire, federal government, ground transportation, security, city of Atlanta and airport tenant employees at Hartsfield-Jackson, and the airport generates about $32.6 billion a year in direct business revenue.
"This airport is so vital, it gives us a competitive economic advantage that can't be replicated," says Atlanta Mayor Kasim Reed, who hired Miller in September 2010 to replace former general manager Ben DeCosta, who had served as the city-owned airport's top executive for 11 years before resigning in January 2010.
DeCosta had overseen the bulk of a 10-year, $6-billion capital improvement program at the airport, including completion of the billion-dollar fifth runway. Miller's top objective since starting the job is scheduled to reach fruition this month – the opening of the $1.4-billion Maynard H. Jackson Jr. International Terminal. It's the last major project of the capital improvement program.
"No doubt, the international terminal was the No. 1 priority when I took this job," Miller says.
Even as final touches were being applied, cries of protest over alleged cronyism in the airport concessions bidding process – sound familiar? – presented a homestretch hurdle to the grand opening of the new LEED-certified facility. But in March, a Fulton Superior Court ruling cleared the way for Reed to sign the concessions contracts, which he did before announcing May 16 as the official opening day for the International Terminal.
Going Big
They changed the name of the airport twice within five months in 1971: In February of that year they named it William B. Hartsfield Atlanta Airport following the death of Hartsfield, the former mayor and the city's "father of aviation." In July, it became William B. Hartsfield Atlanta International Airport, because the airport began international service with Eastern Airline's flights to Mexico and Montego Bay.
Forty years later, in 2011, 9.5 million international passengers passed through the airport (which became Hartsfield-Jackson following the death of former mayor Maynard Jackson), on their way to or from at least 50 different countries. Airport officials and the FAA expect the volume to exceed 13 million by 2015.
The new 1.2-million-square-foot terminal adds 12 new international gates (Concourse F) to the 28 on Concourse E, which opened in 1994 and comprised the whole of the former international terminal. The increased international capacity also means an increase in domestic capacity, Miller says.
"A lot of times, we haven't had enough gates available in Concourse E for international departures, so there are times when you might be flying to London and you'd leave out of Concourse A," Miller says. "That takes up a domestic gate. So, with the new international terminal, we'll free up some domestic gates."
The terminal is touted as Hartsfield-Jackson's "new front door" by Delta Air Lines' VP of corporate real estate, John Boatright, who adds that it will "provide local origin and destination passengers a much-improved level of service. They'll have a much shorter walk to and from their gates."
This front door opens on the opposite side of the main terminal. International travelers will access the new terminal from I-75, while domestic travelers will continue entering the main terminal via I-85.
"That will definitely be a new challenge, so it's important for us to educate travelers about the new entrance," Miller says. "There might be some confusion at first."
There are 3,500 parking spaces near the international terminal, and a free shuttle bus service will carry travelers from there to the rental car center, MARTA or the domestic terminal and the parking areas there.
The greatest huzzah for international travelers arriving in Atlanta is probably the streamlined baggage check process.
"Most of the complaints we've had from international passengers have been over our baggage process," Miller says. "Because, let's say you've come back from London. You've been on a long flight, you go through customs, immigration, all the things you have to do.
"Then you have to recheck your luggage, go through security and get on the people mover system, ride to the main terminal and go to baggage claim to get your luggage again so you can leave."
Not any more. Now, passengers will be able to pick up their luggage at the international terminal's baggage claim area.
"Our passengers will no longer need to re-check their bags to the [main] terminal, or re-clear security if they are Atlanta bound," Delta's Boatright says.
Delta, the airport's longtime big kahuna tenant, is adding its own touches to the new terminal – a 13,000-square-foot Sky Club and renovations to the existing Sky Club in Concourse E.
The metallically curvaceous and glassy building gleams with natural light, an aesthetic reflected in the $5 million in art on display in the terminal.
"This idea of light-filled spaces and so much glass and very pale colors everywhere, the beautifully curving ceiling – we wanted to maintain that feeling with ethereal artworks that are airy," says Katherine Dirga, art program manager at Hartsfield-Jackson.
Dirga says the art is funded through a city ordinance requiring one percent of airport construction money to be set aside for public art. And there are several striking examples of spontaneous visual art at the terminal to capture the imagination.
For example, there is airFIELD, a giant sculpture created by an artist group called Uebersee, out of Los Angeles. Suspended from the ceiling of the airside court, from certain angles it appears as a bird taking flight. Hanging vertical rows of Lexan circles are synced electrically with aircraft arrivals and departures and change from transparent to opaque, creating the illusion of contrails flowing through the piece. The artwork's activity depends on the movement of air traffic.
"I think it will be a really pleasant diversion for travelers," Dirga says.
In the otherwise-sterile corridors – the hallways that lead to immigrations processing – Boston artist Christopher Janney created Light Waves: Atlanta. Programmable LEDs project colored light through four colored glass fins running the length of the wall. It is as much an instrument as it is visual art. Travellers can run their hands along a ledge as they walk, their movement influencing the nature of the sounds coming from the work.
"The art is important in that it humanizes the airport," Dirga says. "The airport has a very monumental scale to it – the high ceilings, the support columns, the planes are so huge. It can be overwhelming. But art has the ability to humanize the environment.
"Travel, the notion of getting up from where you are and going somewhere else, inherently can be chaotic. Art gives human beings something engaging and beautiful to think about."
Transparent Turbulence
A fleet of model airplanes lines the walls of Miller's office, stuff he's collected in 30 years of airport management. Some of his favorites are the relics of defunct or absorbed outfits, like Western Airlines (merged with Delta in 1987) and Morris Air (bought by Southwest Airlines in 1993), based at Salt Lake City International Airport when Miller was the airport's CEO.
A licensed CPA, Miller is a native of Salt Lake City. He joined the city's airport authority in 1976, became its chief accountant, director of finance and administration, and finally executive director, running the airport for 14 years and helping to establish Delta's hub in Salt Lake City.
In 1996 he became executive director and CEO of Tampa International Airport, where he directed more than $1.3 billion in capital improvements over 14 years. But he had conflicts with members of the Tampa airport's board and abruptly announced his resignation in February 2010. He wasn't out of a job long and was a surprise choice for the Atlanta post.
"What makes him the right guy are the concrete results at the two large airports he managed for almost 30 years. He's got the right kind of experience," Reed says. "We wanted a steady hand at the wheel."
The city implemented a new process for hiring the airport GM, appointing a panel of nine representatives from the business sector to select candidates.
"Putting together an independent committee to hire the airport general manager is the kind of thing we support and want to see more of," says William Perry, executive director of public watchdog group, Common Cause Georgia. "But we didn't feel like the contracts selection process had the same level of transparency."
Common Cause took a lead role in criticizing the airport concession contract bidding process. This is an old, familiar song at Hartsfield-Jackson, where airport concession contracts have had a topsy-turvy history for more than 30 years.
An investigation by The Atlanta Journal-Constitution 10 years ago reported that most airport contracts had been awarded to friends and campaign contributors of previous mayors May-nard Jackson and Bill Campbell, and in 1993 two city councilmen (among others, including vendors) went to prison over federal bribery charges.
In January, the Atlanta City Council approved a $3-billion airport concessions package for 150 food and beverage and retail spots. Even before the winners were announced, losing bidders were filing protests or legal challenges, amid the typical accusations of cronyism and reports that contracts had been awarded to campaign contributors.
"When you're involved in a bidding system where more people lose than win, you expect challenges," says Reed. "There has not been an airport of similar size and complexity to Hartsfield-Jackson where the bidding process hasn't been subject to challenge."
Reed has touted his administration's efforts at transparency – they've produced about a million documents, he says, including 250,000 emails, in responding to about two dozen open records requests related to the airport contracts.
"There is nothing that indicates we did anything but run a clean, open and honest process," he says.
Perry believes the city can do better.
"By no means are we saying that there has been corruption," he says. "The bar for this sort of thing has always been very low, so if you only lift the bar enough to have success by stumbling over it, then it's tough to applaud the process."
Miller has been through this plenty of times in his 30 years as an airport manager. These businesses are bidding for access to a captive audience for 10 years (the length for the new restaurant contracts).
"You put a lot of effort into your bid, and you want some explanation as to why you didn't win," Miller says. "The concessions process was a fair and open process, and that's the bottom line of it."
Miller, 65, moves into what is likely the final chapter in his long career, and it's a time of transition for Hartsfield-Jackson, what with the new international terminal and a growing cargo business – another one of Miller's priorities. This year marks the long-awaited arrival of low-cost carrier Southwest Airlines, which acquired Atlanta-based AirTran (gradually being phased into Southwest).
"Southwest sees some great opportunities for growth here," Miller says. "Right now, if you added AirTran's and Southwest's passengers together, we'd be Southwest's fourth largest operation in the country, and we expect to move up that list."
For an accountant at the helm of the world's busiest airport, a new master plan is near the top of his agenda now. A recent report nixed the idea of another airport in the near future, so Miller says a sixth runway and increased gate capacity are likely targets on a plan that is probably 18 months away from completion.
But in addition to thinking 20 years ahead, Miller must manage the daily operations of a 4,700-acre complex where some 240,000 daily travelers ride 2,700 daily flights, or shop or eat or drink at nearly 300 different concession outlets inside six million (plus) square feet of terminal space.
It's a lot for any bean counter, but Miller feels he's spent the past 30 years grinding exactly the right kind of grist for the job.
"If I think about my numbers background, running an airport is the same as running a great big business, so a financial background is probably the most important thing," Miller says.
"I know the aviation business; I really enjoy the aviation business. But I don't need to know how to cross runways. I need to know how to hire good people who can do that."