Corporate Sustainability
The state's greenest companies focus on people, planet and profit. Plus, corporate sustainability rankings.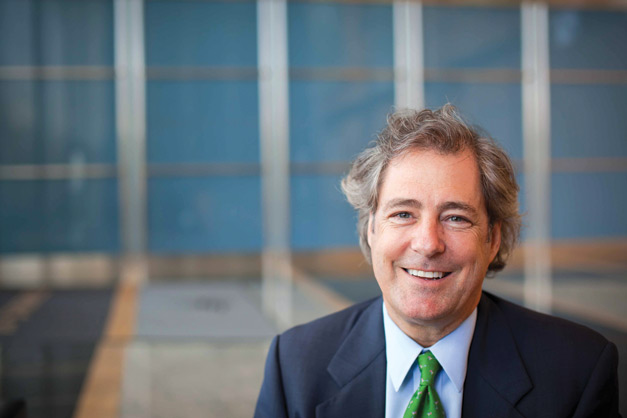 "I was the typical capitalist – you know, Earth is mine for the taking."
– Ray Anderson
The notions of corporate environmental sustainability and social responsibility are as old as the concept of business itself. Matter of fact, it was taken pretty seriously in ancient Mesopotamia, where negligent builders, innkeepers or farmers could be executed if their careless business practices resulted in the death (or some lesser inconvenience) of others.
It was a tough time for executives. No corporate legal counsel, no layers of lobbyists, no golden parachutes. And, basically, the hatchet man literally was a hatchet man.
Of course cooler heads prevailed over time and somewhere along the way, "sustainable business practice" came to mean whatever sustained the company's profits, regardless of almost anything else.
But Thoreau and Emerson happened. So did John Muir and the Sierra Club, Silent Spring, Earth Day and the Environmental Protection Agency. Then Paul Hawken wrote The Ecology of Commerce and Ray Anderson read it and the modern corporate sustainability movement happened.
And it seems to be going mainstream in Georgia as a growing number of companies put sustainability initiatives in place and report their efforts. Take, for example, this year's Southeastern Corporate Sustainability Rankings, a study of public companies by marketing firm GreenBusiness WORKS (see Georgia's corporate sustainability leaders, page 46).
There was a 277 percent jump in the number of Georgia companies reporting (49 companies this year versus only 13 last year) and improvement in the overall depth of their reporting. UPS tops the list of Georgia companies this year.
"The mission of the rankings is to help motivate companies to develop sustainable practices within their organizations," says Stephanie Armistead, general manager and founder of GreenBusiness WORKS. "And to create public awareness of companies that are doing good for people, the planet and their profits."
Armistead just quoted the triple bottom line – "people, planet and profit." The commitment to corporate social responsibility, or sustainability, means a commitment to the triple bottom line (or TBL).
"That implies conscientious capitalism, something beyond the traditional bottom line," Armistead says.
'Conscientious capitalist' is probably a good way to describe Anderson, who died last August. In 1973 he started Interface, Inc., and grew the LaGrange-based carpet tile manufacturer into a $1-billion Fortune 500 company.
In 1994, grappling for clues about environmental issues (because his customers were asking), Anderson read Hawken's book and had his now-famous epiphany: Industry is the main cause of – and the key to ending – environmental devastation.
Like those Mesopotamians, he got serious. Anderson didn't execute anyone, thankfully, but he reorganized his company around sustainability principles without sacrificing business goals.
"He changed the culture of his company, and the changes he made created a cadre of dedicated people at every level of the organization," says Peggy Barlett, Goodrich C. White professor of anthropology at Emory University, a leader in sustainability efforts on and off campus.
"Ray was one of the small number of well-spoken executives who started saying, 'We have to pay attention to this.'"
They're still paying attention, and then some.
Measured Outcomes
A 2010 study by sustainability-focused analyst firm Verdantix predicts U.S. companies will spend $60 billion on energy efficiency, carbon management, cleantech innovation and other sustainable operations.
How much of that will stick as part of corporate culture, and how much of it is a thin coat of greenwash – at least more companies are paying attention to the TBL, Barlett says.
"You have to tip your hat to that. Setting the bar is a critical first step. Then you can raise it as people begin to see what can be accomplished," says Barlett, who offers the example of Emory's sustainability efforts.
"We used to speak in terms of energy reduction per square foot. Now we're making the commitment to reduce greenhouse gases 20 percent by 2020, and 50 percent by 2050. We couldn't have approached that level of commitment when we started our sustainability work 10 years ago."
A lot has changed in 10 years. For one thing, there weren't any "sustainability directors" and so forth between corporate rungs. And there's the traditional view of the TBL – "people, planet and profit," in that order, which implies a hierarchy: people first, then the environment, then profits.
For many companies, and some openly admit this, the three P's begin with 'profit.' Even an evangelist like Ray Anderson would not have committed his company to a new direction without a strong mooring to the traditional bottom line.
"Sustainability has to have the profitability angle. If you're not profitable, you're not sustainable," says Jenny Cross, global sustainability director for Mohawk Industries, No. 3 in the rankings among Georgia companies. (The rankings only included companies with a market cap of at least $100 million.)
Mohawk, like so many other companies, uses guidelines created by the Global Re-porting Initiative (GRI) for sustainability reporting – also referred to as TBL reporting, or Environmental Social Gov-ernance (ESG) reporting, or even Corporate Social Re-sponsibility (CSR) reporting.
GRI is a nonprofit agency that has been promoting economic sustainability for about 15 years, and it has developed a reporting framework that is now used by more than 3,000 organizations from 60 countries.
GRI is supported by the financial contributions of more than 600 worldwide "operational stakeholders," including GreenBusiness WORKS and its partner in the sustainable corporation rankings, CRD Analytics, a firm that basically takes the company's reporting information, stirs it up and creates a ranking.
"We take a very holistic view of sustainability," says Michael Muyot, CRD's president. "We look at multiple dimensions – environmental social governance, financial information, brand reputation. We take that information and quantify it, make it measurable and comparable."
GRI is working on updating its framework, and CRD Analytics is an industry leader for sustainability indexing. But according to a recent report by Ernst & Young with GreenBiz Group, even while the number of corporate sustainability reports keeps growing, the tools companies use to produce them are, "rudimentary, even primitive, compared with those used for reporting on financial measures."
Meanwhile, some leaders in the sustainability world, including GRI and Al Gore's firm, Generation Investment Management, are calling for integrated corporate reporting, in which sustainability data dovetails with traditional financial reporting. The goal is to align compensation structures with long-term sustainable performance, to move away from the standard short-term focus on quarterly earnings.
"I know GRI's pushing for integrated reporting, but from where I'm sitting today, it'll be difficult to manage," says Mohawk's Cross.
At UPS, Lynnette McIntire, former director of global reputation management, has recently been made director of sustainability, and she believes integrated reporting could be just around the corner.
"We're preparing for it by having very extensive sustainability reporting data," says McIntire. "And we have third-party verification for everything in our sustainability report."
UPS uses Deloitte and Touche for its third-party assurance. Mohawk uses FIRA, an accounting firm based in the Netherlands (like GRI).
"We make sure our sustainability report is as credible as our annual financial report," Cross says. "For others, it's more like a marketing document. Not here. I think this kind of assurance is part of a natural progression as we get closer to potentially combining financial and sustainability reports into an integrated document."
With no real federal regulations on sustainability reporting, third-party assurance is a voluntary measure, but it's become routine for companies that are serious about their sustainability efforts.
Low Costs, High Ideals
For all of the high-minded, socially responsible reasons an executive might have for wanting to pursue the path of sustainability, the leading cause of this particular brand of enlightenment is the desire to cut costs.
According to Ernst & Young/GreenBiz Group, 74 percent of the 272 respondents in their survey cited cost reduction as the main driver of their company's sustainability agenda, followed by stakeholder expectations, managing risk and generating revenue – government regulation ranked last. That last part, according to the report, implies that companies are moving beyond compliance and viewing sustainability as a strategy.
"Clearly, fuel is a big cost for every airline," notes Helen Howes, managing director for safety, health and environment for Delta Air Lines (ranked No. 4).
"So, there's a lot of motivation for us to improve fuel efficiency, and by looking at that, we're reducing our CO2 emissions."
Delta has calculated its greenhouse gas emission inventory back to 2005, leaving no molecule unturned. They know how much they spent on fuel per aircraft, how much CO2 they produced, how much of it was from turning on the lights, using gas to heat a room, fuel for ground equipment, everything.
"It's to ensure our plan to reduce consumption and emissions going forward," says Howes. The company also has an in-flight recycling program (they collected 1.1 million pounds of material in 2010, to go with the 1.2 million pounds they collected at the Employee Recycling Center) and was the first U.S. airline to offer carbon offsets to customers, through a partnership with The Nature Conservancy.
Energy costs generally top the list of concerns for companies pursuing sustainability, particularly a company like UPS, whose entire reason for existence is getting from Point A to Point B, which takes a lot of energy.
"Most people think of alternative fuel vehicles, but for us the greatest benefits have been found through optimizing our network – minimizing the miles we drive or fly through smart routing – and little things that add up, like not changing the oil too soon. It makes a difference when you have a fleet as big as ours," McIntire says.
Water management is especially large for a company like Mohawk or Coca-Cola, which has made water stewardship one of its sustainability hallmarks.
"Water is a stressed commodity in certain parts of the world, including parts of the U.S. And in our own house, we're striving for unparalleled efficiency," says Bruce Karas, vice president of environment and sustainability for Coca-Cola (No. 2 on the GreenBusiness WORKS list and No. 4 on Fortune magazine's list of Most Admired Companies).
Coca-Cola is aiming to be water neutral in its direct operations by 2020, and by the end of this year hopes to have improved its water efficiency 20 percent (since 2004). Also, by the end of this year the company plans to have assessed the vulnerabilities of local water sources for each of its 800-plus bottling plants and implement water resource sustainability programs for each.
Again, it's an example of enlightened self-interest. It's smart business.
"We want to find the ways to strengthen the watersheds of the communities that we're a part of," Karas says. "If we do a project that replenishes a watershed, that strengthens one of our communities, and that brings health to our business."
The company also has deployed about 700 hybrid trucks and has begun testing electric vehicles for short (100 to 150 miles) routes.
"The more companies that explore this, the more opportunity there is to get this technology off the ground," Karas says. "To get off the ground, they need users. Larger companies have the wherewithal to test the technology. And it's good for our carbon numbers."
And they're all saying that you've got to have the right numbers to make sustainability work for your company.
Numbers Game
Before a Coca-Cola seriously considers a hybrid or electric vehicle, they study it carefully. It goes back to the whole notion of how being sustainable can save or make money. Sometimes it's a waiting game and a numbers balancing game.
"We may look at an investment in something like green technologies, and sometimes there are savings, but it's over a 10-year period, and we have to decide if and how we can do that," Karas says. "Take something like our fleet. When you talk about the diesel-electric hybrid, there's a 30 percent fuel savings right there. That goes right to the bottom line, and it supports the payback for the green technologies.
"Yeah, we might pay an early adopter penalty for the new technology, but when you look at the timeline, and you see a payback in three, five years, we know we're going to be here, and we want the green technology that can deliver the goods going forward."
But it's always best to go after the easy stuff first. The easy, cheaper stuff.
"You know, fixing the leaks, making yourself more efficient," says Cross. "You have to be aggressive with that low-hanging fruit … when you find the opportunity to upgrade or make that capital investment in your sustainability, whether it's a piece of equipment or whatever."
As the Ernst & Young study points out, there has been some debate over whether investments in sustainability projects should have a "social discount." But 67 percent of that study's respondents (all from companies with annual revenues of at least $1 billion) said these projects must meet the same payback requirements as any other project.
"Rightfully so," Cross says. "That's getting back to the profitability angle. It isn't easy to walk into the corporate suite and say, 'We want to invest a million dollars with a 20- year return on investment.'"
It isn't easy, applying cold figures to a greater good and expecting to pin down a specific sum. Energy usage can be measured, along with the dollars it takes to turn on the lights. You can measure how many meals UPS bought for the hungry, or how many gallons of water Coca-Cola saves versus last year.
But it's difficult to attach a definitive bottom line to a philosophy or a mood or the other things that drive humans toward, or away from, a more sustainable existence in the marketplace, and every other place. Even Ray Anderson had his doubts.
"We're in a race against time, and I'm not real comfortable that we're winning that race," he said a few months before he died. "We've got to plan to get off oil, period, and that's not going to be easy for a petro-chemically intensive business."
The real measurement begins with determining what it looks like and trying to get there.
"What you'd like to see is a cultural shift," says Emory's Barlett. "It's one thing if a company makes a good faith effort and uses resources wisely but doesn't experience a change in cultural mentality. It's another thing entirely when you gain the awareness of a Ray Anderson, an awareness of what we are doing in our daily lives.
"I have a colleague who says it doesn't matter if corporations are greenwashing, because as long as we hold them to their rhetoric, we're making progress. But if its just greenwashing without the cultural shift, we still have a way to go."
Whether or not companies go through the motions or actually make changes in their DNA, the drive for corporate sustainability has momentum, and the demand for transparency from investors and consumers will probably keep the momentum going – CRD's Muyot has predicted that transparent sustainability reporting will become required for a company to be listed on a growing number of international stock exchanges.
Investment consultant Mark Callaway, who co-founded the Southeastern Corporate Sustainability Rankings with Armistead, believes the market has spoken and will continue to do so.
"Consumers have greater access to information than ever before, and they're paying attention; they're seeing what companies are doing in the area of environmental social governance," Callaway says. "And companies know this. They've done their marketing studies; they're seeing that it makes a difference.
"Soon, you're gonna have an app for ESG scores on your iPhone, and you'll have this information about a company's sustainability at your fingertips. It'll be interesting to see how this all plays out over the next five to 10 years."