West Central: On The Upswing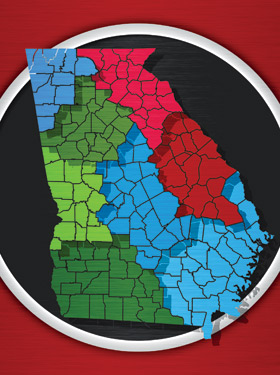 From existing companies expanding to the Kia juggernaut that is enticing more industry to the region, West Central Georgia is seeing a resurgence of activity.
"The hottest spots right now obviously are the northern part of the region around Kia," says the Columbus Chamber's Bec-ca Hardin, executive vice president of The Valley Partnership. "The supplier network that is around Kia is growing as well. That's been one of the greatest projects ever in the state of Georgia from an economic standpoint."
Last year, 23,000 people moved to the region as part of the growth at Fort Benning, and local experts predict continued activity in the local restaurant and services industry to meet new demands.
The West Point-based Kia Motors Manufacturing facility completed a $100-million ex-pansion last year that increased annual production capacity to 360,000 cars and upped the number of employees by 1,000. That move sent promising ripples across the region as more automotive suppliers consider opening facilities in Georgia.
South Korean company Daewon America announced that it is opening a manufacturing facility in the La-Grange Industrial Park this year, representing a $14-million investment and promising 100 jobs over the next three years.
"The Kia expansion affects our entire county," says Page Estes, La-Grange-Troup County Chamber of Commerce president. "It's been phenomenal, not just for our county but for the nine- or 10-county region – just the sheer number of employees that they have, but more importantly, those folks that are spending their money in Troup County in our restaurants and our stores."
In Heard County, St. Louis, Mich.-based Plasti-Paint, Inc. is constructing a $3.7-million facility in the Franklin Industrial Park. The company specializes in painting of plastic parts and components for the automotive, agricultural and recreational vehicle markets and is expected to create 60 jobs over the next two years.
"We haven't had any industry here in a very, very long time because we're so small," says Julie Pope, Devel-opment Authority of Heard County executive director. "It was great for us that we were able to get them here."
Mando Corp. announced it is opening a manufacturing facility in Meri-wether County to produce energy-efficient electric power steering gears and anti-lock breaks/ESC. The Seoul, South Korea company's 460,000-square-foot facility will initially employ 200 people, with an anticipated growth of up to 426 jobs.
"It's a great opportunity for the community," says Jane Fryer, executive director of the Meriwether County Industrial Development Authority. "As Kia grows and expands, so will that supplier base. With [Meriwether's] industrial park being right at the exit, it's very convenient to locate there and get to Kia in a timely manner."
Since the state's Camera Ready Community program was launched in October 2010, 13 of the 16 counties in this region have gained the designation, rolling out the welcome mat and letting Hollywood know they are ready and willing to partner with them.
Pike County received its designation in March 2011 and has already had a film crew on location. Wettest County, starring Shia LeBeouf and Guy Pearce, will be released August 31 and was partially filmed in a historic church in the countryside.
"They were here for about a week," Hammons says. "It definitely impacted us a little bit, but not as much as if it was closer to the city where all the restaurants are. And we're steadily getting contacted about different movies, so [the designation] definitely helped out."
The Wettest County crew also filmed in Troup County, where Jayne Mans-field's Car, starring Kevin Bacon, Robert Duvall and Billy Bob Thornton, was filmed.
"It's been quite the buzz," says Estes. "Not just the excitement, but I think more importantly, the hotel rooms that they booked and the restaurants that they ate in. So we are definitely recruiting more and more film to this area, and because of our location close to Atlanta, we hope that bodes well for us."
Schley County has seen several businesses open, including a paint and body shop, a pawn shop and a gift shop.
Webster County recently became an Entrepreneur Friendly Community and is updating all the water meters in the county.
Others around the area are seeing existing companies expand.
In Columbus, Pratt & Whitney is expanding its 215,000-square-foot Columbus Engine Center manufacturing facility, adding 180 new jobs.
"We haven't had any new companies, but we have had a company expanding," says Christy Hammons, Pike County Chamber of Commerce executive director and the operations director for the Development Authority of Pike County. "Johnson Battery Company is building a 5,400-square-foot expansion off their business, and they'll be hiring some new positions."
In Upson County, several companies are expanding. Solo Cup is adding three new production lines at the plant and is partnering with Georgia Quick Start and Southern Crescent Technical College to fill 74 new positions.
Criterion Technology announced an $800,000 expansion with an additional 15 new jobs each year for the next eight years. Quad/Graphics is also expanding, adding 120 jobs over a 10-year period.
Americus has been flush with news this year. Sak Marine Company is adding several boat models to its production, creating from 250 to 400 jobs over the next few years. Lynbrook, N.Y.-based PetCareRX opened a call center in Sumter County at the end of 2011 and already employs 125 people.
The 183,000-square foot, 76-bed Phoebe Sumter Medical Center open-ed in December 2011, nearly five years after an F3 tornado destroyed Sumter Regional Hospital.
But the biggest news is Americus Motorsports Complex (AMC), a $12-million project that includes a quarter-mile drag strip, 2.5-mile road racing circuit, motorsports-related technology park, training facility and national motorcycle drag racing museum. From new motorsports-related business it will attract to the increase in tourism, the project is expected to bring as much as $75 million annually to the community and create more than 200 jobs over five years.
Knology is breaking ground in the Harris County Industrial Park for a 6,000-square-foot call center, adding 60 jobs and representing a $5 million investment. And Cagle's chicken processing plant, which halted a production shift last summer and cut 300 positions, is preparing to rehire again.
"That's going to be a shot in the arm for us," says Lynda Dawson, Harris County Chamber of Commerce president and chair of the development authority. "With the Tier 1 Kia suppliers, that's a certain level of skill that's required. Well, there's a lot of folks who aren't so skilled, but yet they need a job. It's just nice to have all kinds of skill level jobs available to the people who need them."
Others around the region are focusing on helping existing companies grow, even if a big expansion is not in the immediate future.
"We started an existing business council, so we're really working with our existing businesses," says Pike County's Hammons. "We're just kind of seeing what their needs are and putting them in contact with either the state or different people to help out in those aspects."
"We're talking to businesses trying to get different things in here, trying to think what would fit in a small, rural county," says Pam Jordan, executive director of the Talbot County Chamber of Commerce and secretary of the Industrial Development Authority of Talbot County. "We've thought about pellet plants and things like alternate fuel. We have a lot of wood in our area and a lot of timber being cut. So that's what we're trying to focus on, but we're up for anything."
In Taylor County, the chamber is promoting the 3/50 Project, an initiative to encourage people to shop local.
Schley County is also in the midst of stabilizing its historic courthouse in Ellaville using funds from a 2007 SPLOST. The courthouse's clock tower was repaired last year.
In Talbot County, a new restaurant has opened, but a pharmacy that had opened over the summer closed after only four months.
The Peoples Bank is also rehabilitating one of the historic properties it owns in downtown Talbotton that had long sat abandoned. The bank will occupy the back portion of the building, with the front portion available for lease. "If we could just do that on one or two more buildings, that would be a major deal," says Jordan.
In Zebulon, Phase 2 of a streetscape project has been completed. "We've got new sidewalks – brick pavers, new lighting all around the square," Pope says.
From small projects like a new Dollar General in Pike County's Williamson to hundreds of jobs coming to Americus and LaGrange, 2012 is looking up.
"We've got a lot of irons in the fire," says Hardin. "We're still optimistic that 2012 is [when] we'll be able to see some new projects coming in. If it's any indication the volume of projects that we're already working, it's going to be a good year."