Sports Legends: A Georgia Golfing Great
Macon's Arnold Sigfried Blum won the state amateur title five times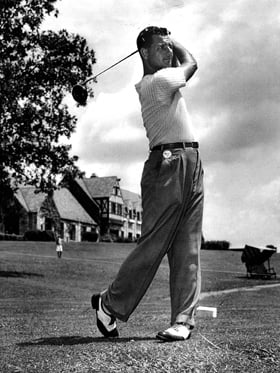 If an amateur golfer other than Bobby Jones ever owned the state of Georgia's golf courses, it was Macon's Arnold Sigfried Blum.
Blum won tournaments at his home course at Macon's Idle Hour Golf and Country Club and in Au-gusta, Athens, Columbus, LaGrange and Atlanta. If Blum played there, he won there.
At the Athens Country Club he set the course record – 62, firing a hole-in-one, two eagles and six birdies.
While captain of the golf team at the Univers-ity of Georgia, he won the Southeastern Conference championship in 1941. He played 16 years of tournament golf, capping it off with the National Ama-teur crown championship.
He did not win at the Masters, but played there five times, and he made the cut three times. He did win a state amateur title at the Augusta Golf Club.
That was a long time ago. Today Blum is 89 years old and maintains his playing weight of 150. He can look back at a sterling ca-reer, which started when he won the Georgia Inter-scholastic Athletic Associa-tion championship while he was a junior at Macon's Lanier High School.
With his dad looking on, he won the state amateur title five times, upsetting two favorites, Eddie Merrins and Doug Sanders, along the way.
Sixteen-year-old Sanders out of Cedartown was considered a phenom, winning the Georgia state crown at age 16, but Blum cut his glory short, winning the state amateur at age 15.
At 31, he was an alternate on the U.S. Walker Cup team and played as a regular on the victorious U.S. team one year later. He says he never felt any tension, at least no more so than any other golfer on the greens.
He won the Southeastern Amateur three times and reached the quarterfinals of the National Amateur.
A quiet, unassuming man, once on the golf course he took no prisoners and showed little appreciation for small favors. For in-stance, when he came to Atlanta for the 1956 State Amateur, he was housed by a friend in Druid Hills. But he had never been to East Lake, site of the tournament.
One of his friends and competitors, Dan Yates, volunteered to pick up Blum and drive him to the East Lake Country Club for the tournament. Blum responded by beating Yates in the tournament finals.
Blum is past president of the Georgia State Golf Association and past director of the Southern Golf Associa-tion. He was inducted into the Georgia State Golf Association's Golf Hall of Fame in 1989 and the Georgia Sports Hall of Fame in 1979.
His biggest thrills were winning the Southeastern Amateur when he was 17 and having the Idle Hour Golf Learning Center dedicated in his honor three years ago, with a dinner at the club. Most every club member attended.
During World War II, Blum saw combat in Europe and won a Purple Heart for wounds received in action.
When he came home from the war, he met and married the former Georgann Dessau. They have four children: Stella, Madeleine, Vicky and Arnold Jr.
"Georgann's integrity and her belief in the Lord has made her a role model in every respect," he says of his wife.
The best golfers Blum ever played against?
"Tommy Barnes of At-lanta and Harvie Ward of North Carolina." He lost to both of them.
While burning up the golf courses, all the while Blum was helping run a million-dollar mattress business – the Arie Manu- facturing Co. – that his father started in the 1930s. He enjoys retirement living in Macon.
What advice does Blum have to aspiring tournament golfers?
"Get a college education and play on your college's golf team. If you can make the college golf team, you have a good start."
The best game of golf he ever played?
"Thirty-six holes against Sanders in the 1956 South-ern Amateur. I was two-up after the morning. I came back with a 69 and 64."
Although he did not say it, that was one of the year's best comebacks.