Southwest: Solid Signs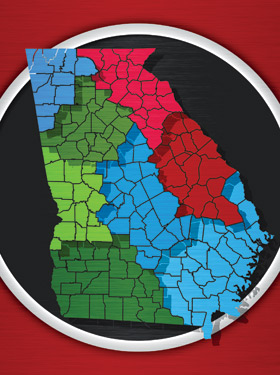 In the fertile fields of Southwest Georgia, there's more growing than just crops. Optimism has taken root as signs are starting to signal a good year – or at least a better year – for economic growth.
After several years of little but depressing economic news, the region's economic developers are understandably cautious, but "turnaround" now often pops up in conversation and "excited" is even heard occasionally as they discuss 2012.
This feel-good mood is not just because it's springtime in Georgia. There are solid signs in almost every community that growth has started, primarily coming from existing businesses and admittedly in somewhat modest job numbers. But, as Brian Marlowe of Tifton says, "A few jobs here, a few jobs there and soon you've got some real growth … and I'm happy to see it."
He's not the only one. His cohorts throughout the region are reporting the same signs of growth, and the same feeling.
"We felt good about last year, but we're feeling even better about 2012," says Marlowe, president/CEO of the Tifton-Tift County Cham-ber of Commerce and executive director of the Tifton-Tift County Development Authority. "In 2011 we announced seven new projects for the year," he says. "This year we had that many in the first two months.
"These are projects we've been working on for some time, and it just so happened they all came together at almost the same time. But it does show how business is starting to pick up," Marlowe says. "We're getting growth in every segment. We're seeing tremendous activity for retail, but also for manufacturing and distribution, and our agricultural community is doing great.
"I listen to the national experts talking about the economy continuing to be slow, and I know there are a lot of areas still struggling," Marlowe says. "It's not perfect here, but we do have a lot of good news. The mindset has changed. … We are excited about our future.
Marlowe's enthusiasm is echoed in other Southwest Georgia communities, nowhere more so than in Crisp County, where Bruce Drennan, executive director of the Cordele-Crisp County Industrial Development Coun-cil, says, "This looks like it will be a turnaround year for us. Confidence is coming back, companies are expanding and prospects are really starting to show some interest."
Drennan has reason for optimism. After some nine years of planning, the community's inland port, operating as the Cordele Intermodal Center, saw its first trains roll out for Savannah this past fall. And two other projects that will eventually bring some 900 jobs, a trailer manufacturing facility and a check-processing center, were off and running as the year started.
The intermodal center is expected to provide an economic boost to the economy of the entire region. Drennan says that by offering exporters "a faster and cheaper way to ship goods" through the Port of Savannah, the facility will attract warehousing, distribution centers and other businesses, which in turn will create thousands of jobs within the next five years.
"By this summer there should be trains running five days a week," Drennan says. "We have several companies looking at locating here right now because of the inland port, and we expect interest to increase as the economy improves."
He's seeing companies showing more confidence, with several now moving ahead with projects that had been on hold. "We're cautious about getting too excited, but we are very optimistic the economy is showing signs of improvement," he says.
Ted Clem, president of the Albany-Dougherty Economic Development Commission, is seeing those same signs. "It looks like we are finally trending in the right direction," he says. "We're not fully recovered, but we saw a net gain of more than a 1,000 jobs last year and expect to grow more this year. That's a good indication of a healthy, diversified economic base.
"We're seeing gains in retail, manufacturing is stable and we've had some good new investments, especially on the small business side," Clem says. "We still have a lot of empty space, but we're seeing more interest from prospects."
A major concern: military cutbacks that could hit Albany's Marine Corps Logistics Base. "Every community with a strong military presence is holding its breath," Clem says.
Expansion of existing industry has been a bright spot for many communities, including Valdosta-Lowndes Coun-ty. "Our existing industry has continued to grow, and recently we have seen a real jump in activity," says Andrea Schruijer, executive director of the Valdosta-Lowndes County Industrial Authority. "We are starting to see some good signs and are laying the groundwork to be ready when the economy comes back."
An even rosier picture is painted by Don Sims, president of the Thomas-ville-Thomas County Chamber of Commerce. "We're seeing a real uptick in prospects. While 2011 was a challenging year, we're seeing signs of a progressing, improving economy for 2012 and beyond."
He says the county's agriculture community is seeing "record prices," retail sales are increasing and several local manufacturers are expanding. A long-awaited project, Thomasville-based Senior Life Insurance Com-pany's new headquarters building, is due to be completed later this year, adding some 200 jobs.
"We're also seeing an unprecedented investment in our infrastructure," says Sims. Archbold Medical Center is under way with a $100-million expansion and renovation project, and the library, c. 1858 courthouse and two colleges are involved in their own multi-million dollar projects.
Shelley Zorn, president of the Ashburn-Turner County Chamber of Commerce, admits she's eager to see some better days. "The last three years have been super tough, but I'm optimistic for 2012," she says. "We have seen development activity pick up in the last few months, and we're getting more inquiries, especially from small businesses. It looks like the economy will remain slow, but it does look like it's turning."
Early County celebrated some of its best economic news in years in 2011, with the opening of the first phase of the American International Marksmanship Academy, a 2,300-acre facility featuring a shooting and training center for military, law enforcement and civilians.
Lisa Collins, director of economic development for Early County 2055, says the project is "the community's largest economic development event in nearly 50 years." She says the facility will help spur other development, such as a hotel to accommodate the people coming to the facility for training and competitions. "We have a lot of good things to look forward to," she says.
Even during the economic dark days of recent years, agriculture has generally been a bright spot for much of Southwest Georgia, and Dan Bollinger, executive director of the Southwest Georgia Regional Commission in Camilla, says he expects the 14 mostly rural counties in his region to continue "to hold their own" this year.
"Last year was a really good year for agribusiness, and it's looking like it'll be the same this year," he says. "I was talking to a local farmer over coffee the other morning, and he told me he had just bought two new tractors and a new truck," Bollinger says. "When farmers are buying equipment like that, it means the economy is looking better."
Agriculture is the reason Moultrie-Colquitt County has done better than most of the state in recent years. "We're blessed with a strong agriculture economy," says Darrell Moore, president of the Moultrie-Colquitt County Cham-ber of Commerce and the Development Authority.
"I'm cautiously optimistic looking ahead," Moore says. "Agriculture looks good, our existing industry is doing well and we have several new businesses scheduled to open. There's also a major project with several hundred jobs we've been working on for over a year that may see the light of day this year."
Agriculture is also important to Lee County, but this county also really shines when it comes to retail. "We're one of the few communities in the state that has actually seen its retail sector grow in recent years," says Winston Oxford, executive director of the Lee County Chamber and Development Authority. "This year is also looking good, with three new investments now going vertical and several doing some serious tire kicking, including one big-box store."
Paige Gilchrist, executive director of the Mitchell County Development Authority, is another who is optimistic. "We had a really good year last year and are looking for at least the same or better this year," she says. "Our existing business has started growing again, and we have several good prospects looking at new projects."
A change of mind by Walmart helped boost Gilchrist's spirit. The company had originally announced plans to close its local store, but then decided to stay and build a new super Walmart. "They plan on having the new store open by Christmas 2012 with even more employees," says Gilchrist. "That's some 200 jobs and good news for our county."
With farm prices looking good and several large business expansions under way, "things are looking up," says Rick McCaskill, executive director of the Development Authority of Bain-bridge and Decatur County. "Inquiries are up, and there's a general feeling the economy may be getting better," he says. "We're very fortunate our existing businesses have stabilized and are starting to grow."