Southeast: Turning Around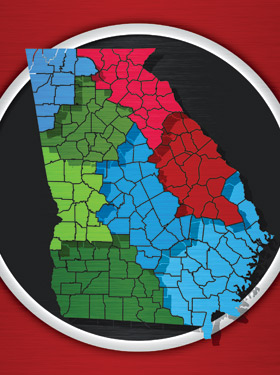 The ports get the headlines in the Southeast region of Georgia, but local economic development authorities are persistent in efforts to further growth in other ways. In doing so, they're exploring more and more ideas outside the box.
Keith Carter, executive director of the Joint Development Authority of Jeff Davis County, Hazlehurst and Denton, Georgia, reports that trailer manufacturer Arising Indus-tries added a new product line, necessitating a move into a 30,000-square-foot building, bringing the total footprint to 85,000 square feet and adding 25 new jobs. But he's also talking olives.
"We've done some test plots to see how well olive trees would do in our climate and soil," he says. Carter thinks there could be a market for Georgia-grown olive oil. He's even floated the idea of growing pomegranates while reminding folks that everyone laughed decades ago when Vidalia decided to grow and develop the sweet onion market. "No one is laughing now," says Carter.
Whether olive oil becomes a booming business or a cottage industry is beside the point. Communities are doing what Appling County's Dale Atkins, executive director of the county development authority, says is essential to rebound from the recession. "You have to work your existing industry to keep from losing anyone," says Atkins, "You have to continue to market what you've got and what you're developing." Finally, he says, communities have to think non-traditionally or pursue certifications like the Governor's Office of Workforce Development's Work Ready Community or the Department of Com-munity Affairs' (DCA) Opportunity Zones.
Atkins says Appling's been fortunate. Two companies that manufacture waste baling equipment have held on; one added another shift and 15 new jobs due to an increase in customer demands. In February, the county completed a 60,000-square-foot spec building in the Industrial Park West.
There is little doubt about the impact the ports of Savannah and Brunswick have on the region and the entire state. That impact will multiply with the addition of an Employment-Based Im-migrant Investor program, known as EB-5, administered through the Depart-ment of Homeland Security. The program, with capital investment and job creation requirements, has the potential of opening up valuable international investment streams, according to Don Masisak, director of economic development for the Coastal Regional Commission (CRC).
"Approval of our application for EB-5 regional center designation is our anchor initiative for 2012-2013," says Masisak. "If we get that, and we should have it very shortly, we have three projects pending that will aggregate $55-million investment plus 700 jobs. EB-5 addresses a lot of items, especially competitiveness for capital."
"I see 2012 as one of the most prosperous and bright in a number of years," says Steve Weathers, president and CEO of the Savannah Economic Development Authority (SEDA). "Our pipeline of business expansion is one of the most robust in more than five years. Looking ahead, I think 2012 to 2014 will be good years for job creation." He says interest remains high in available sites at the 1,500-acre mega site in Pooler.
One new asset is the World Trade Center Savannah, approved for a license in October 2011 and gradually phasing in services. WTC Savannah will assist small and mid-sized companies in the coastal region with investigating international markets. Weathers says SEDA is starting its own venture capital fund, the only EDA in Georgia to do so. "The goal is to have the fund structured and ready to go by the end of 2012," he says.
Meanwhile in Glynn County, GSI Commerce, an e-commerce company recently acquired by eBay, announced a significant facility and workforce expansion in September 2011. "They've leased a new facility creating a 35,000-square-foot, state-of-the-art call center, adding an additional 700 jobs," says Nathan Sparks, executive director of Brunswick and Glynn County Development Au-thority. "It's the biggest job creation announcement in a long time."
The Georgia Ports Authority an-nounced an agreement with Logistec to invest $5 million to expand and enhance the east terminal at the Port of Brunswick, tripling the capacity of the terminal to handle wood pellets for export. "It will be a boon to the local community and region, keeping manufacturers using the ports in our state," says Sparks. The work is under way and should be completed within the first half of 2012.
Just south of Brunswick is Georgia's third seaport, at St. Marys, as David Keating, executive director of the Camden County Joint Development Authority, likes pointing out. It is the site of the Naval Submarine Base Kings Bay. The county is exploring commercial uses of the port, which boasts a 48-foot-deep channel.
Beachview Tent Co. consolidated and relocated to Camden County in 2011, moving into a 25,000-square-foot facility. Altamaha Technical College an-nounced development of a 31-acre campus in Camden County along I-95. The land, donated by the Gross family, longtime residents of the county, requires a road and utility infrastructure, which are being developed by the JDA. And after a nationwide site search, filming began in Kingsland in February for the reality television show Lovetown USA, developed by the Oprah Winfrey Network.
Liberty County keeps rolling along, thanks in part to Fort Stewart and a strong manufacturing sector that continues to expand. British-owned Firth Rixson opened its doors in January 2011 then announced a 20 percent facility expansion at year's end, adding another 75 to 100 employees. The project is already under way. SNF Floquip, a subsidiary of the French company SNF Group and a current Midway Industrial Park tenant, announced an expansion in late 2011, adding 50 jobs immediately, another 50 over a five-year period. And German tea distributor Florapharm was set to move into a 28,000-square-foot building in the Hinesville Technology Park in March.
"Seventy percent of our employment is the result of direct foreign investment," says Ron Tolley, CEO of the Liberty County Development Authority. Com-panies take advantage of Foreign Trade Zone status in the industrial parks and a continuously replenished, highly trained and well-educated workforce. The county is investing even more in education. Funded by a $3-million grant from the Technical College System of Georgia and an $800,000 Georgia Department of Education grant for equipment, construction has begun on the 50,000-square-foot Liberty Coun-ty College and Career Academy, a 9-12 grade public charter academy scheduled to open in August.
Effingham County is in the process of developing 4,600 acres into mixed-use industrial property. A 1,750-acre industrial park straddling I-16 will be prepped and pad ready by the end of 2012. Two more sites, 200 acres on the south side of the interstate and another site to the north, will be ready by the end of 2012 and mid-2013, respectively. While gearing up sites for manufacturing, the county is prepping its people, too, earning Work Ready designation and locating a technical college facility in the industrial park.
Bryan County had another good year. Mat-son Logistic brought a distribution facility into one-third of an existing building in the Interstate Centre Park, adding 40 jobs to the Richmond Hill community. Belfast Commerce Centre, a 900-acre rail park, is being built at Belfast Road and I-95, site of a proposed interchange on the region's T-SPLOST project list. Even new housing construction has picked up, says the Development Authority of Bryan County's executive director, Josh Fenn.
Acting on recommendations of a Community Economic Development Assessment performed by Janus Economics, Wayne County Industrial Authority purchased a 43-acre site with 200,000 square feet of space, including two 64,000-square-foot buildings with 50-foot ceilings, cranes and two Norfolk Southern rail spurs going into the buildings. "It's a unique building for a unique buyer or user," says John Riddle, president and CEO of the Wayne County Chamber of Commerce and Economic Development Authority. "Marketing the building is a 2012 priority." The county is also reinvigorating the Leadership Wayne program to develop future leaders and introduced a new branding campaign. Industry mainstay Rayonier announced plans to invest $300 million to upgrade and expand its facility.
Smaller but no less important de-velopments are taking place throughout the region. Frito-Lay built a secondary distribution center in Bacon County. Varn Wood Products in Brantley County is building a wood pellet plant and adding 14 new employees. Southern Ionics is pursuing development of a zircon mine in a 120-acre site in Brantley and Charlton counties. The operation would net 45 jobs and bring an estimated $15 million into the economy.
Economic development authorities in Coffee, Evans, Long, Pierce, Toombs and Tattnall counties are in varying stages of acquiring and developing land for local industrial parks. After $4 million in renovations, Tidewaters Industrial Complex, a 494-acre site in McIntosh County with 90 acres front-ing I-95, has 380 acres infrastructure-ready to welcome new business. In Long County, a new 100,000-square-foot building will house an expansion of McGowan Construction, halted during the downturn and now back on due to an uptick in business.
Andy Stone, chairman of Clinch County's Development Authority, re-ports blueberry production continues to grow. "It's another sign things are getting better," he says. "I say we're in our fifth year of a two-year turnaround."