Power Players: A Study In Servant Leadership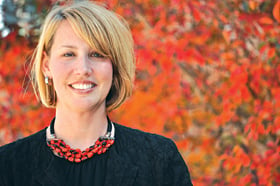 Dr. Stuart Rayfield spent most of her career in academia studying and teaching leadership, but it wasn't until she moved to Columbus and worked in the private sector that she was introduced to the philosophy of servant leadership. Now as the director of Columbus State Univer-
sity's (CSU) Servant Leadership Program, Rayfield holds the Frank Brown Distinguished Chair in Servant Leadership.
The program has been offered to CSU undergraduates since 1999, well before Rayfield joined the university in 2006; the master's program began two years ago. "This type of program at a university of our size is almost unheard of," says Rayfield. "Most universities consider [leadership] courses to be extracurricular, not co-curricular. That commitment to create an academic program gave it a great deal of weight."
The result is that in just its second year, the Servant Leadership master's program doubled from fall semester 2011 to the spring semester, from 14 to 28 students. "I think everybody is very excited and possibly a little surprised at the popularity of the program," says Rayfield.
So what's servant leadership and why is Columbus a virtual mecca for those wishing to study it? Rayfield says credit goes to community and civic leaders. "They have strong family roots here and are 100 percent committed to making Columbus the best place to live and work," she says. "There's been a history of people practicing servant leadership, even though they had no idea they were practicing it."
Many of the leaders were heads of powerful corporations like Aflac, Synovus and TSYS, all with headquarters in Columbus, as well as military leaders stationed at Fort Benning.
"These leaders were ex-posed to the study of servant leadership and attached themselves and their companies to it," she says.
For those unfamiliar with it, Rayfield offers a quick synopsis. "Servant leadership really boils down to what most people would characterize as good leadership," she says. "There's one difference: Are the people who are being served – are the followers – growing? Are they becoming freer, wiser, more autonomous, and are they likely themselves to become servants? What is the effect of the leadership on the least privileged in society? Will they benefit or, at least, not be further deprived? That best test is what, I believe, distinguishes servant leadership from traditional leadership."
Those who consider this a soft form of leadership are off the mark, says Rayfield. "Servant leadership requires honest, candid conversations about a person's strengths and weaknesses," she says. "That's tough stuff. True evaluations are very rare because we like to sugarcoat things. It takes time to build trust. You need to know your followers and they need to know you."
Rayfield is in her element at CSU. A Tuscaloosa, Ala., native, she graduated from Rhodes College with a degree in political science and went straight into graduate school, earning her master's in higher education at the University of Ala-bama and her doctorate in leadership, policy and organizations from Vanderbilt University.
She worked in higher education in Tennessee and Alabama, but it wasn't until she worked at TSYS in Columbus that she was exposed to servant leadership.
"As a new employee, I went through about a weeklong training introducing me to servant leadership," she says. "I thought it was interesting, but I didn't think a whole lot about it since that's not why I was there." She followed up on her own time.
One day, on the CSU website, she saw the opening for the director's position. "If someone had asked me to put together a de-scription of my ideal job, this would be it," Rayfield says. She applied, interviewed and got the job.
"It's an amazing program, and I can say that because I didn't put it together," she says. "I carried the torch for others who started the program and really put meat to the bones of a leadership development program based on servant leadership. It is the most comprehensive program I've ever seen. Any organization would be lucky to have these students coming out."