Northwest: Coming Back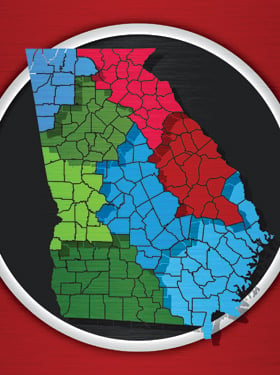 Northwest Georgia will always be tied to carpet, the No. 1 industry of the region. But it isn't just jobs lost in the carpet industry that must be replaced: The closing of Blue Bird Corporation's school bus manufacturing facility in Walker County cost 350 people their jobs in 2010. Add 2011's treacherous weather and the damage it caused, and that makes for an especially hard time. Fortunately, there are successes to report, too.
"When the Blue Bird plant closed, it affected not only Walker but all the surrounding counties," says Keith Barclift, project manager with the Northwest Georgia Joint Economic Development Authority and director of the Walker County Development Authority. "We all understand the need for regional awareness."
In the new 480-acre Walker County Business Park near Rock Springs, Barclift hopes to attract potential auto parts suppliers for Kia (in West Point) or Volkswagen (in Chattanooga). The county's 100 percent Free-port Exemption helped draw Findlay's Tall Timbers Distrib-ution Center last summer. "Our existing industries are adding jobs; manufacturing is slowly but surely coming back," says Barclift.
In Dade County, the Food Lion has closed, eliminating 36 jobs and adding to misery caused by storms that took lives and damaged property in North Georgia last spring. "We are still recovering from the tornadoes, getting a lot of that stuff back in order, and houses built back, which is a good sign," says Dade County Chamber of Commerce President Butch Raper. "We're hoping by mid-spring to see a 95-unit assisted living location come in."
Dade County purchased 200 acres for industrial use and effected a land swap with the city of Trenton to rebuild the Georgia Forestry Service facility destroyed in the storm. "We're holding our own," says Raper.
"Our greatest challenge in 2011 was the storm – eight here were killed and over 500 families were affected, as well as 100 businesses," says Catoosa County Chamber of Commerce President Mar-tha Eaker. "It put a stop to things for a little while, but we have recovered nicely. Businesses are building back newer and nicer and bigger, and it's created a new look to our community."
Eaker expects retail to continue to build off the addition of Costco to the community in late 2010. "It's a big advantage, being right over the Tennessee state line and having lower tax," she says.
Murray County has been hit hard, says Dinah Rowe, president and CEO of the Chatsworth-Murray County Chamber of Commerce. "Our largest employers are carpet manufacturing companies, and with the downturn of the building industry they have closed or downsized their operations in the county."
To offset the losses, Murray has sought film crews. "The chamber spearheaded Murray becoming Cam-era Ready, opening our county to the film industry," says Rowe. "We are also Certified Work Ready, proving we have a skilled, educated workforce."
Murray County has three new retail businesses, and the school system is improving, says Rowe. "Our educators have worked to improve the high school graduation rate to almost 90 percent."
"I'm cautiously optimistic," says David Tidmore, president and CEO of the Chattooga County Chamber of Commerce. "Our numbers are back up to 2008 [levels], but our ties to carpet mean it will take housing coming back for us to improve. Until then we'll have unemployment because we have two Mohawk [carpet] plants, and their numbers are down."
Still, "it's better than the recession," says Tidmore, "and our main manufacturer, Mount Vernon Mills, which makes denim and military fatigues, has increased to over 1,200 employees."
To offset losses in the carpet industry, Dalton has been ramping up its retail sector. "We'll have 13 acres fully leased by 2012," says Brian Anderson, president and CEO, Greater Dalton Chamber of Commerce. "That property went from not being used or underutilized to fully developed with seven businesses, $40 million in investment and 200 employees."
Dalton-Whitfield County Joint De-velopment Authority has 184 acres under industrial development at Carbondale Business Park. In February 2011, XL Brands purchased a 16.3-acre site to expand its production and shipping capabilities with a 122,000-square-foot facility.
"The metrics are encouraging considering some things we hear," says Anderson. "We've created 811 jobs, and with a four-year goal of $190 million in investment, we hit $243 million in year three. Overall it's still very difficult [Dalton's unemployment rate has hovered around 12 percent], but our strategies are working, especially in the retail area."
In Gordon County, leaders are looking forward to a new interchange on I-75 that will increase distribution and industrial opportunities. "Gordon and Calhoun have been working with state and federal authorities on a new diamond interchange at Union Grove Road and I-75," says Jimmy Phillips, president of the Gordon County Chamber of Commerce.
"This would allow for the extension of Union Grove and a South Calhoun bypass from east to west to Highway 52. A new interchange would certainly open a new door for industrial activity, right near Mohawk's large distribution facility, and Shaw's distribution operations. They and others in the industry anticipate expansions because of the new route that will be created for trucks," says Phillips.
Manufacturing is booming in Rome, which added nearly 1,000 jobs in 2011. "Lowe's RDC [regional distribution center] announced a $125-million, 1.4-million-square-foot expansion, creating 600 jobs – we're very, very proud of that," says Al Hodge, president and CEO of Greater Rome Chamber of Commerce.
"Kellogg also made a $25.5-million investment and created 25 jobs. Brugg Cables, LLC, spent $5 million and expanded by 10,000 square feet; Neaton Rome invested $26 million, to expand by 72,000 square feet and create 113 jobs," says Hodge. In total, Rome saw $181.5 million in investment with 958 jobs created, he says.
There is also the recently opened Cave Spring Rehabilitation Center, a $10-million facility to serve the hearing-impaired, and South Rome's Etowah Village, a 77-unit senior apartment complex that cost $10.5 million and features trails to downtown Rome, generating real estate interest.
Down the road, the Northwest Georgia Clinical Campus of the Medical College of Georgia at Georgia Health Sciences University will locate at the Georgia Highlands College campus. "It will provide training for third- and fourth-year students of professional medical education, co-locating on a campus in Rome with Georgia High-land College," says Hodge.
The city is excited about the project, which will open its doors in 2013. "It has created a culture of cultivation in the community," says Hodge.
In Polk County, Meggitt Polymers & Composites, winner of a 2011 Georgia Large Manufacturer Of the Year award, announced it will hire 90 employees. Canam Yarns (Canadian American Yarns) announced it will invest $4.5 million in manufacturing expansion, creating 10 jobs.
"The manufacturing sector may be very guarded with their growth, but they have their eye on the ball and think northwest Georgia is a good place," says Eric McDonald, president of the Polk County Chamber of Commerce and Development Authority.
The county benefited from its Camera Ready designation when production of Jayne Mansfield's Car brought Billy Bob Thornton, Kevin Bacon and Robert Duvall to town last fall. "When it opens this spring, you'll be able to see Cedartown in all its glory," says McDonald.
"We're also finishing up $1 million in streetscaping, and we've hired The Fanning Institute to work on a strategic plan. We're also building a new access road to Cedartown Industrial Park, where we may put a 105,000-square-foot speculative building," says McDonald.
McDonald says he supports the creation of a regional transportation tax on the referendum this summer. "We have some good projects on it. If it passes, that would go toward an industrial park in Rockmart and improved access to Highway 113. The perception is that smaller communities will lose out to projects in bigger cities; for it to pass, they need to tell the story that cars don't care what county they're in."
In Haralson County, two automotive manufacturers and a leading manufacturer of tamper-evident security seals added jobs over the past year. "That contributed to our manufacturing growth and the decrease in our unemployment rate [9.2 percent in January]," says Tara Chapman, executive director of the Har-alson County Development Authority.
Haralson is now a Certified Work Ready Community, making it ripe for growth in manufacturing, says Chap-man. "Also, Higgins General Hospital in Bremen was the only hospital in Georgia that received the National Rural Health Association's designation as [one of the] Top 100 Critical Access Hospitals in America."
Last year Bartow County, in partnership with Toyo Tire, was authorized to increase its bond capacity to $910 million to expand Toyo's headquarters and create 470 new jobs, winning a Georgia Economic Development Authority "Deal of the Year" award.
"We've had a steady economic recovery in Bartow in 2011," says Melinda Lemmon, executive director of the Cartersville-Bartow County Department of Economic Development.
Toyo was huge, says Lemmon, but "there have also been manufacturing-related gains at Anheuser-Busch/InBev, ATR, TI Automotive, Aquafil, Burtin Polymer Labs, Shaw Industries, Georgia Power Water Research Center, Zep, Phoenix Air Group and more," says Lemmon. "The Chamber's Ring the Bell campaign celebrated 500 Bartow hires for 500 Bartow jobs."
And Bartow is just revving up: Future "game changers" include the arrival of LakePoint Sporting Community & Town Center and the community's Georgia Ready for Accelerated Development (GRAD)-certified Highland 75 corporate/industrial park. And don't forget the Camera Ready status: This summer, viewers will see Cartersville locations in The Three Stooges movie.