Northeast: Making Strides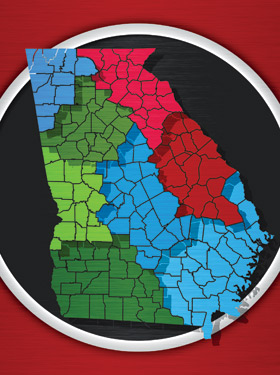 The entire Northeast Georgia region got a big boost with the announcement that Caterpillar Inc., which makes construction and mining equipment, will locate a new manufacturing facility on the old Orkin site in Clarke and Oconee counties. The one-million-square-foot plant will be part of Caterpillar's Building Products Di-vision and is expected to have some 1,400 employees. The announcement was made jointly by Caterpil-lar Chairman and CEO Doug Ober-helman and Gov. Nathan Deal.
Elbert County got some good news last June, when German manufacturer Hailo chose to locate its U.S. headquarters and newest metal fabrication plant there. By October, Hailo USA was up and running in an existing building, manufacturing components for wind turbines. The company will create 75 jobs in the first two years, 200 over five years. "It's great news in our community," says Anna Grant Jones, executive director of the Development Authority of Elbert County, Elberton and Bowman.
Elbert County's success in wooing Hailo is due to good economic development legwork, ac-cording to Burke Walker, director of planning and government services for the Northeast Georgia Regional Commission (NEGRC), serving 12 counties in northeast Georgia. He points out that Elbert County diligently prepared infrastructure, including collaborating with NEGRC to tap into a Georgia Department of Community Affairs (DCA) Community Develop-ment Block Grant (CDBG) program to repair two treatment ponds that had failed in the small community of Bowman. "Elbert County really is a shining example in a lot of ways," Walker says. "Even with their challenges, they have stuck with it and they're making strides."
Sticking with it and making strides is a common theme throughout the northeast region. Both Walker and Heather Feldman, director of community and economic development for the Georgia Mountains Regional Commission (GMRC), report unemployment numbers remaining steady for the past year. Job creation is happening throughout the region and recent infrastructure improvements are netting gains in manufacturing and commercial sectors.
The still-under-construction North Georgia Network (NGN) is a good example. The broadband network spans eight counties – Dawson, For-syth, Habersham, Lumpkin, Rabun, Towns, Union and White – and will be completed by Dec. 31.
"With the NGN in place, we have the capability to create an area similar to a research triangle," says Charlie Auver-mann, executive director of the Devel-opment Authority of Dawson County. "We have what we need to be competitive. It's not just a dream; it's a reality."
Mitch Griggs, executive director of the Union County Development Au-thority, reports Advanced Digital Cab-le, Inc., which manufactures electrical, electronic and communication wire and cable, moved into an existing 114,000-square-foot facility at the Blairs-ville Airport Regional Industrial Park (BARIP), investing $4.2 million and adding 60 jobs. His Lumpkin County counterpart, Steve Gooch, says his county has already identified a site along Georgia 400 perfect for a technology park. Lumpkin also announced that Koyo, a Japanese plant producing tapered bearings for automobile transmissions, broke ground on a $55-million expansion in mid-2011 that will add more than 50 new jobs.
Rabun County plans to focus its 2012 efforts on marketing a 971,905-square-foot industrial facility, the former Fruit of the Loom plant, which has been renovated and connected to the broadband network. Habersham Coun-ty has acquired 30 acres of property near Clarkesville that will be marketed for industrial placement.
Infrastructure additions and im-provements are numerous. The 10-mile expansion of Atlanta Gas Light service into White County in 2011 was so successful that the company decided to fund another 11-mile expansion of service from Cleveland to Helen. The line is expected to be complete this spring. Likewise, Atlanta Gas Light is bringing natural gas to Fannin County, running a line from Ellijay to Blue Ridge. Con-struction will begin in May 2012.
"The county also applied for and received a $500,000 CDBG for water lines that will serve a previously un-served population," says Stephanie Scearce, executive director of the Fannin County Development Authority.
The city of Crawford in Oglethorpe County began a renovation of its sewer system, including construction of a new sewer treatment plant, in 2011, extending sewer lines in the corridor between Crawford and Lexington. The joint county/municipal effort received primary financing from the United States Department of Agriculture and should be finished by summer 2012.
One of the biggest developments in the region will be the July opening of the 56-bed, state-of-the-art Ty Cobb Regional Medical Center (TCRMC) in Franklin County. "The new TCRMC is expected to be one of the biggest economic drivers our region will see for years to come," says Lyn Brumby Allen, director of economic development for the Franklin County Industrial Build-ing Authority. "The spin-off creation of new businesses and related services is expected to have a major impact on Franklin County and our neighboring communities." The new hospital is a consolidation of two hospitals and accounts for about $72 million in investment.
The GMRC assisted the county in writing grant applications for water and sewer improvements from the Appalachian Regional Commission and Economic Development Admin-istration and for road improvements from the Employment Incentive Pro-gram and OneGeorgia Authority. "Four different grant sources and three different entities received the funds," says GMRC's Feldman. "Together it brought approximately $2 million funding to provide infrastructure to the hospital."
As in other parts of the Northeast region, Franklin County watched existing industry continue to build on gains made in 2011. Fanello Industries, Inc., a steel blanking and stamping manufacturer, began a $1.1-million expansion, a result of new business and additional production for current customers. Allen also announced that Shark Solutions A/S, a Danish company that recycles glass windshields, had leased a building in the industrial park, bringing an investment of $2 million and approximately 10 new jobs to their community. And despite low water levels at Lake Hartwell, tourism is expected to rise, due in part to the new Mega Ramp at Tugaloo State Park. The county hosts the national Triple Crown Watercross competition at the Mega Ramp in August.
Hall and Jackson counties continue to boost the region. In January, Toyota announced plans to locate a parts manufacturing plant in Jackson that is expected to yield more than 300 jobs. In November 2011, Bed, Bath and Beyond announced plans to locate its e-fulfillment unit in Jackson County, taking over an existing building and bringing in 900 jobs over a four-year period. Two other Jackson County industries announced expansions. TD Automotive, manufacturing automotive compressors, announced a $70-million phased-in expansion, and Ku-bota broke ground in February on a $73-million, 500,000-square-foot building adjacent to its existing facility, adding an additional 200 employees.
Meanwhile, in Hall County, Pattillo Industrial Real Estate is building a 77,100-square-foot industrial spec build-ing, expandable to 140,000 square feet, at the Gainesville Business Park. Pharmaceutical services company Pro-Care Rx broke ground in October for an $18-million operations center in the new ProCare Park and will eventually add 160 jobs.
"The South Hall hospital campus that was approved last year now has its architect and contractor and will begin building in 2013," says Tim Evans, vice president of economic development with the Greater Hall Chamber of Commerce.
"When finished, the 100-bed in-patient hospital will provide over 500 new jobs. The economic impact on south Hall County will be huge and will complement the healthcare in north Hall County and Gainesville." Evans says more projects are in the pipeline.
One of the biggest and most controversial commercial projects in the region is planned for Athens-Clarke County. In November 2011, Atlanta-based Selig Enterprises announced plans for an $80-million mixed-use redevelopment plan on a 10-acre parcel of land between East Broad and Oconee Streets near downtown Athens. The project includes apartments, parking decks and 200,000 square feet of retail space, including a 94,000-square-foot Walmart. Opposition was immediate and strong, but the planning process is proceeding.
Athens-Clarke County joins with Oconee County May 3-4 in highlighting their communities during a two-day event for economic development officials and prospects. They'll showcase manufacturing facilities and local landmarks, demonstrating a united economic development front between the two counties. No doubt Oconee Coun-ty's new 485,000-square-foot retail center, scheduled to break ground by the second quarter of 2012, will be on the tour. Located at the terminal point of Highway 316, it will anchor the largest retail corridor in the county.
Smaller expansions and additions in the Northeast region are no less impactful.
In December 2011, a2b Fulfillment in Greene County announced an expansion including a new call center, which added an additional 25 jobs. Greene County will also have a new hospital. St. Mary's in Athens purchased the local hospital and will build a new facility on a 24-acre tract on Highway 44. Banks County has a contract for an $80,000 redevelopment plan for Banks Cros-sing, a major commercial site at the popular Tanger Outlet exit along I-85.
Two companies in Stephens County, Applegate Insulation and GEM South-east/Global Partitions, announced ex-pansions, netting an additional 65 jobs. Tenneco Automotive in Hart County expanded its production lines and is adding 350 jobs, and TI Automotive, also in Hart County, announced another 35 jobs. An expansion of the Ingles store in Madison County, almost doubling its size, will add 15-plus jobs and make it the largest Ingles in Georgia.
Recovery is slow, but it's here. "In this economy you have to focus on positioning for the future," says White County's Director of Community and Economic Development Tom O'Bryant. "The keys are long-term planning, policy development and community planning."