East Central: Going Forward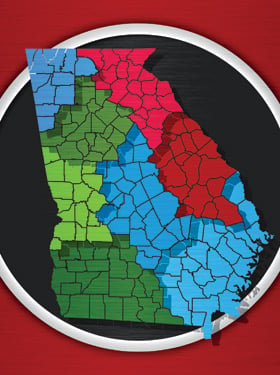 An improving economy is evident in East Central Georgia as the state's second largest metro area and several of its smallest rural counties report increasing jobs due to new industry and expansions of existing industries. Other counties continue to hold their own as they look forward to and invest in infrastructure for future growth.
In Augusta and Richmond County, workforce diversification and a prime location have continued to protect the area from the "recessionary woes" that have troubled many other communities, says Walter C. Sprouse Jr., executive director of the Development Authority of Richmond County. While existing businesses tended to fare well in 2011 and early 2012, at least 21 others – not counting doctors' or attorneys' offices, retail or government establishments – began plans to locate or expand in the area. The latest announcement is from Rockwood Holdings, Inc., a manufacturer of synthetic pigments. Rockwood's $115-million manufacturing plant is expected to create about 100 new jobs.
In Burke County, a $14.8-billion expansion of Plant Vogtle is expected to require as many as 4,000 workers by 2016 and 2017 when units 3 and 4 – the first nuclear power reactors to be completed in the U.S. in almost 30 years – go online, says Jerry Long, executive director for the Development Author-ity of Burke County.
The county is also making efforts to attract new industry with preparations for a 300,000-square-foot spec building, the purchase of a new 170-acre industrial park off Highway 80 outside of Waynesboro and the annexation of the phase II portion of the Waynes-boro/Burke County Industrial Park, which will allow lower rates for city utilities and quick response by fire and police departments for industrial prospects, says Long.
Bulloch County continues to enjoy the benefits of Great Dane Trailers' decision to locate in the county in late 2010, says Benjy Thompson, CEO, Development Authority of Bulloch County and Statesboro-Bulloch Cham-ber of Commerce. The refrigerated truck manufacturer is expected to begin production this spring, with about 400 employees. GAF Roofing, the largest roofing company in North America, is completing construction of a foam insulation manufacturing facility, which will start production in late June with around 50 employees. Retail in the county continues to do well, thanks in large part to the growth of Georgia Southern University. The economic impact of the university to the region is well over $700 million annually, says Thompson.
Business growth and housing development continue in Columbia County, which has seen a 40 percent growth in population over the past decade, says Troy Post, executive director of the Development Authority of Columbia County. Notable developments include a 32,500-square-foot building project by Rhodes Financial Services for its TaxSlayer software headquarters, as well as expansions of Nutritional Re-sources, a Grovetown-based producer of dietary snacks, meals and drinks marketed under the Healthwise label, and a three-year, $10-million expansion by Georgia Iron Works, the county's only foundry operation.
Emanuel County and the City of Swainsboro were fortunate to have several significant industry expansions during 2011, says Jackson D. Bareford, interim president of the Swains-boro/Emanuel County Joint Develop-ment Authorities. The Nordson Corp-oration, a global leader in precision dispensing, more than doubled the size of its manufacturing facility with the construction of a new 135,000-square-foot plant and plans to add more than 80 employees. A German company, Hotset, selected Swainsboro as the site for its first North American plant operation. The company plans to hire eight to 10 employees initially.
In Candler County, the completed $2.5-million renovation of exit 104 will provide easy access to Metter for travelers on I-16, says Chuck Clark, executive director of Candler County Industrial Authority. Several restaurants and retail establishments, including O'Reilly Auto Parts, have recently opened or will soon open in the county, and Allied Metal has expanded to about 140 employees and has a half-dozen satellite collection points throughout South Georgia.
After a difficult several years, things are finally looking up for Jenkins County, which for years had the state's highest unemployment rate, says Paula Herrington, executive director of the Jenkins County Chamber of Com-merce and Development Authority. The Jenkins Correctional Center, a new 1,500-bed prison which opened in March, has already hired for 200 positions.
In addition, two new industries are expected to bring additional jobs to the area.
Good news is mixed with bad in Jefferson County as the planned closing of the Thermo King plant in June will result in the loss of 235 jobs; two new industries, which have not been formally announced, plan to begin construction shortly. Building the facilities will provide 450 temporary construction jobs, says Development Authority Executive Director Thomas C. Jordan. When completed, the two will employ around 85 initially, with another 75 jobs created indirectly for harvesting or mining and bringing the raw products to the facilities.
Other developments to the area include the construction of off-road biking trails and the opening of an information center funded through private support and hotel/motel tax money in downtown Louisville to promote tourism in the area, says Lil Easterlin, executive director of the Jefferson County Chamber of Commerce.
Wilkes County is seeing "small signs of growth and expansion," with all manufacturing buildings in the county filled and three or four businesses considering locating or expanding in the area, says Wilkes County Payroll Development Authority Executive Director David Jenkins. Casket manufacturer Lazarus Manufacturing is working to get its Wilkes County plant up and running, and the 1950s-themed May Sally's Diner, which opened last fall, employs 12 to 15. Several new businesses have also opened on the Downtown Square of Washington, a small retail development, Jenkins says.
A New Zealand-based company, LanzaTech, has purchased the former Range Fuels plant in Treutlen County. The company is set to begin construction on a plant to produce various forms of fuels derived from wood chips, says John W. Lee, executive director of the Treutlen County Development Authority. "It will mean new jobs both in the construction phase and the production phase."
In Washington County, the Chamber of Commerce conducted nine ribbon cuttings for small businesses and dedicated a new airport terminal at Kaolin Field. "We now have an iconic structure and facility there that presents Washington County with a great 'front door' to those arriving here by air," says Charles Lee, executive director of the Washington County Public Facilities Authority. "This complements our existing 5,000-foot runway and planned parallel taxiway construction, which will take place in 2012." Elsewhere in the county, Oconee Fall Line Technical College is about to begin construction of additional facilities on campus to meet current and future needs brought about by the merger with Heart of Georgia Technical College.
In Johnson County, SLT Services, a company that relocates industrial sites, opened a metal recycling plant to take advantage of the high scrap metal prices. The new plant, PM Recycling, created six or seven new jobs, says County Administrator Guy Singletary. Wrightsville-based Plotmaster, a manufacturer of plot-planting machines, is in the process of contracting with African countries to provide agricultural machines. "The country and city are working together now to help form a partnership between SLT and Plotmaster and hoping to move that manufacturing here within the next year," he says.
In Hancock County, Aggregates USA, a member of the division of The Ready Mix USA Companies, opened a quarry near Sparta in February. The quarry initially hired five, but hopes to employ 10 more in the next year or two, according to quarry manager Jeff Sanders.
"Although we have not seen any new companies in 2011, we have not lost anything, which is an achievement in this economy," says Ashley Banks Swain, Lincoln County Development Authority executive director. She says the authority is making progress with a business that is working on an expansion, which could lead to the creation of a few new jobs.
Similarly, most industries and small businesses in Warren County are holding on through the recession, says O.B. McCorkle, Warren County Development Authority's executive director. "Hopefully 2012 will bring economic growth so the companies here can continue to grow and expand," McCorkle says. Investments in future growth include an extensive water plant expansion, which was completed in 2011 to increase capacity and efficiency, and Warren County continues to extend the lines throughout the county.
The least populous county east of the Mississippi, with a population of 1,651, Taliaferro County is "holding steady with the businesses we already have," says Jackie Butts, president of the Taliaferro Chamber of Commerce. The county's greatest asset, she says, is A.H. Stephens Historic Park, with its 12 miles of horse trails, which attracts a number of equestrian events.
The opening of a Hampton Inn in the second quarter of 2012 will provide needed jobs and tax money for McDuffie County, says Riley Stamey, interim director of Forward McDuffie, the economic umbrella for the county's chamber of commerce, tourism and development authorities. McDuffie's economic development authority has also increased warehousing space from 28,000 to 80,000 square feet for local industry, Stamey says, and is continuing to prepare industrial sites for a recovered economy in the future.