Art Of The Meal: An Athens Winner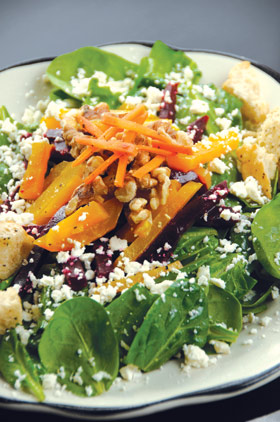 Ted's Most Best
254 W. Washington St., Athens
706.543.1523 or www.tedsmostbest.com
Hours: Lunch and dinner daily.
Parking: Street.
Credit cards: All major.
Dress code: Updated student. ("Please mom, don't embarrass me with that twin-set!")
On a recent trip to Athens, I asked local pals where we should eat. They gave me the rundown on openings and updates (including the new French bistro Etienne, next page), but my earlids slammed shut as soon as my friend described Ted's Most Best as the "most Athens-y" of the bunch.
You had me at "Athens-y." She was right: Ted's has the "most best" Athenian attributes, including the refurbishing of a downtown building that had sat idle for a number of years (Snow Tire's storage building), nestled in among quirky mom-and-pop feedsacks and watering holes like Clocked and Little Kings, as well as culinary standouts Farm 255 and The National. Ted's provenance is also notable: Owners Jay Totty and Jessica Greene also operate vegetarian haven and hipster-musician mecca The Grit. Ted's is named for Greene's late husband and former partner at the The Grit, Ted Hafer.
A little of The Grit's great vibe resonates here: The youthful spirit and excellent playlist bouncing off exposed brick; the insouciant confidence in making really tasty, very healthy, modestly priced food – in this case, pizza.
However, while you'll find more vegetables than in most pizzerias, and the menu proudly marks certain dishes vegan and vegetarian, Ted's unashamedly puts pepperoni – not to mention arugula, artichokes, bacon and eggs, and sopressata – on its pies, taking special pride in its Italian-cured meats.
Like The Grit, Ted's full-service hours also make it a handy hangout for different batches of regulars: Lunchtimes saw UGA faculty and staff; dinners featured townies and students; late-nights (it's open till 10 on weeknights; 11 on weekends) will draw ravenous patrons from downtown bars and clubs. The wide patio and bocce court is sure to entice hooky-players of all ages in these gorgeous days of early spring.
The official menu is short and sweet – a few pizzas, calzones, paninis and salads. Go traditional with a build-your-own pie of Italian sausage and peppers, or choose one that also includes its own salad, the arugula, heaped with a curly pile of fresh baby sprigs. Ted's excels in the execution of these few items – the pizzas' yeasty crusts emerge from the open-flame oven brown, bubble-edged and irregular. The ingredients are sublime. A slice of bacon encircles the soft-cooked egg, creating a little puddle of yolk for dipping; a special artichoke and spinach pie is a crowded inner city of veggie goodness. Paninis are thick, grill-branded specimens, hearty enough to satisfy the ravenous freshman in all of us: Our ciabatta roll encompassed pesto, provolone, sopressata, prosciutto, roasted red peppers and caramelized onions.
Aside from the cool environment, what sets Ted's apart are the extras you don't expect in a college-town pizzeria – the perfectly fresh and immaculate salads; the made-to-order coffees and cappuccinos; the big list of inexpensive but interesting wines (such as the effervescent Casal Garcia Vinho Verde, $5.50/glass or $22/bottle) and beers (from $2 PBRs to $4.50 Heavy Seas draft); housemade desserts from The Grit, such as the dense nut tart, drizzled with caramel.
My favorite meal of two visits was a lunch special: A cup of chicken vegetable soup laced with white wine; three toasted crostinis with "basil-mushroom pate"; and a turnip salad, with fresh raw baby turnips, sliced razor-thin and lightly tossed in vinaigrette. Their delicate, oyster-like earthiness turned the otherwise prosaic arugula-parmesan-prosciutto mix into something extraordinary.
Next time you're in an Athens-y mood, give Ted's a try.