2012 Economic Yearbook: Turning The Corner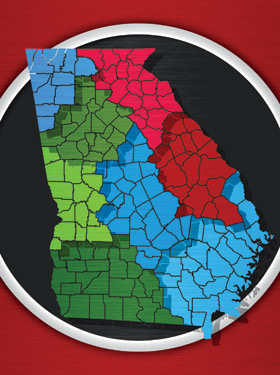 It's been a long time coming, but the state's economic news has taken a turn for the better. Throughout the state, economic developers and business leaders are reporting clear evidence that the recovery is under way. There are no champagne corks popping, just sighs of relief that years of hard work and perseverance are paying off.
In Metro Atlanta, the new international terminal at Hartsfield-Jackson Atlanta International Airport is set to open in May, and Gwinnett is enjoying a re-cord year.
Northwest Georgia is seeing more jobs from ex-isting industries and signs that manufacturing is coming back. Northeast Georgia will benefit from the new Caterpillar manufacturing facility to be built in Clarke and Oconee counties.
In West Central Georgia, Kia Motors Manufact-uring completed a $100-million expansion that added 1,000 workers. Central Georgia is getting a boost from food products, and in East Central Georgia the expansion of Plant Vogtle is expected to increase jobs.
In Southwest Georgia agriculture is strong, and in Southeast Georgia ports-related activity is increasing.
Stories in this year's Economic Yearbook were reported and written by Karen Rosen, Ben Young, Pat-ty Rasmussen, Christy Simo, Karen Kennedy, Mary Anne Dunkin and Bobby Nesbitt.
The Simon S. Selig, Jr. Center for Economic Growth at the University of Georgia's Terry College of Business provided the statistical information for the tables in the yearbook. Georgia's 159 counties are divided among eight regions introduced in 1996; each table lists the counties alphabetically within the region.
Population and income data for 2011 have been projected based on 2006-2009 trends (income) and 2006-2010 trends (population). Per capita personal income estimates were calculated based on revised population and income data from the U.S. Census Bureau and Bureau of Economic Analysis.
Estimates of population and per capita personal income for 2011 are based on extensions of existing trends and reflect growth or decline based on data that already have been recorded.
Total population estimates are based on data through 2010 from the U.S. Census Bureau. County population projections for the year 2011 have been controlled to the reported state total for 2011. Employment data are for January-June average covered employment, defined as jobs, by place of work, covered under Georgia's unemployment insurance law, and are not comparable with other nonagricultural employment statistics.
Employment estimates are based on information through June 2011 from the U.S. Bureau of Labor Statistics. Data for per capita personal income, by place of residence, were derived from data through 2009 issued by the U.S. Bureau of Economic Analysis and are given in current dollars.
Readers may visit the Selig Center's website (www.selig.uga.edu) for additional information. – Susan Percy, Editor
Click to read individual stories.
Metro Atlanta
Northwest
Northeast
West Central
Central
East Central
Southwest
Southeast