Sports Legends: Perseverance Pays Off
Jesup's Len Hauss triumphed at Georgia and with the pros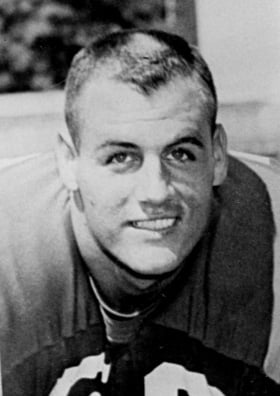 When Len Hauss injured his knee at Jesup High School (now Wayne County High) some of his coaches said he would never make the varsity team.
Make it? All he did as a senior fullback was gain 1,500-plus yards and score 15 touchdowns, leading Jesup High School to the 1959 Georgia State Class AA football championship.
He was named to the All-Region, All State, All-Southern and prep All-America teams.
"If you grew up in Jesup as I did, you were expected to play football," Hauss says. "I was playing on a sandlot team when I was six years old. Every boy in the neighborhood had a football.
"We had two teams – one on each side of the railroad tracks. The one who really got me started was a school teacher and later my Jesup High B-team coach, Mr. Frank Hammond."
If you were ever in Jesup on Friday nights during the Hauss years (1956-1959), you would not have found anyone at home during football season. The citizens would have all been at the football stadium when the Jesup team was home or in Thomasville, Valdosta, Waycross or Rossville when the team was away.
Knee injury and all, Hauss was heavily recruited by Georgia Coach Wally Butts, Georgia Tech Coach Bobby Dodd and Auburn Coach Shug Jordan. Hauss picked Georgia where, at 185 pounds, he was given a choice of being a back-up fullback or a starting center and linebacker. He chose to start. It was the right choice. He was selected on the All-Southeastern Conference team both his junior and senior seasons.
Coaches said he was good but too light to play professional football. But when the Washington Redskins sent their scouts to the Miami-Georgia game to look at Miami quarterback George Mira, they came away talking about Georgia quarterback Larry Rakestraw and Georgia's lightweight center Len Hauss. Hauss's downfield blocking and pass protection opened the door for Rakestraw to set an Orange Bowl passing record.
The Redskins drafted Hauss his senior season at Georgia in 1964. He had strengthened his injured knee by running up and down the Sanford Stadium steps. And even though his weight had moved up to 220, he was still considered by some as too light for professional football.
"They may run me off, but I never will quit," he told his parents.
The Redskins not only did not run him off, but he was their starting center for 14 years. Despite his old knee injury, he played in six National Football League Pro-Bowl games and on the Redskins 1973 Super Bowl team.
Today Hauss, age 69, is back home in Jesup, completely retired after a 30-year banking career that took him from Jesup to Jacksonville to Reidsville and back to Jesup, where he lives with his wife of 48 years, the former Janis Johnson. They were classmates at Jesup High School.
With his working days over, Hauss spends his time fishing on the Altamaha River, about seven miles from his home. He attends the Jesup football team's home games, some of their away games and some of the University of Georgia's away games.
Hauss is battling lung cancer, but those who have followed his football career will tell you if anyone can beat cancer it is Len Hauss. Hauss has had part of his right lung removed, but says the surgery has not affected his fishing.
Hauss is a member of the Georgia Sports Hall of Fame and the Wayne County Sports Hall of Fame. He's also been named one of the 70 Greatest Redskins of All Time.
Of his former coaches, Hauss picks Jesup's Clint Madray as best game day coach and the Redskins' George Allen as the best motivator. He says Vince Lombardi was the meanest: "He treated everyone the same – like dogs."
The best quarterbacks he ever snapped the football to were Rakestraw and the Redskins' Sonny Jurgensen and Bill Kilmer.
His advice to aspiring football players? "Work hard, work hard, and work hard."