Political Notes: March 2012
Ups, Downs and In-Betweens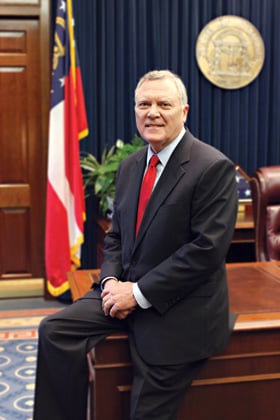 Going Up: Gov. Nathan Deal is asking state lawmakers to increase the 2012-2013 fiscal year budget to $19.2 billion, up about $255 million from the previous year. In a statement, the governor characterizes the budget as conservative and notes that Georgia is one of only eight states earning a Triple-A bond rating from all three agencies. He is not proposing any new taxes.
Education highlights include: $3.7 million for school nurses; $55.8 million for teacher salary increases; $1.6 million for reading mentors in elementary schools; $16.8 million to fund enrollment growth in the Technical College Sys-tem; and $94.5 million to fund enrollment growth in the University system.
Deal is also asking for $35.2 million for additional prison beds; $10 million for accountability courts; and $5.7 million to convert three existing facilities to residential substance abuse centers. He's requesting $45.7 million for water supply projects.
Competitiveness Focus: Announcing its 2012 legislative priorities, the Georgia Chamber of Commerce cites the need to make the state's economy more competitive both nationally and globally.
Among the chamber's agenda items: regulatory reforms that streamline government; expanded access to venture and seed capital; modernization of Georgia's revenue structure to broaden the sales tax base and reduce income taxes; and elimination of sales tax on energy used for manufacturing, mining and agriculture.
The chamber also advocates a voter referendum to restore state involvement in charter schools and urges ballot language that "promotes understanding of the 2012 TSPLOST vote and encourages maximum voter participation."
Chamber President and CEO Chris Clark says, "We will be working throughout this legislative session to help the General Assembly protect our business community in a way that allows Georgia's economy to grow and expand."
Weighing In: In its analysis of HB 718, which seeks to expand access to venture capital for Georgia businesses, the nonpartisan Georgia Budget and Policy Institute (GBPI) notes that the measure "creates an expensive new tax credit program." The bill is designed to "address a current weakness in Georgia's economy – the state's relatively small venture capital market," the GBPI says, and indicates it would cost $200 million over three years.
Although the bill includes provisions to ensure transparency and accountability, the institute says, "HB 718 must be judged within the context of competing priorities. If lawmakers choose to proceed on HB 718, they should ensure that its high price tag – $67 million per year for fiscal years 2014-2016 – does not further undermine funding for areas vital to Georgia's health."
HOPE Income Cap: The nonpartisan Better Georgia organization says its recent survey indicates widespread support for returning the HOPE Scholarship to a need-based program rather than a merit-based one. Better Georgia says 61 percent of Geor-gia voters favor an income cap.
Dedication Support: The Association County Commissioners of Georgia (ACCG) has endorsed HB 811, which seeks to prevent fees collected for a specific purpose from being redirected to another. The ACCG says that certain fees established by state law, including the one-dollar-per-tire fee to fund the Solid Waste Trust Fund, have frequently been diverted to other state programs to help with budget shortfalls. Some $37 million intended for the solid waste fund has been redirected. Rep. Jay Powell (R-Camilla) introduced the bill.
New Reps: The newest member of the Georgia House of Representatives, chosen by voters in Febru-ary, is District 60 Rep. Keisha Waites. The district includes portions of Clayton, DeKalb and Fulton counties. The House District 107 contest, affecting portions of Gwinnett and Walton counties, will be decided in a runoff March 6 between Paul Smith and Tom Kirby.
Rep. Dustin Hightower, a Republican from Carrollton, won the right to represent District 68 in a January special election.
In Memoriam: Long-time Congressman Ed Jenkins, a conservative Democrat who represented North Georgia, died earlier this year. In an obituary, The New York Times characterized him as a tax code expert who "led efforts to protect the Southern textile industry" and referenced his role in the 1987 Iran-contra hearings when he confronted Lt. Col. Oliver North over secret arms sales to Iran. Jenkins was 78.
Consolidations: 2013 is the target date for the consolidation affecting eight of Georgia's 35 public colleges and universities, according to the University System of Georgia. The Board of Regents gave a thumbs-up earlier this year to Chancellor Hank Huckaby's recommendation that will merge Gainesville State College and North Georgia College & State University in Dahlonega; Middle Georgia College in Cochran and Macon State College; Waycross College and South Georgia College in Douglas; and Augusta State University and Georgia Health Sciences Univers-ity, formerly named the Medical Col-lege of Georgia, in Augusta.
The university system will use working groups appointed by Huckaby to help implement the consolidations.
Bumper Crop of Mayors: Fifteen cities in the metro area swore in new mayors this year, according to the Metro Atlanta Mayors Association (MAMA). They are Alpharetta, David Belle Isle, attorney and former council member; Chattahoochee Hills, Tom Reed, retail business owner; Douglasville, Harvey Persons, retired business manager and former council member; Dunwoody, Mike Davis, business owner; Fayetteville, Greg Clifton, computer salesman; Jonesboro, Joy Day, retired educator and former mayor; Lilburn, Johnny Crist, pastor and former council member; Lithonia, Deborah Jackson, attorney and former council member; Locust Grove, Robert Price, retired telecommunications executive and former council member; Morrow, Joseph Burke, hotel manager; Palmetto, Clark Boddie, retired law enforcement official and former mayor; Pine Lake, Kathie de Nobriga, arts consultant and former council member; Snellville, Kelly Kautz, attorney and former council member; Suwanee, Jimmy Burnette, contractor and former council member; and Tyrone, Eric Dial, consultant and former councilman.