Manufacturing Success In DeKalb
Small Business Spotlight: Wesley International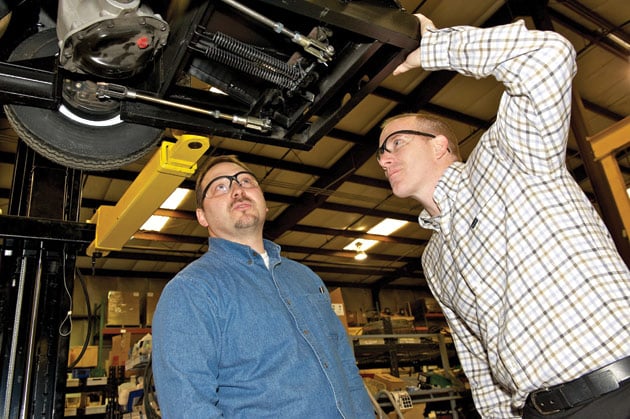 What do a small manufacturing plant in DeKalb County's Scottdale, a major automobile manufacturer in Japan and a business philosophy that sounds more like a diet plan have in common? If Bob Fisher has anything to say about it, each has a part to play in the rebirth of American manufacturing.
Fisher is the owner and CEO of Wesley International, a manufacturing company acquired by his father more than 50 years ago. The company designs, builds and sells pallet trucks and electric industrial vehicles for manufacturing or distribution settings. Fisher is also a strong proponent of the Lean business philosophy, an offshoot of the famed Toyota Production System, which had its genesis in Henry Ford's original assembly line or "flow production."
"We have a great opportunity, but it's not to replicate what the United States was doing in manufacturing in the past; it's a whole different model," says Fisher. "Things aren't being sold the same way they were 30 years ago, and they're not going to be made the same way either."
Simply put, Lean manufacturing seeks to streamline production at every level through a variety of means including increasing efficiency, decreasing waste and getting the right supplies to the production line at the right time, to the right place, for use by the right people. Lean philosophy puts a great deal of stock in listening to the needs of the customers and adapting the product accordingly. All these ideas are being put into practice at Wesley, and the company is beginning to reap the benefits.
In January 2009, Fisher was a semi-retired entrepreneur, attorney and owner of Wesley, though not involved in day-to-day operations. That was about to change. Wesley was hemorrhaging money at an alarming rate. "When it became apparent how bad the economic situation was, there was no choice but to take draconian measures," says Fisher. "I started at the top to cut costs – letting go two people who made the most money. The cardinal rule in these situations was to survive to fight another day."
Cultural Change
One of the biggest challenges at Wesley was its culture – facing inward, rather than outward, not actively pursuing new customers and markets. The 1990s had been tough on the company as cheaper, mass-produced pallet jacks from China began flooding the market.
"We were scared to death when we lost that base of standard pallet jack business," says Fisher. "What did we do? We had to adapt and find out what we could do to compete. The industrial vehicle business was the opportunity, and we changed our pallet jack business to a specialized one that China couldn't effectively address."
Rather than attempting to compete with mass-produced vehicles, Wesley listened to its customers and adapted standard-sized pallet jacks, brand named Pallet Mule, for customers. Coca-Cola needed a pallet jack with special features to protect electrical components on new drink-dispensing machines. Wesley built the pallet jack to Coca-Cola's specifications. Automatic teller machines (ATMs) occasionally need to be moved, but a standard sized pallet jack is too big. Wesley adapted and made a single-fork pallet jack that's the perfect size for the job.
Wesley also looked at the way manufacturers were going about their business and recognized the value of the electric vehicles for Lean manufacturers, such as the KIA and Hyundai plants in West Point and Montgomery, Ala. "A critical element of Lean is to have the goods you need at the main production point," says Fisher. "You're constantly moving small quantities. That's what our product is good at doing."
Wesley's standard electric burden carrier, marketed under the name Pack Mule, not only carries a 1,000-pound load on its deck, it tows up to 2,000 pounds of additional weight in carts attached in a train. Another model tows up to 5,000 pounds. In an automobile plant, for example, the Pack Mule would bring manufacturing supplies in to the production site, then remove any debris, packing and other materials, ensuring a clean, streamlined workspace and constant flow of materials.
"A very significant portion of our business has gone to support the Korean auto manufacturers down in LaGrange and Montgomery, which are some of the newest state-of-the-art Lean manufacturing plants in the U.S.," says Fisher. "It's been a huge market for our stock chasers and tow vehicles. Now we're getting orders from Korea, from the same companies in Korea we were supplying here."
The potential for even greater growth is on the horizon. "So far we've seen most of the demand for our products in distribution applications," Fisher says, "but the much larger opportunity lies ahead in manufacturing as the American manufacturing capabilities retool."
Quick Response
Much of the company's success is related to its size; Wesley is small enough to respond quickly to customer's needs. "When a customer calls us with a problem, we react with a solution," says Fisher. "We're not trying to sell them solutions to problems they don't have. We let them tell us what their problem is, and then we provide an adaptive solution."
In a serendipitous turn, those solutions often turn into new products or product adaptations offered to other customers.
The bottom line is that despite the slow economic recovery, Wesley is enjoying higher sales than ever. At its lowest point, Wesley had $2 million in sales; the goal for fiscal year 2012, which started in October 2011, is $7 million in sales. "Our projection is for about 50 percent growth this year," says Fisher. "That being the case, we should have a very profitable year."
Wesley's turnaround didn't come easily; change rarely does. Personnel had to change; minds had to change. "Over the past year and a half we've been adapting and rebuilding the [company] culture around a much more proactive and flexible approach to everything we do," Fisher says. "Those are the critical elements. We're much more customer focused, more innovative in everything – in terms of how we make products, yes, but to me more importantly is how we market our products, reach customers and interact with customers. We're less about trying to sell them something and more about trying to solve a problem."
Their customers approve. Although dealers in an independent survey conducted in early 2011 said the Wesley product line wasn't broad enough, customers rated Wesley highest in terms of relevancy, supplying relevant products. "If you have one hundred models, but you don't have the one model the customer wants, it doesn't matter," says Robert Kleinschmidt, director of sales and marketing at Wesley. "That sums us up. We're looking to be relevant to what the customer wants."