Georgia Gold
Companies In Business 50 Years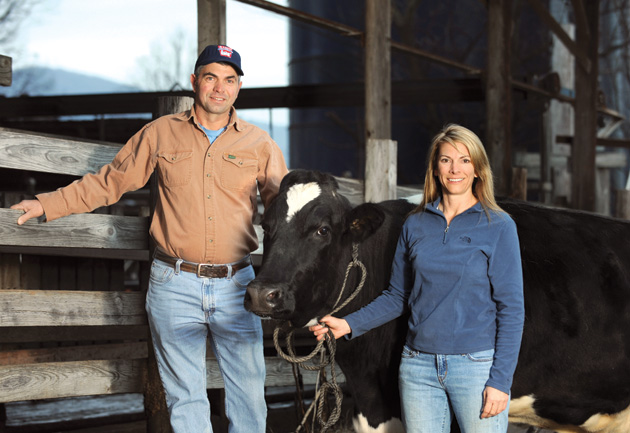 A law firm in Augusta, a dairy farm in Clermont and a medical center in Hinesville – each one in operation for more than a half century – inaugurate a new Georgia Trend feature, Georgia Gold, that will run periodically.
We want to share stories about Georgia companies in business for 50 years or more, those that have passed the tests of longevity and stability. Some that we write about will be family businesses, like the Truelove Dairy; some will be firms whose history mirrors that of their home base, like the Hull Barrett law firm; and some will be among their community's largest employers, like the Liberty Medical Center.
If you'd like us to consider your place of business for a future Georgia Gold story, send information via email to spercy@georgiatrend.com. Eligible businesses must be Georgia-based and at least 50 years old.
Hull Barrett, PC
Augusta
There's no telling whether the law firm of Hull Barrett, PC, would exist today had it not been for a long-ago social gathering hosted by United States Supreme Court Justice Joseph Lamar, an Augusta native. During an annual meeting of the American Bar Association in Washington, D.C., in the early part of the 20th century, Justice Lamar invited all the lawyers from Augusta who were attending the meeting to come to his home for a get-together.
Among the attendees were William Hale Barrett and James Meriwether Hull, who began talking about their respective practices. The two men decided that when they got back to Augusta they'd go in together and start a firm. The rest is local legal history.
Founded in 1916, Hull Barrett is a full-service law firm with 27 attorneys. Four generations of lawyers from the founders' families have served in the firm; one of the Barrett grandsons is currently a senior attorney in the firm.
Partners David Hudson and Neal Dickert joined Hull Barrett in the 1970s when the firm shared a building with the eastern regional headquarters of Georgia-Pacific. Hull Barrett did much of the legal work for GP until the company consolidated its corporate headquarters in Atlanta in the 1980s.
"At one time our partner Mr. Barrett said he represented 14 or 15 publicly owned and traded companies that had to file with the Securities and Exchange Commission," says Hudson. "Now, I don't know that there are two or three of those companies in the whole town." But Hull Barrett didn't sit idly by, watching business move elsewhere; the firm moved, too, both in focus and in geography.
While it continues to serve large businesses as clients, the firm set its sights on other clients, representing local banks, small businesses, families and individuals. Hull Barrett also represents Morris Communications, a privately owned national media company that publishes The Augusta Chron-icle. The firm also jumped the Savannah River to Aiken, S.C.
"A number of us are from South Carolina and went to school there," says Dickert. "We merged with a firm in Aiken in 1999, which opened up business possibilities there." Hull Barrett also opened an office in fast-growing Columbia County outside Augusta. "We have been adaptable and open to representing small business and individuals and [being] happy to do that," Dickert adds. "Everything changes; the legal profession is no different."
Hudson and Dickert agree that the atmosphere of collegiality, collaboration and mentorship at Hull Barrett is a key to its longevity and success. "Our longevity is attributable to the quality of the people that went before us," says Hudson. "If they had been selfish, hadn't cared about the lawyers that came along behind them, then the firm would disintegrate."
Philanthropy is another Hull Barrett hallmark. The firm's founders were heavily involved in community service, including the Boy Scouts; Community Chest, which later became the United Way; the Kiwanis and Rotary clubs. That tradition of service continues. "About every good thing that went on in the community bore their fingerprints," Hudson says. "And it's pretty much that way now." – PR
Truelove Dairy
Clermont
When brothers Elmer and Oscar True-love founded their dairy in 1954, they didn't have to look far for the right name. What name could be more perfect for a supplier of farm-fresh milk than Truelove Dairy?
The brothers' partnership lasted 10 years, but Truelove Dairy is still going strong. Located in Clermont, in Hall County, the dairy is now owned and operated by the next generation of Trueloves, Elmer's son, Jerry, and daughter Dixie. A third sibling, Patti, is a CPA in Smyrna and handles the books and taxes for the dairy.
"She has a seven-year-old son who tries to come up to the farm every weekend so he can ride on everything," says Dixie. "We definitely feel like the next generation is coming on."
Truelove Dairy includes 300 acres in pastures and fields; the dairy grows corn for feed on 170 acres and currently milks about 140 cows, Jerseys and Holsteins. The dairy only produces milk, which is sold to a co-op, the Maryland & Virginia Milk Producers Cooperative Association, in Reston, Va. The co-op sells to companies that pasteurize the milk for sale. Currently most of Truelove's milk goes to Mayfield Dairy.
"The benefit of using a co-op is logistical," Dixie says. "The co-op does it all; [it] sets up trucks to come and take the milk wherever it's going to be pasteurized. Our focus is on making high-quality milk."
There was never a question that Jerry and Dixie would keep Truelove Dairy operating. "All Jerry ever wanted to do was farm; he wanted to be in the tractor," Dixie says. "I went to the University of Georgia and studied agriculture. I loved the cows and knew I wanted to do something in agriculture. It seemed logical to come back here."
Following in their father's footsteps, they seek out new farming and conservation practices. Dixie finds the best bulls to match with their herd, trying to improve their stock with every birth. They also have great love and respect for the land. "We try different things; not going over the property as many times as might have been practiced in the past saves fuel and helps the land," says Dixie. "Our goal is to protect the land and our way of life."
The Trueloves also follow in their parents' footsteps when it comes to community involvement, be it local or national organizations. "We think it's important for people to understand the importance of agriculture," says Dixie, "that it's important to have farms, that unique type of greenspace, in your county and that people, children and adults, understand where their food comes from."
Dixie believes their success and longevity come down to a familiar business buzzword: innovation. "It is about seeing what new ideas are out there and not being afraid to implement them, even if it's not the norm," she says. "Just see how it goes. It may not work but you're trying. It's important for us to keep looking for ways to make it stronger, better, more profitable." – PR
Liberty Regional Medical Center
Hinesville
For half a century, Liberty Regional Medical Center in Hinesville has provided care for residents of Liberty and Long counties.
Started as a community hospital in 1961, Liberty was designated in 2007 as a Critical Access Hospital as part of a federal program established to improve rural healthcare access and reduce hospital closures. As such it is restricted to 25 extended care beds, and patient stays are limited to 96 hours.
While the hospital is small, it is busy, says Scott Kroell, CEO and director of physician recruitment. Each year more than 28,000 people visit its emergency room and more than 300 women chose Liberty to deliver their babies.
Emergency and obstetric services are just a couple of the many top-quality services the hospital provides, he says. Others include orthopaedic surgery, cataract surgery, gastrointestinal procedures and the management and diagnostic evaluation of heart and lung disorders. The center grosses more than $100 million annually and together with Coastal Manor, its 108-bed long-term skilled nursing facility in Ludowici, employs 408, the majority of whom are in nursing.
But it wasn't always that way, says Kroell, who came to Liberty in 1994. "When I came, the hospital was not in good financial shape. Our gross revenues were $10 million, our physicians were largely foreign medical graduates and a lot of our patients were leaving the community for care."
Seventeen years later, he says, all 25 of the hospital's medical staff are board certified and trained in the U.S. The hospital has moved from its original six-acre location to a 16-acre campus in downtown Hinesville and has plans to expand again.
He attributes the center's growth largely to its ability to recruit new, better physicians. "It's a matter of finding the right people, people who appreciate the community and what it has to offer – a rich history, diversity, proximity to a big city [Savannah] and proximity to the coast," says Kroell. "The toughest part is getting the first good doctor, then others come by word of mouth." Success in recruiting physicians has also been the result of working with professional staffing agencies and forming good relationships with physician residency programs around the state, he says.
With Fort Stewart offering nurses federal civil service jobs just a mile away, recruiting and keeping the best nurses has been a challenge as well, he says; however, good leadership, training and, to a degree, the soft economy have helped in that respect.
While improvements in the medical center are keeping more people in town for medical care, they also are helping to attract more people to the area and keep them there, says Kroell.
"What experts will tell you is industry looks at a community's schools, hospitals and housing," says Kroell. He believes the quality of the medical center has played a role in several important industries coming to the area. It also plays a role in the quality of life of the residents.
"When I came, the economy was vulnerable to troop deployments," says Kroell. "Since that time, the community has grown to the point that there is enough activity, even with deployment, that the economy is not severely damaged. In prior deployments, spouses would often go home. Now more spouses and children are staying and making this their home." – MAD