Art of The Meal: Gu's Bistro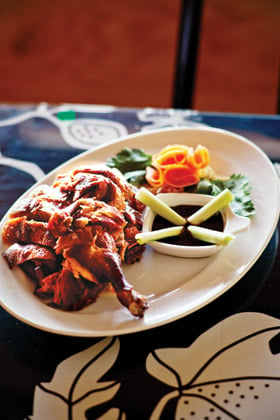 Gu's Bistro
5750 Buford Hwy. NE, Doraville
770.451.8118
gusbistro.com
Parking: Plentiful in shopping center lot.
Credit cards: All major.
Reservations: Accepted, and encouraged
on weekend evenings.
Dress code: Very casual.
What do you think of when you hear the term, "American-style Chinese restaurant"? For me, it has too often meant big, mediocre buffets full of popular, sweet favorites and occasionally even heresies like chocolate pudding and Jello. The American "bigger, faster, cheaper" business model became so successful for Chinese restaurants that menu service (or table service for dishes like mu shu pork, or lazy susans for big tables) nearly disappeared outside ethnic enclaves like Buford Highway.
You can't blame anyone for using a successful restaurant business model, especially these days. But it also endears me even more to stubborn entrepreneurs like Chef Yiquan Gu, formerly helming the kitchen at Sichuan House in Johns Creek before opening Gu's Bistro (most recently a Korean restaurant) with his wife and daughter. Here, "American-style" means excellent, thoroughly informed and fluent service; an extensive, informative website (gusbistro.com) also features the restaurant's Twitter feed and Facebook link. There, you can sign up for Gu's occasional weekend dim sum lunch, which sounds more like an omakase-style chef's tasting than the familiar little dishes served from rolling carts.
Gu pairs those up-to-the-minute marketing tools with utter dedication to bold, traditional flavors from his native Szechuan province. Often, this just means "hot," but here, the array of herbs, spices and sauces reveals a panoply of deep, strong tastes, sometimes by contrasting them with mild, muted ones. The menu is vast, but the first two pages offer photos of Gu's most popular dishes, and that's as good a place as any to start. Soups, like the pale but pungent hot and sour fish soup, and the gently soothing Chengdu wontons in chicken broth are standouts. Another simple starter, dan dan noodles, was our first visit's favorite: tender, slurpy noodles with potent minced pork. Slivers of tofu skin tossed with sesame oil, cucumber and green and red peppers were a supple, refreshing counterpoint.
Entrees, like the complex, fiery Chongqing spicy chicken, display the chef's sophisticated use of spice: Each bite reveals another element – garlic, ginger, peppercorn, chili, dark cubed chicken stir-fried in soy and sweet.
Cumin-spiked jumbo shrimp with peppers opened our eyes wide to a delectable and unusual flavor combination. Fresh, vibrant pea leaves, swirling in the wontons' chicken broth and curled in a stir-fried mound, fragrant with garlic, suggested by our waitress, were the revelation of our second visit. Here, Chef Gu knows when to let an excellent ingredient stand on its own – the delicate vegetable is a perfect match to the strongly flavored entrees.
Smoked dishes are specialties. On the first visit, on ordering the smoked pork, our waiter warned that it's a fatty cut, and that's right: It's almost like thin-sliced, soft-cooked, subtly smoked pork belly, with wide swaths of porky gelatin and trapezoids of sautéed leek. It's delicious, but so rich we took a lot of it home.
The disappointments were slight, and mitigated: I ordered crispy duck with garlic sauce without asking about it, expecting crisp-skinned roasted bird. Instead, it was deep-fried, and the duck inside the nuggets was dry. The spicy garlic sauce drenching the dish was a savory sensation, but it was all a bit too much.
Chef Gu's signature dish, duck lightly smoked with jasmine tea, served with a house-made sweet bean jam, was fabulously flavorful ("like a Chinese Benton's," I told my companion), but also somewhat dry. However, that made up for the crispy skin I longed for, and it's the dish that's calling to me from its Styrofoam takeout box right now, with just a taste of that plummy bean jam. And although Gu's serves no alcohol, you're welcome to bring your own beer or wine.  The staff will even supply wine glasses and corkscrews.
Wouldn't it be great if Gu's turns out to be the next great Chinese restaurant business model?