State Of The Heart
Intervention cardiology can stop attacks in their tracks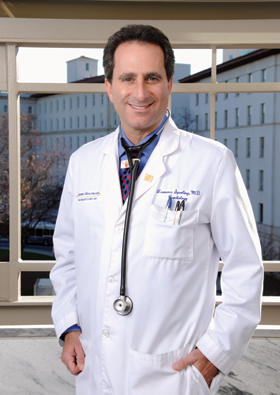 When it comes to heart disease in Georgia, there's good news and bad news. The bad news is that Georgia has the 12th highest rate of heart disease in the United States, according to the American Heart Association. Each year, more than 17,000 Georgians die from heart disease, more than from every form of cancer combined.
The good news: The picture for people with heart disease is slowly but steadily improving. And for people who suffer heart attacks, the odds of survival have in-creased dramatically in recent years, says Dr. J. Jeffrey Marshall, medical director of the Cardiac Catheterization Laboratory at Northeast Georgia Medical Center in Gainesville and president-elect of The Society for Cardio-vascular Angiography and Interventions.
"In a short 40 or so years, the chance of dying from a heart attack has gone from 40 percent to less than 10 percent," says Dr. Marshall. "This dramatic and remarkable change is due in part to drug development and in part to innovations that have occurred within intervention cardiology where we can go in with stents to keep arteries open and stop heart attacks right in their tracks."
It is also due to initiatives, like the one Dr. Marshall heads, that enable people who need help to get it – fast.
When a heart attack occurs, getting immediate treatment can literally make a difference between life and death – particularly for people experiencing the most serious type of heart attack called ST-segment elevation myocardial infarction (STEMI), in which a coronary artery suddenly becomes blocked, causing a loss of blood flow to the heart muscle, says Dr. Marshall.
Research in the past decade has shown that the best way to treat heart attacks is to get patients directly to a medical center that does high-volume angioplasty, a procedure performed through a catheter to open blocked coronary arteries and improve blood flow to the heart muscle, says Dr. Marshall. But it's not always possible to get to a high-volume medical center quickly, particularly in rural parts of the state.
For that reason, the American Heart Association is working with EMS services, fire departments and hospitals statewide to develop and implement a protocol for STEMI care that begins when the ambulance reaches the patient, says Darrya Lipscomb, communications director for the Metro Atlanta American Heart Association.
Several counties in North Georgia have already adopted a protocol for STEMI treatment patterned after a program developed and used in Minneapolis, says Dr. Marshall. The system involves performing an electrocardiogram (EKG) in the ambulance and administering medications – a single adult-strength aspirin, an IV blood thinner and an oral antiplatelet medication called clopidogrel (Plavix) – en route to Northeast Georgia Medical Center, where the doctor and cath lab team, prepared with EKG results sent by cell phone, are waiting for the patient.
The system has been shown to reduce the risk of death and preserve heart muscle, which reduces long-term complications of a heart attack, says Dr. Marshall, who is championing the program in North Georgia.
When assessing the response to heart attack, the traditional measure has been from the time the patient crosses the threshold of the hospital to the time the artery is opened. "We have gotten that down to 90 minutes. That is the national standard," says Dr. Marshall. "Now we want to get the standard first medical contact – the time [the] ambulance reaches the patient – until the time the artery is opened to be as low as possible."
Predicting Risk
Although heart attacks – and the need to treat them – happen suddenly, the events that lead up to heart attacks often take a lifetime. Yet many people don't know they are at risk until an attack occurs.
Even traditional risk factors – smoking, high blood pressure, diabetes and obesity – or an EKG can't always predict who will have a heart attack, says Dr. Sheldon Litwin, professor and chief of cardiology at Georgia Health Sciences University in Augusta. A simple test, performed at many hospitals throughout the state, however, can.
The test, called a coronary calcium scan, uses a computed tomography (CT) scanner to detect calcium deposits in the arteries leading to the heart. "Calcium deposits occur when inflamed lesions in the arteries calcify over time," says Dr. Litwin. "Although CT scans do not show plaque, which is mainly made of cholesterol, fat and other substances, it turns out that this is a very good marker of whether people have any plaques and how extensive they are."
Even though only 20 percent or so of plaques are typically calcified, by measuring the total amount of calcification and assigning a score based on that amount, scientists are able to predict the risk of heart attack in five years. In fact, checking the calcium score is 10 times better than looking at traditional risk factors, he says.
"There are people, myself included, who believe we should be screening everybody with this test," says Dr. Litwin. "It is simple, fast and inexpensive, and because plaque builds slowly, the test is one that would not have to be repeated frequently like many other screening tests."
While the test is not routinely covered by insurance, the cost – around $100 – is reasonable and, at Georgia Health Sciences University, you don't need a physician referral. "People can just come in and get the test, and we will send the results directly to the patient or their physician, whichever they prefer. If there is something abnormal, we will offer them follow-up."
Other technology that may be useful to predicting heart attack risk includes testing blood for a protein called c-reactive protein, which increases in response to inflammation that can lead to blockage of the coronary artery, and tests for genes that may predispose people to heart disease.
At Emory University in Atlanta, patients treated in the cardiac cath labs are asked for consent to have their blood genetically analyzed, says Dr. Laurence S. Sperling, founder and director of Preventive Cardiology at the Emory Clinic and co-director of the Cardiovascular Disease Fellowship Program at Emory.
"At this point, we have thousands of patients," he says. "We are able to look at [their genetic information] to learn more about the relationship between genetics and cardiovascular disease. We know there are at least 30 genes that are pretty strong associates for the risk of heart disease."
Reducing Risk
If testing suggests a patient is at risk for a heart attack, doctors will make efforts to reduce that risk with preventive treatment, ranging from daily low-dose aspirin or cholesterol-lowering drugs to weight loss surgery or a procedure to filter cholesterol from the blood.
Aspirin: While low-dose daily aspirin is often recommended for men over age 50 and women over age 65, some experts recommend beginning it earlier for patients at known risk for heart disease. Aspirin may help prevent heart attacks by decreasing the blood's propensity for vessel-clogging clots and by reducing inflammation in the blood vessels.
Cholesterol-lowering drugs: Drugs such as atorvastatin (Lipitor, Torvast), fluvastatin (Lescol), pitavastatin (Livalo, Pitava), pravastatin (Pravachol, Selektine, Lipostat) and rosuvastatin (Crestor), collectively known as statins, are commonly prescribed to reduce the risk of heart disease in people with high cholesterol. But research suggests they may also have a protective effect when cholesterol levels are normal but CRP levels are elevated. In one study published in The New England Journal of Medicine, there was close to a 50 percent reduction of heart attack, angioplasty and bypass surgeries in people with normal cholesterol but high CRP who were put on rosuvastatin.
While the statins are the most commonly prescribed drugs for reducing cholesterol – and, in fact, some of the most commonly prescribed drugs, period – they are not the only ones, and new ones are in development. Emory researchers are involved in several clinical trials looking at new lipid therapies such as cholesteryl ester transfer protein (CETP) inhibitors, says Dr. Sperling. Unlike statin drugs, which work by decreasing levels of the LDL, the "bad" cholesterol, CETP inhibitors are designed to increase levels of HDL, the "good" cholesterol, and move fat deposits from the arteries to the liver, where they are removed from the body.
Cholesterol filtering: Similar to the way dialysis removes toxins from the blood in patients with kidney failure, a procedure called LDL apheresis removes cholesterol from the blood of people with a genetic condition of extremely high cholesterol (familial hypercholesterolemia). Without proper treatment, people with the condition are prone to early heart attacks – often when they are in the teens or early 20s, says Dr. Sperling.
Eight years ago, Emory started the first and only program for LDL apheresis in the state for people with familial hypercholesterolemia and is currently involved in a study focusing on the time course of cholesterol and inflammatory changes in the blood vessels of patients receiving LDL apheresis therapy, says Dr. Sperling. "We hope to look at our first data related to that in the very near future."
Weight-loss surgery: Because obesity is known to increase heart disease risk, doctors recommend weight loss for patients who are overweight. Unfortunately, sustained weight loss through diet and exercise loss alone can be difficult, especially for people who are significantly overweight, says Dr. Litwin. Research shows that bariatric gastric bypass surgery can not only help significantly obese people lose large amounts of weight long term, but can also reduce the risk of heart problems related to obesity.
"There is data to show that people who are severely obese and have heart attacks have them 15 years earlier than people who are not obese and have heart attacks," Dr. Litwin says. While obesity is shown to be associated with premature and accelerated atherosclerosis, it also causes thickening of the heart muscle itself, he says.
"Although thickening of the heart muscle seems like it could be a good thing, it is actually detrimental over time because blood has to flow across the wall of the heart, and the thicker the heart wall is, the more difficult it is to get oxygen to the interior of the heart muscle," he says. "Thickening of the heart muscle also requires pressures to fill the heart, which can lead to shortness of breath and can lead to certain types of abnormal heart rhythms, including atrial fibrillation."
While it has been proven that a large number of patients who undergo bariatric surgery have a resolution of high blood pressure, diabetes, sleep apnea and other risk factors for heart disease, what doctors haven't known is whether it could stop damage or reverse damage that has already occurred. Preliminary data from Dr. Litwin's research suggests it can.
"People who undergo the surgery have or appear to have slowed or maybe even stopped progression of atherosclerosis compared to people who continue to be significantly obese, says Dr. Litwin. "In terms of the thickening of the heart – the mass or the weight of the heart – that does reverse. The mass or weight goes down significantly, and the size of the left atrium – the chamber we think is involved in atrial fibrillation – that also goes down a little. Some of the effects of obesity are reversible, and some at least we can halt."
Increasing Awareness
Despite technological advances that are prolonging life and reducing complications from heart disease, one of the most important tools in the fight against heart disease is awareness.
Two awareness-raising campaigns – "My Heart. My Life." and "Go Red For Women" – are an important part of the American Heart Association's 2020 Impact Goal to improve the cardiovascular health of all Georgians – and all Americans – by at least 20 percent and reducing the number of deaths from cardiovascular diseases and stroke by 20 percent by at least 2020, says Lipscomb.
A comprehensive health, wellness and fitness initiative, "My Heart. My Life." encourages Georgians to embrace an overall healthier lifestyle to improve cardiovascular health. "The call to action is to take simple steps to adopt a healthier lifestyle and improve your heart health and engage with a credible source in the community for guidance," she says.
"Go Red For Women" focuses specifically on awareness among wo-men, who are 10 times more likely to die from heart disease than breast cancer. Sponsored nationally by Macy's and Merck & Co., Inc., the campaign provides information and education, connects millions of women of all ages and offers tangible resources to turn personal choices into life-saving actions.
According to the American Heart Association, 80 percent of cardiac events in women may be prevented if they make the right choices for their hearts, involving diet, exercise and abstinence from smoking. Thus, focusing on risk factors and healthy lifestyle choices is crucial for awareness programs. But heart association statistics point out the need for awareness in other areas, too. Only about 50 percent of women are aware of the signs and symptoms of a heart attack. Only slightly more than half of women are likely to call 911 if experiencing symptoms.
"The next step is educating patients [that] if they have discomfort that comes with exertion, pressure in the chest and shortness of breath, we don't want them to delay medical attention, but to call 911, because the longer you wait with a heart attack the less chance there is that you will survive," says Dr. Marshall. "We want to focus on and raise awareness that having a heart attack is as serious as being shot or hit by a car. We need to think of it like that. These people need the fastest and most efficient kind of care of that we can provide."