Power Players: Taking Over At Cobb EMC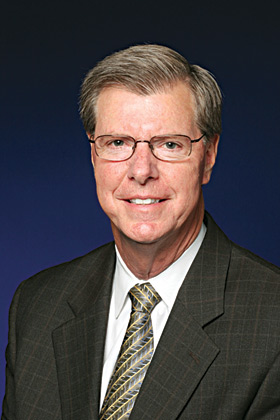 When people reach their early 60s, they're usually planning their exit strategies, whether that means full-fledged retirement or a hybrid of part-time employment or consulting. But Chip Nelson, 63, is making different sorts of plans. Named president and CEO of Cobb EMC in July 2011, Nelson plans to lead the embattled power company into what's being called a "New Day."
It's been a painful process for the utility and its 200,000 members, who suffered under years of mismanagement. Elections for board members, supposed to occur annually, hadn't been held since 2007.
Frustrated members filed a lawsuit against the company for siphoning money from the utility then using the funds to invest in and profit from outside business ventures. The previous CEO, Dwight Brown, was forced to resign and was later indicted on several counts including racketeering, theft, and witness intimidation. Members deeply mistrusted the company.
Nelson worked for Cobb EMC for 37 years, most recently serving as chief operations officer. He stepped in as interim CEO in February 2010 and decided to apply for the full-time position. "I felt that it was a point in my life, a time in my life, where I needed to just step up to the plate and do all I can for this company – members and employees," he says.
"I know the company, I know the members, the consumers; I have a great relationship with the employees, having grown up with the people and employees here. I felt that between myself and the executive staff, we could hold this company together and get it back on its feet where it needs to be."
Nelson is homegrown talent, having lived in Cobb County all his life. After grad-uating from Sprayberry High School, he went to work at Lockheed. After his second layoff in 1971, newly married Nelson decided going to college wouldn't be a bad idea.
"My next-door neighbor told me there was an opening at the electric co-op," recalls Nelson. "I had to ask her what an electric co-op was." He interviewed at Cobb EMC and was hired the same afternoon as a ground man on a construction crew. He worked during the day and attended Southern Polytechnic State University at night.
"I've had the opportunity to work in the field as a crewman on a construction crew, work in the field as a stake engineer, a design engineer and to really have a personal relationship with our customers," says Nel-son. "I always planned to stay here. My aspiration was to be either manager or vice president of engineering. That's what I was working toward."
Now Nelson is running the whole show, and his agenda is summed up in one word: transparency. "We are posting quarterly review financials," he says. "We are promoting open board meetings, a decision the board has to make; we can't make that decision. We've created a new policy called a financial management plan, and it gives us the ability to refund capital credits.
"One of the big things our consumers pressed us on was returning capital credits to them in the form of a rebate, and we are moving forward with that in 2012. That's a recommendation from the staff, but it's another decision the board will have to make. I'm confident that's something they will do. We've set up a corporate governance plan making us more transparent. I've shown people my salary, which many people wanted [to know]."
Board elections were held in November, and Nelson is optimistic.
"By the end of February, we'll have seven new board members out of 10," he says. "If you had heard the platforms of those running for board seats, they all spoke about transparency and openness. I believe the new board members do want to participate with an open board meeting policy."
Nelson says his ultimate goal is creating a culture of transparency in operations and governance, knowing full well he can't please everyone.
"It's like having five children," he says. "You're never going to make all of them happy. We have 200,000 members. They're provided excellent, reliable electric service at a price that's fair and is in the market, in some cases below the market around town. We'll see stability in nine to 18 months. After that I'd like to see some clear water for a while, and I'd be ready to step down."