H. Harper Station: Changing Trains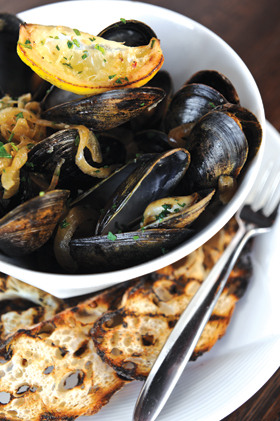 H. Harper Station
904 Memorial Drive, Atlanta
678.732.0415
www.hharperstation.com
Hours: Lunch and dinner, Wednesdays-Saturdays. Brunch and supper Sundays.
Parking: Valet in attached lot.
Reservations: Accepted.
Dress Code: Fashionably casual.
Atlanta's best-known modern-day symbol, Hartsfield-Jackson Atlanta International Airport, has a predecessor from its earliest days: "Terminus," once a crossroads for rail passengers from all over the East Coast. H. Harper Station, in a small former train station in Atlanta's Reynolds-town, harkens back to that past while looking to the future.
It's also a great representative for a lot of what's hopeful and fun in restaurants right now, from new old-fashioned cocktails and inventive nibbles to the clever recycling of an old building, smack in the middle of a slowly emerging neighborhood.
The humble, exposed-brick, shotgun-shack-style layout is outfitted with several dogwhistles to design freaks – jadeite chandeliers, cozy upholstered nooks and aluminum "submarine chairs" – but it all seems to work. Think Marilyn Monroe and Arthur Miller: a marriage of sexy and nerdy. That could also describe H. Harper's best feature, its potent potables, carefully researched from classic recipes and updated with exotic elixirs. The gin and tonic is composed of housemade seasonal tonic water, Bluecoat gin and lemon (a nod to traditionalists fiercely opposed to lime).
Or consider another blast from the past, the "AWP 290" (bourbon, rum, peach, mint, sugar, lemon and housemade ginger beer), which serves 4-6 from a vintage punchbowl and cups – once a style of service in every 18th century pub. The Seelbach cocktail, named for the old Louisville hotel, reflects the house reverence for bourbon, also revealed in the Colonel Manhattan, crafted from the elusive Pappy van Winkle, Borolo Chinato vermouth and Fee Brothers bourbon barrel bitters. Served in a sanely sized vintage cocktail glass with a tart cherry, the Colonel will set you back $20 – if available. A nod from Charleston's Garden & Gun has already set off a stampede for it.
Such studious attention to an ostensibly frivolous pastime makes H. Harper my current favorite alternative to more crowded and expensive outposts like Restaurant Eugene and Holeman & Finch for the best cocktails in town.
Here, admittedly, the food seems to have evolved like sushi – that is, it's designed to accompany the cocktails. The menu is short and to the point – you won't come here for "matching wine"-style dinners. (In fact, on one visit, Chef Evan Cordes' special dinner featured guest bartender Paul Calvert, of Pura Vida, with a special menu of cocktails just for that meal.)
Generally, the small plates and bowls work well – deviled eggs with fresh-snipped herbs; pickled vegetables; mussels in garlic and beer broth with grilled bacon bread; a delightful Sapelo Island clam stew with charred corn and grilled octopus. I also loved a vegetable plate of selected sides: Grits with wild mushrooms, collards on yam puree and wicked, wicked garlic herb tater tots. An accomplice's Painted Hills grilled, sliced skirt steak with potatoes, arugula and peanuts worked well as a solid jolt of protein, and so did my scallop with roasted hen-of-the-woods mushroom. But at $21 and $14 respectively, they're not cheap.
Some things just don't quite come off – the "bacon" and shrimp, for example, is actually crisped pork belly alongside Georgia crustaceans. Oh, yeah, there are some tasty bits in that pork belly, but largely it's a big slab of glistening fat. Chicken livers are beautifully, expertly fried, but encumbered with unnecessarily rich and complicated "buffalo-style" blue cheese and hot sauce on the side. Desserts are especially weak, from a blasé apple tart to a so-so flourless chocolate cake. At times, too, either the kitchen or the service could be a little slow.
Then again, I don't come here in a hurry. I want to linger over that little glass before moving to the next little bite. And if the service isn't speedy, it's very chatty, polite and thoroughly knowledgeable about all the solids and liquids on the menu.
Maybe H. Harper isn't for everyone, but it sure suits me.
Speaking of crafty cocktails …
Linton Hopkins' Restaurant Eugene and Holeman & Finch bartenders rule – at a recent Eugene dinner, unable to decide among the vast selection of drinks, we were urged to simply describe our favorite "flavor profiles," and have a custom libation concocted for us on the spot. Wow – how about a bourbon-sorghum concoction spiked with chocolate mole bitters? And a Tom Collins entwined with lavender? Now, you too can play mad scientist: At H&F Bottle Shop, find bartending tools, wines and now esoteric liquors, liqueurs and bitters, from rhubarb to celery and yes, mole. 2357 Peachtree Road, in the Peachtree Battle Shopping Center, Atlanta. 404.841.4070. www.hfbottleshop.com.