Going Deep
Proponents of the Savannah harbor expansion consider it a key component of economic development in the Southeast, but opponents are raising concerns about the cost.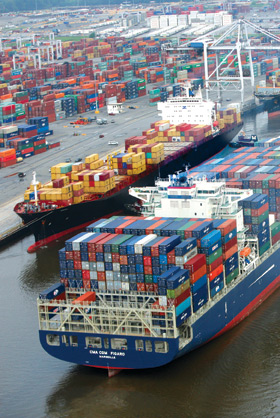 Atlanta Mayor Kasim Reed believes the key to his city's economic future is buried under 42 feet of water about 260 miles away from his office.
"Our long-term goal should be to make the Metro Atlanta region the center for logistics in the Western Hemisphere," he says. "We'll have the bones for it, the infrastructure, if we can expand the Port of Savannah."
Reed has reached across party and jurisdictional lines in his fervent support of Georgia's ports. Which is why he played host, with Georgia Gov. Nathan Deal – in Savannah – to U.S. Secretary of Transportation Ray LaHood in November for a high-profile pep rally for the Savannah Harbor Expansion Project (SHEP).
It is by far the biggest item ever on the Georgia Ports Authority's all-time to-do list, a proposed multi-faceted $600-million project that would deepen 36 miles of the Savannah River shipping channel from 42 feet to 48 feet to more efficiently accommodate the larger vessels that will be passing through the Panama Canal, once its expansion is completed in 2014.
"The Savannah River channel is the shallowest of any major port complex in the world. That's a major restriction on our ability to service those large ships," says Curtis Foltz, executive director of the Georgia Ports Authority (GPA).
"It's all about competitiveness in global commerce. That's where it starts. It's anything that Georgia produces and wants to trade around the world. It's also what you consume. Whether it's Home Depot or Walmart or Target or Lowe's, the goods you buy are produced overseas," he says. "Our role is to make sure our port and logistics network is as efficient as it possibly can be."
SHEP has been in the planning and study stage for 12 years, a process driven by the U.S. Army Corps of Engineers, but it is nearing the end of the authorization process following some wily political maneuvering and collaboration. The Corps is expected to release its final Environmental Impact Study and a Record of Decision this year.
And as state and federal leaders turn over rocks in the search for money to do the actual work, conservationists have lined up behind their lawyers to challenge aspects of the project, while bracing for an uncertain environmental impact if and when the Port of Savannah is dredged.
"We're not trying to stop the deepening," says Tonya Bonitatibus, executive director of the Augusta-based Savan-nah Riverkeeper, part of a two-state conservation coalition (Georgia and South Carolina) that has filed a court appeal to challenge a South Carolina agency's approval of the project.
"But we are working to ensure that the true cost of doing business is taken into account," she says. "Moving ahead with the plan as such is like putting the river on life support without knowing if the life support machines actually work. We have some pretty serious concerns going forward."
Opponents of the dredging also believe there are better, more cost-effective alternatives for a shrinking federal purse, but proponents of SHEP think it's one of the country's most important civil projects, a key component of economic development for the Southeast.
"It impacts not only all 159 counties in Georgia, but every state east of the Mississippi River," says Georgia Sen. Saxby Chambliss.
One job out of 15 in Georgia is dependent on the ports (the deep-water harbors in Savannah and Brunswick, and to a lesser extent, the inland barge operations in Bainbridge and Columbus), or roughly 295,000 jobs (and $15.5 billion in income, $2.6 billion in state and local taxes, and $61.7 billion in annual revenue) according to the GPA.
Border Skirmish
The Port of Brunswick has three GPA-owned terminals and is the fifth busiest auto/heavy machinery processing port in the nation, handling more than 477,000 pieces in FY 2011. Foltz says Brunswick's terminals enjoyed one of their strongest years ever.
In addition to autos and heavy machinery, the Brunswick terminals also are among the fastest-growing processors of dry bulk, grain, forest products and other commodities. GPA operates two of the terminals, while Canadian firm Logistec operates a third, which is receiving $15 million in improvements to accommodate the ex-port of biofuels.
The Port of Savannah, comprising the Garden City Ter-minal and the Ocean Terminal, has experienced rapid, record growth over the past decade – 1.2 million TEUs (20-foot container units, which is the standard way to express container capacity) passed through in 2002 versus almost 3 million TEUs in FY 2011.
Of the 26 million tons that moved through Savannah last year, about 22 million tons were containerized. At its current depth, the port can accommodate container ships carrying up to 6,500 TEUs.
"Our largest trading partner is Asia, our major customers are in Asia and large ocean-going container vessels are the most efficient way to trade goods," says Foltz. "Every week our container facility [Garden City] receives 17 vessels from Asia that cross the Panama Canal, but the Panama Canal is restricted in size."
The canal can handle ships with a maximum capacity of about 4,500 TEUs, but that's going to change in a big way. Once the Panama Canal expansion is complete, container vessels that can handle 13,000 TEUs will be able to get through. Subsequently, with an eye on accommodating that traffic, about a dozen port expansions are under way in the Eastern U.S., including Savannah and its closest competitor, Charleston, S.C.
The Savannah River separates Georgia from South Carolina and has been the center of a border skirmish as each state vies for an economic advantage in its ports business. Charleston is a few feet deeper at 45 feet, but Savannah got the jump on the permitting process by more than a decade. The Corps just did its reconnaissance study for Charleston last summer, while Savannah's project could receive final approval by this fall.
"Sure, we compete with Charleston and South Carolina, but there's so much business out there that both ports will benefit from expansion," Chambliss says. "Both ports, Savannah and Charleston, are critical to the economy of the entire Southeast."
Nonetheless, in September the South Carolina Department of Health and Environmental Control (DHEC) senior staff recommended denial of a water quality permit certification application for the Savannah project, amid concerns that the deepening would deplete a freshwater marsh system and compromise the endangered shortnose sturgeon. And they questioned the effectiveness of proposed oxygen injectors, Speece cones – bubblers. These giant bubblers (called "iron lungs" by project critics) would be placed along the deepened harbor to prevent further oxygen depletion in the river.
Georgia Gov. Nathan Deal asked South Carolina Gov. Nikki Haley if DHEC would reconsider. Haley asked the newly appointed board to review the denial, and after meeting with the Corps and the GPA, the board announced a full reversal, with assurances that Georgia would pay for the protection of 1,500 acres of saltwater marsh in South Carolina, protect the sturgeon and pay for the oxygen bubblers.
"Gov. Haley and I have a good relationship. She is very cooperative," says Deal. "We assured her that we don't view the Savannah harbor as a standalone, end-all, be-all. We want to work cooperatively on the Jasper project, and we support the deepening of the Charleston harbor."
The Jasper County (S.C.) port is a proposed joint venture between Georgia and South Carolina, downriver from Savannah. While some South Carolina boosters think the Savannah deepening would preclude the proposed Jasper project, Foltz insists otherwise.
"It's without debate, without question that the deepening project in Savannah is extremely beneficial to a Jasper project long term," Foltz says. "Jasper will have a 47- [or] 48-foot channel all the way to its doorstep when this project is completed."
Additionally, he says, Jasper needs to build up its site, so the plan is to bring dredge dirt – about $300 million in fill material – to the site.
The reaction to DHEC's reverse decision has been mixed – positive among Georgia boosters, but prompting outrage among many in South Carolina, who say it's created an economic hurdle while harming the environment.
"I applaud Governors Haley and Deal for working jointly," Chambliss says. "It's a bold step for Gov. Haley. She's been hearing a lot of rumbling over this."
In December, conservation groups in both states challenged the DHEC decision in court.
"Our current position is that some of the key mitigation strategies the entire project is depending on are not reliable," says Savannah Riverkeeper's Bonitatibus.
True Costs
The cost for environmental mitigation in SHEP are staggering – according to GPA spokesman Robert Morris, it's about $200 million. According to the Corps, it comprises more than 41 percent of the entire cost for the project.
"This is a substantial figure and reflects our dedication to protecting and preserving the environment," writes Corps public affairs specialist Billy Birdwell in an email (Georgia Trend's requests to interview people involved with the project were refused).
Costly? Obviously. Substantial? Depends on whom you ask.
The four federal agencies that are required to approve the deepening and mitigation plan – the Corps, Environmental Protection Agency (EPA), Department of Commerce and U.S. Fish and Wildlife Service (FWS) – have done so. It doesn't mean they have to love the idea, though.
"When a harbor is deepened, and we've seen this in the past, saltwater moves further upriver," says Jane Griess, wildlife biologist and project leader at the Savannah National Wildlife Refuge (part of FWS). "Of course, when freshwater marsh is exposed to salt water, it changes the entire dynamics. Plant communities change, invertebrates change or are eliminated, species composition changes, diversity changes."
There was about 12,000 acres of tidal freshwater marsh in the Savannah River estuary in the 1800s, when the freshwater-saltwater interface was near river mile seven. Now, the interface has moved upriver to mile 21, and there are about 3,300 acres of tidal freshwater marsh. If the Corps' modeling is correct and the mitigation works, about 340 acres would be impacted.
"We've seen conversion of our tidal freshwater marsh, over time, to higher salinity, and we expect that will continue," Griess says. "Some people ask what difference does it make. In the freshwater marsh you have about 60 different species of plants. In a saltwater marsh you're looking at maybe five species of plants. And we haven't talked about the invertebrates that would be lost."
Griess had input into the process, she was at the table, she was involved. That doesn't mean there are guarantees.
"What do you do short of not doing the deepening? We're not against economic development," she says. "But Congress mandated me to look after this refuge for the purposes it was established for in 1927. So, I'm not for or against anything. I'm just trying to protect the resource I was hired to manage and protect.
"In a perfect world, I'd like to get more tidal freshwater marsh. It's a unique habitat that is disappearing."
It's important, she adds, that the Corps has included an "adaptive management" plan.
"I believe this will be considered a model for how projects like this move forward," Foltz says. "For the first time ever at the federal level, this concept [adaptive management] is part of the plan, part of our mitigation efforts, so if there are any unintended consequences, the Corps can go back and modify the mitigation."
The dredging is expected to take about four years, then the Corps plans to monitor and manage its mitigation efforts and water quality for another five years after construction is completed, making changes and tweaking the plan, as necessary, to safeguard environmentally sensitive areas.
"But a plan doesn't do any good if you can't implement it, and 'implement' means funding," Griess says. "So one thing we're all interested in is assurances of funding, because there's no guarantee that any plan is gonna work."
And even though some of Georgia's political heavies have lined up in support of the long-awaited Savannah port expansion, there is no guarantee that the money is there to begin moving the first load of dirt. Not yet.
"Nothing is set in concrete, regarding exactly how much federal funding will be available, especially in this post-earmark world," says Chambliss.
The federal government is supposedly on the hook for about $400 million, while Georgia state government is responsible for most of the rest – and has already committed $134 million, while Deal has proposed another $46.7 million in his FY 2013 budget. But the estimated cost for the deepening is about a decade old.
"Senator [Johnny] Isakson and I are doing what we can to ensure the federal government pays its fair share. We just don't know what that fair share is yet, because we don't know the exact price tag of the project," Chambliss says. "This was authorized more than 10 years ago, so it's taken us 10 years to jump through all the hoops to get to this point, and we've got to get an updated cost figure."
Which leaves some critics of the project wondering which argument is better – the environmental one or the economic one.
"Forget for a moment the environmental implications and just look at the rational use of tax money to attain the biggest bang for your buck to achieve public objectives," says David Kyler, executive director of the Center for a Sustainable Coast. "Is this fiscally responsible? Will it really create more jobs or more commerce?"
According to Birdwell's email, the Corps estimates as many as 5,000 jobs could be created during construction, and the basic economic benefit will come in the reduction of transportation costs. Also, he writes, "We cannot consider local or regional benefits in our analyses, although these may exist. Our study indicates the nation will reap about $116 million in net annual economic benefits."
But Atlanta's mayor believes it's really bigger than that, more than the numbers, something requiring a bipartisan effort in an age of political acrimony along strict party lines.
"We already have the busiest airport on the planet and an outstanding highway network that connects us to the fastest-growing container port in the country. And I think the deepening of the port is similar in importance to the development and expansion of Hartsfield-Jackson airport," Kasim Reed says.
"We won't achieve the objective without cooperation across party lines. Our biggest achievements come when we work collaboratively, and this project is too big for us to think small, to be locked down by partisanship," he says.
"This is about future generations and what Georgia will look like in ten, 20, 50 years."