Builder of Communities
Tom Cousins on role models, community service and changing neighborhoods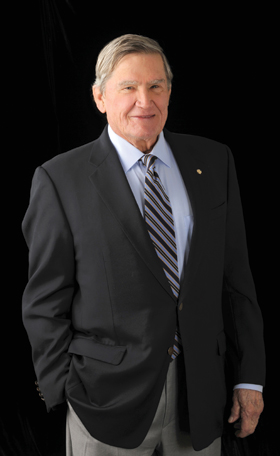 One of a handful of visionaries who altered Atlanta's skyline over the last few decades, Tom Cousins faced a much tougher challenge when he turned his attention to rebuilding the troubled East Lake neighborhood in Atlanta.
Cousins, a civic leader and longtime chairman and CEO of Cousins Properties, Inc., and former Atlanta Mayor Andrew Young are the 2012 inductees into the Georgia Trustees, a distinguished group that includes Ted Turner, Hank Aaron, Sam Nunn and Vince Dooley.
"I'm honored to be in the company of those people," Cousins says simply.
He's now chairman of the nonprofit CF Foundation. ("I'm not in business anymore; I'm in the business of giving it away," he says.) Nonetheless, Cousins had quite a business run as head of the equity real estate investment trust that grew out of the business he started with his father in 1958. He developed CNN Center, 191 Peachtree Tower, Bank of America Plaza and the old Omni Coliseum. He owned the original Atlanta Hawks and was responsible for bringing professional basketball and hockey to Atlanta. His philanthropic track record is more than a match for his business success.
He will tell you that he didn't do any of it by himself. He had role models, partners and allies. Indeed, his rise mirrors Atlanta's; his story is very much an Atlanta story.
Cousins' civic coming of age was in the late '50s and '60s, after college at the University of Georgia and a stint in the military. "Where I became exposed to philanthropy was after coming to Atlanta from the military, after Korea. It was the Junior Chamber of Commerce back then, the Jaycees. My family was not active that way, so I guess my role models, from a philanthropic standpoint, came from seeing others in Atlanta when I got back." He recalls fund-raising efforts for The Salvation Army, the YMCA and Big Brothers.
But the real role models came later, and they were a formidable group. "In the late '60s, I was invited to be on The Commerce Club board – sort of the token youth."
He ticks off a few of the names of those he used to sit in the boardroom with, a Who's Who of civic leadership: "Mr. Bob Woodruff, Mills Lane, Dick Rich, the head of the telephone company and other major businesses, Jack Tarver of the Journal-Constitution. Ivan Allen was on that board."
They talked not only about the club – founded to provide a place for all the city's leaders to come together – but about the city's needs and problems and how they could find solutions. Heady stuff for a young man who was just beginning to make his own mark on Atlanta.
He did a lot of listening. "I sat, and unless somebody directed a question at me I don't think I ever opened my mouth except to put food in it. I was really in awe of those people because they clearly had a concern for the community."
The Atlanta Way
Cousins remembers, too, the more or less grudging respect Atlanta earned outside the South for its progressive civic attitude. "The northern press picked it up and said Atlanta had an 'enlightened self-interest.' That was the closest way they could criticize us for such an active business community that has from way back had an unusual interest in the community."
He tells a story from the early days: "I was shocked one time when I was a salesman and I called on a company down in Tampa. It was a big-shot banker. I walk in, I'm pretty young. He said, 'All right, son, where you from?' I said, 'From Atlanta, Georgia.' He says, 'Stop right there. I don't want to hear about it. I know that when you die that's where you want to go. I know all of that, but I'm so sick of Atlanta people bragging ….'"
Cousins laughs at the memory. "Atlanta did, at that time, have a real special esprit de corps. There really was a sort of fever about Atlanta. It's a different city now. It's much bigger. But Atlantans were very proud of Atlanta. I've been all over the country, and I've never seen another city where the business community was as active in community service."
He believes Atlanta's distinctive civic makeup had much to do with leadership, going back even a generation or so prior to the titans of the '50s and '60s. That style of personal leadership is not so much in evidence today. Cousins says it's taken a different form.
"I don't know that it's lost," he says. "Given that our population is so much larger, there's certainly less impact per person, but there is still a lot of generosity around Atlanta. But we don't have that spirit."
Atlanta, in the mid-20th century, had something to prove. Cousins recalls that when he came to Atlanta, Birmingham was arguably the capital of the South. But that Alabama city impaled itself on race and racism. Atlanta's civic demeanor during the Civil Rights struggle set it on a course toward success.
"Atlanta, in my judgment, distinguished itself," he says. "The big boost it got was its position on Civil Rights. There's no question we were an island. All our Southern neighbors took such a different attitude. In fact, the rest of the state of Georgia did. But it was Atlanta leadership" that made the difference.
"A lot of people get credit for that," Cousins says, "but on the business side or the 'white side,' I credit Mr. Woodruff. He had the foresight and wisdom to know this is what we should do. He was such a powerful leader that if he thought that was what we ought to do, that was what we were going to do."
A prime example is Woodruff's support of the Atlanta dinner honoring the late Dr. Martin Luther King Jr. after he won the Nobel Peace Prize. A word from Coca-Cola's Woodruff to Atlanta's nervous business community was all it took to ensure that all tickets to the event were sold and all seats filled.
It's hard to imagine one individual wielding such power today. "Couldn't be," says Cousins. "It wasn't just wealth. He was a powerful personality. But there have been so many changes I don't think that kind of power and position and respect could happen now."
Despite his appreciation for Atlanta's history, Cousins is very much engaged in the future of the city. His East Lake redevelopment project, undertaken via the East Lake Foundation, came after many years of involvement in the community.
His earliest efforts to provide affordable housing for the poorer citizens of Atlanta were part of the urban renewal movement. "We were involved in building over 100 of what were called '221' housing units. They were urban renewal housing. That was a big program, a huge missed opportunity by this country. The federal government would fund the clearance of slums, replacing the people who were displaced in new housing.
"Those were tough places. A lot of crime emanated from there and went on there. It was not a safe or happy place to live. But a lot of people had to live there."
Ultimately, the program did not work, and the new properties became slums.
Cousins and his colleagues put a lot of time and effort into trying to get at the roots of the poverty and crime that destroyed neighborhoods and began looking for different solutions. "We supported various drug programs, educational programs, anti-crime programs. We were not seeing any tangible results. Crime was going up. We spent a lot of time and thought on prison reform. We [society] keep adding more and more prisons." Clearly that wasn't the answer, he came to realize.
"We said if we're going to do anything about crime, we've got to get children before they get into crime. If we can't fix the existing crime problem, maybe we could do something to prevent them becoming criminals with support for things like YMCA, Boys Club. Some were obviously good, but we felt like we were not making much of an impact."
Thinking Big
The impetus for his big East Lake project came in the early '90s, he recalls, when he was reading a New York Times op-ed piece about a study that had been done of every prison in the state of New York. The authors, he says, were looking to see "what besides drugs and alcohol might be a common link. Well, they were surprised to find that 74 or 75 percent of all the people in jail all over the state of New York had grown up in eight neighborhoods in Manhattan.
"I found that interesting," Cousins says. "You can fix a neighborhood. We did some things in some formerly good old neighborhoods that had become bad neighborhoods, and we were able to cause some turnaround."
He contacted then-Atlanta Police Chief Eldrin Bell and told him about the article and the bad neighborhoods. "He said, 'Tom, everybody knows that' and said if you did a similar study in Georgia there are probably not over five or six neighborhoods, all in Atlanta."
One of them, perhaps the worst, was East Lake – in those days called Little Vietnam because of the pervasive violence. Police always visited in pairs.
Cousins decided to take a look for himself. "I rode through there, and I could not believe my eyes. There were kids running around and open drug dealing. You could see the drug transactions taking place in wide-open daylight."
It was disturbing and eye-opening. "Frankly," says Cousins, "what got me at that point was that only by the luck of the draw … I could have been born in East Lake.
"Those kids, they had no choice. They didn't choose East Lake, and yet what chance do they have growing up in that environment? Their role models are drug dealers." Most of the children were being raised by grandmothers, he says, whose average age was 32. Male members of households were typically in jail. Employment was low; crime was high.
Cousins is very much a realist, but he saw a challenge and an opportunity.
"If East Lake could be fixed, any place could be," he says. "We were certainly not sure it would work, but we were going to give it a try. We knew from experience that just tearing [slums] down and putting them back up in the same place for the same people wouldn't work. You've got to change the environment."
So he and his colleagues set out to re-envision and reinvent the neighborhood. There were many hurdles, many delays, many frustrations, but ultimately, they did it. Cousins found a strong ally in Atlanta Housing Authority head Renee Glover, who at that time was new to her post.
The result of years of efforts was an entirely new neighborhood, complete with new housing – the Villages of East Lake – a new school, a YMCA, even a golf instruction and life skills program for youngsters, The First Tee of East Lake, based at the nearby Charlie Yates public golf course and inspired by the storied East Lake Country Club that Cous-ins restored.
The East Lake Foundation bought up deteriorating public housing and replaced it with spiffy new apartments and townhouses that are mixed income. "Every other unit is a public housing unit and every other one is [for] a working family," Cousins says. "The concept is that working families would be role models for the non-working families.
"Why would working people come here? For a lot of them this was the way they could serve – they didn't have to join the Peace Corps."
First Charter School
Next came the Charles R. Drew Charter School. The previous public school, perhaps the lowest-performing in the Atlanta system, had been closed. The new one became the system's first charter school; it opened in 2000.
Cousins is reluctant to talk about his own accomplishments, but he has no reservations when it comes to Drew and its students.
"On the state CRCT tests, it's right up at the top. It's amazing," he says. "We opened up the K-5 classes, and each year added a grade – 6, 7 and 8. Then we started the other way – added pre-K, 3- and 4-year-olds. We just added on the early childhood [program].
"The kids have done so well," he says, grinning by now, "that by the time the kids just going into early education go all the way, I don't know but whether they're all going to be Rhodes Scholars.
"When we opened, 80 percent of the fifth graders could not read above a first-grade level," he says. Only five percent could pass the state test. "This year 99 percent passed. It's amazing. These students are going to be productive citizens; they're not going to be in prison costing $40,000 per year. They are going to be taxpayers, producers, good citizens."
Since the transformation, crime in the area has decreased significantly. There are no longer bars on every window. People are out walking around – it feels like a neighborhood.
For Cousins, East Lake is not just a manifestation of civic duty or a sense of responsibility or even a desire to give back, although all of those elements are present. It has become personal for him, especially the school component.
"I have great sympathy and love for all those children," he says. "These kids, they've got a chance and they are showing it. They're doing better than kids who were born into wealth. To me, there are several messages in that. Maybe because their circumstances have been so dire and tough, maybe they're willing to work a little harder. But all I can tell you is they are beating most everybody else. They are upbeat, positive. There is hope in their eyes." When they see you, he says, "They stick their hands out and say their name."
Cousins insists he is not the hero of the East Lake story, although many would challenge him on that. "There are obviously a lot of people who have been in this, holding my hand, both inside the company and outside," he says. "We had lots of partners."
Out of East Lake has come Cousins' most ambitious endeavor, called Purpose Built Communities, a nonprofit formed to help replicate the success of the reborn Atlanta neighborhood and take it to communities throughout the country.
"The purpose of East Lake was to see if there was a solution for this kind of situation. In every city large and small in America, there are these kinds of situations. One thing for sure, they can be fixed if people are willing."
The transformation was difficult – there was resistance from the political structure and other entrenched interests and even from the residents of East Lake.
"That made it very discouraging," Cousins says. "The very people we were trying to help were fighting us the hardest. They just knew we were there to take advantage of them. They had had so many promises over the years."
He mentions local leader Eva Davis, at first an adversary, later one of his biggest supporters. "I always felt if we can just get one [neighborhood] to work, that's all it would take. Then the Eva Davises of the world would come and see this can be done. Mayors and business people from other cities would say, 'We can fix our town.'
"I was naïve in that, thinking that we had a big success and that once it was seen and understood there would be a massive change across the country." Not so.
"So we formed Purpose Built Communities, offering free advice and counsel. We attracted a great team." The team is headed by former Atlanta Mayor Shirley Franklin and Greg Giornelli, a veteran of many civic and philanthropic positions who is Cousins' son-in-law.
"Now my present hope and dream is that, OK, they say East Lake was a fluke, but maybe when we get 10 East Lakes or 20 it will be such a compelling story. Costs of government go way down, we stop building new prisons. Public education can be better. Our charter school is public education – less money being spent, getting better results."
It is a story worth telling, a success worth duplicating.