Sports Legends: In It For The Long Haul
Tech's Billy Martin helped put Gainesville on the sports map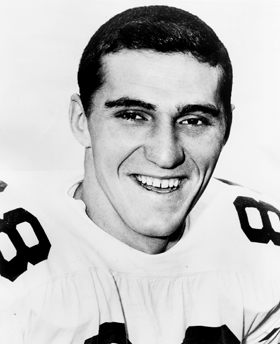 Take it from Billy Martin, the All-American Georgia Tech football player in the 1960s: You cannot play the game forever, so you had better pay as much attention in the classroom as you do on the gridiron.
After stints with the Chicago Bears, Atlanta Falcons and Minnesota Vikings, Martin came home to Gainesville, where he was a five-star athlete before moving to Atlanta, where he started a highly successful real estate practice.
To quote the late International News Service sports writer, David Moffit, "Martin and the late Billy Lothridge made Gainesville more famous for its championship football teams than it was for its chickens."
Martin and Loth-ridge were pals in Gainesville's fifth-grade football league and teammates and classmates in junior high, high school and of course at Georgia Tech. With Martin and Lothridge in the fore, the Gainesville Red Elephants dominated the prep league. They were unanimous picks on the All-State and All-Southern teams. Lothridge, the passer, and Martin, the receiver, were All-Southeastern Conference and All-American at Georgia Tech.
Martin can thank another Martin and Georgia Tech All-American end for getting to Tech in the first place. While he was in high school, Billy's hero was Tech's Buck Martin, who caught four touchdown passes against a favored Auburn team that Tech upset 28-0. Both Buck and Billy are in the Tech record book and members of the Georgia Tech Sports Hall of Fame.
Lothridge and Martin were sought after by almost every college in the country, so Tech brought out the big guns, the late head coach, Bobby Dodd, and the late recruiter, Forrest (Spec) Landrum.
Billy Martin, known at Tech as the "Jolly Giant," (6-4, 245) as a junior had nine games of pass receptions of more than 100 yards.
Although plagued with injuries his senior season at Tech, he played well enough and long enough to be selected for the Senior Bowl. Among the All-American teams selecting Martin were the North American Enterprise Association, United Press and the Sporting News.
The Gainesville Touchdown Club honored Martin and Lothridge with a "Billy's Day," giving them keys to the city and a parade, one of the biggest the city had ever had; it was followed by a banquet in their honor attended by 700.
Said Martin, "I don't know how to express my appreciation. I love you all and wish I could shake hands with everyone at this dinner." And he almost did.
Today the Jolly Giant is 69. Weighing 10 pounds less than his playing weight and with a new aortic valve, he is in good health.
He says the toughest obstacle he has ever faced was not open-heart surgery but "getting the roar of the crowd out of my ears. When it is over, it is over."
He has had only one girlfriend since the fourth grade – the former Barbara Crumley. He and Barbara have been married 48 years. They have three children – Jay, Kori and Melissa.
The Martins moved to Cumming 15 years ago when he moved his real estate practice to be close to longtime friends.
Billy is retired now but stops by his old real estate office before heading to his farm in Banks County.
He is not enamored of the pro game and would have retired earlier but needed five more years to qualify for his pension.
Martin credits his high school coaches, Graham Hixon, Bobby Gruhn and Billy Beale, for getting him prepared for the pro head knocking. He has special praise for assistant football coach Beale.
Coach Beale emphasized conditioning. "He had me skipping rope before and after practice. By the time I was a sophomore, I could skip more rope than anyone in the city of Gainesville," he says. "I ran track, played baseball and basketball, and thanks to Coach Beale I could outlast anyone. When I entered Georgia Tech, there was not a player freshman or senior who was in better condition than me. Thank you, Coach Beale."
Of his dad, Martin says, "He never missed one of my games, be it football, basketball or baseball. He was not only a pal, he was the best friend I ever had."