Power Players: A Passion For Golf and Good Works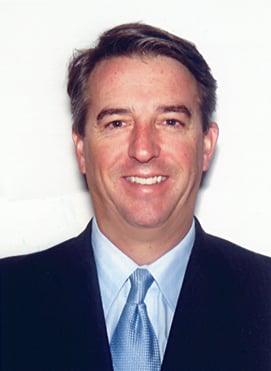 "You mean that's a full- time job?"
It's the favorite and most frequent question Todd Rhinehart gets about his position as executive director of the TOUR Champion-ship by Coca-Cola, held each September at East Lake Golf Club. The answer is a resounding, "You'd better believe it."
"We do a full debrief in the fall, right after the tournament, and in January we're looking to implement some of the changes we've discussed," he says. In fact, by January the event is halfway through its sales cycle and Rhinehart and his staff of six full-time employees are organizing the 1,300 volunteers it takes to put on the tournament.
After hosting the TOUR Championship several times at East Lake, the Professional Golfers Association (PGA) made it official in 2005, naming the historic course its permanent home. It's a match made in heaven for the tour, the city, which enjoys a $30-million economic impact, and especially the East Lake community.
"The proceeds from our tournament, just like every PGA tournament, go to charity," says Rhinehart. "The main beneficiary is the East Lake Foundation, but we also support The First Tee of Atlanta, an organization that introduces children to the game of golf."
In its first 10 years in Atlanta, the TOUR Cham-pionship raised more than $11 million for its charities. That success is due in large part to the commitment of corporate partners, especially Atlanta's own Coca-Cola and Southern Com-pany. Both companies just extended their contracts with the tour.
"This is our first year under the new extension, and our goal for the next six years is to double what we did in the first 10," says Rhinehart. "We're projecting that we will double what we did in 2010, which was $1.1 million. We think that's just a stepping stone to where we can take this event in the next couple years."
That level of giving doesn't happen without a first-rate tournament to draw sponsors, players and fans, and that's where Rhinehart works his magic, as he has since he started working for the PGA in 1999.
But it wasn't the career he envisioned when he left college with his business administration degree and headed to Birmingham, Ala., to become a financial planner. "In that industry, it's difficult if you don't know a lot of people. I was told to go get a job, any job, get some experience and get to know people here."
A chance encounter led him to a job at Greystone Golf & Country Club in Birmingham, where he helped with bags and cleaned golf carts before moving into the pro shop, eventually serving as an assistant golf pro. He wasn't a golf novice. Rhinehart was introduced to the game at age 11 and played golf in high school and college.
As an assistant pro, Rhinehart also handled the club's tournaments. He became involved in real estate development with the club's owner, the Daniel Corporation, and kept his hand in the club's annual Champions Tour event, eventually becoming that tournament's director. In 1997 he joined the Bruno Event Team as Director of Operations and oversaw 12 professional golf tournaments before joining the PGA in 1999.
Rhinehart arrived in Atlanta in 2002 to begin work on the American Express Championship at the Capital City Club Crabapple to be held the following year. "That's also when I found out I would be staying in Atlanta to run the TOUR Championship," he says.
The tournament has become a favorite with players since the introduction of the FedEx Cup in 2007, awarded to the player with the highest points total at the end of the tour. Rhinehart was instrumental in branding the TOUR Championship into The Players Finale. "We went from being an All-Star Game to being the Super Bowl," says Rhinehart. "The whole season comes down to our tournament. It's been fun to see the elevated status over the last few years."
While he enjoys his office view of the East Lake Golf Club, Rhinehart loves the work even more. "I have a passion for golf and for growing this event," he says, "especially knowing that everything we do goes to a great cause: changing the lives of people, especially young people."