How Nursing Homes Are Meeting The Challenges
Waits are shorter and care is improving, but facilities worry about cuts to Medicaid. Plus, a listing of the state's five-star homes.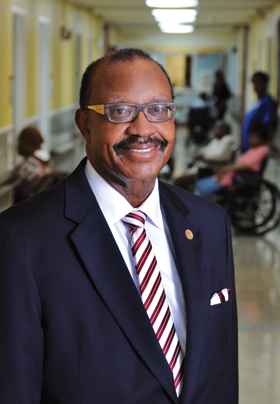 When the cost of round-the-clock homecare had depleted most of her elderly father's life savings, Rachel Harris knew she had to look for an alternative to in-home care. Her search ultimately led her to Fairburn Health Care Center, a one-story facility south of Atlanta with an available bed that would be covered by Medicaid when her father's funds ran out.
"As long as I can remember, he said he would never go live in 'one of those places,'" says Harris, who says she's still getting used to the fact that her 90-year-old father won't be returning to his home. At the same time, she feels relieved knowing that her father is safe and well cared for. "The staff takes good care of him," says Harris. "When I go to visit, he is always dressed and clean shaven. They make sure he always gets to the dining room for his meals. If he doesn't want to go, they bring the food to his room."
Vivian Matani had spent seven years caring for the elderly aunt who had raised her when finances forced her to return to work and make the difficult choice to find other care for her 80-year-old relative.
Having grown up in the city of Atlanta, Matani's first thought was the Sadie G. Mays Health and Rehabilitation Center, established in 1947 as the first nursing home to serve Atlanta's African-American community. After two visits to Sadie G. Mays, she knew it was the right place for her aunt, who suffers from dementia. Three months later, Matani says she's not only happy with the care her aunt receives, she's overwhelmed by it.
"You hear so many bad things about nursing homes," says Matani. "I say stop listening to other people and check them out for yourself."
Difficult Decision
Each year, some 58,000 Georgians are admitted to skilled nursing facilities or nursing homes, often by an adult child or other family member. For many, like Harris and Matani, the decision to admit a loved one can be a tough one.
"It's difficult to admit that a family member can no longer take care of her- or himself, particularly when that family member once took care of you," says Alexis Abramson, Ph.D., a gerontology expert and author of The Caregiver's Survival Handbook: How to Care for Your Aging Parent Without Losing Yourself (Perigee, 2011). Adding to the difficulty are the negative feelings many people have about nursing homes, mostly based on misconceptions and outdated information, she says.
"The perception of nursing homes is sort of this antiquated storage place for old people, but that's just not what the 21st century nursing home is," says Jon Howell, president and CEO of the Georgia Health Care Association, a not-for-profit organization representing long-term and post-acute care providers located throughout the state of Georgia. Many Georgians, like Matani, who look for care are pleasantly surprised with what they find.
More than 10 percent of Georgia's nursing homes received a five-star rating – the highest possible rating – from the federal government's Centers for Medicare and Medicaid Services based on health inspections, staffing and quality measures. (Editor's Note: Rankings referenced in this story were based on Medicare ratings published in October 2011.) In a recent national survey, Georgia ranked second only to Oklahoma for nursing home satisfaction among residents and employees – 10 percent of nursing homes receiving the 2010-2011 Excellence in Action Awards from the national independent research firm My In-nerView were from Georgia.
If you haven't checked into nursing homes lately the following changes may surprise you.
Shorter stays: While nursing homes used to be where people went to spend their final years, nursing homes are increasingly serving patients' short-term rehabilitation needs.
"Rehab is a big part of nursing homes today," says Howell. At many Georgia nursing homes, up to a quarter of residents are admitted following hospitalization for an acute problem such as a stroke or hip fracture and, after rehabilitation, are able to return home and live independently.
Shorter waits: Getting a family member into a nursing home once meant adding his or her name to a long list and waiting. But shorter stays by some residents mean shorter waits for all. "I think there are waiting lists in certain areas of the state, but in terms of statewide, occupancy rates are going down slightly," says Howell.
In addition to the increase in short-term rehabilitative care, Abramson cites a number of other reasons for shorter wait times and increases in available beds, including an increase in the number of nursing homes in preparation for the aging baby boomers, the ability of seniors to age in place longer due to improvements in treatments for chronic diseases, and the increased availability of services in the community. The economy plays a role, too. When people are without jobs, they are more likely to care for loved ones at home and less able to pay for skilled nursing care.
More and improved care: Twenty-first century nursing homes provide many of the services and medical procedures that were done in 20th century hospitals, says Howell. Physical therapy, occupational therapy and speech therapy are now being delivered in nursing homes.
The demands of residents and their families have contributed to increased services and quality, says Patrick Fellers, administrator and CEO at Signature HealthCare of Marietta – one of some 75 facilities managed by Signature Health-Care, the Louisville, Ky.–based healthcare company. "We are not dealing with Great Depression-era seniors who were appreciative of any type of service they got. We are dealing with seniors that have a sense of entitlement, and their expectations are a lot higher."
More variety: Most skilled nursing facilities are located in freestanding buildings in cities, small towns, suburbs and rural areas; others are located within upscale senior communities, in some cases providing care exclusively to residents of the community.
Individual centers can vary widely, says Abramson, who helps match families with nursing homes. "Two nursing homes in the same price range can be entirely different," she says. "One can be slick and contemporary while the other is more laid back and homey. Some focus on arts and cultural events for residents, while some focus more on sports and games and crafts."
Paying for Care
Although some nursing homes accept only private-pay patients, the greatest source of revenue for nursing homes as a whole is Medicare for short-term rehabilitation and Medicaid for long-term care. In 2010, Medicare covered the cost of 12 percent of the patients receiving care in skilled nursing facilities and Medicaid covered 73 percent.
Recent cuts to these programs threaten to make the job of providing long-term care even more difficult, says Howell. And future cuts, which are almost a certainty, will have a negative impact on facility staffing efforts and put high-quality care for older Geor-gians at risk, he says.
Beginning October 1, nursing homes in Georgia saw a 10.8 percent ($68 million) reduction to Medicare funding through a Centers for Medicare and Medicaid Services rule on the skilled nursing facilities (SNF) prospective payment system.
In November, the Congressional supercommittee, charged with finding a way to reduce federal spending by $1.5 trillion over 10 years, failed to reach an agreement, which would have likely included severe cuts to Medicaid.
Now that the 12-member panel failed, automatic across-the-board spending cuts could be triggered upwards of $1.2 trillion over 10 years, says Howell. The mandatory cuts could include a two percent reduction in payments to Medicare providers beginning in 2013. Though harsh – especially on top of Medicare cuts made in October – Howell believes the fallback plan is something "in the realm of possibility" for providers. "That would at least give providers some time to get ready for the reduction," he says.
Despite the financial challenges facing nursing homes, Howell says he is "very bullish" on the future of long-term care.
"The long-term care community in Georgia faces many challenges in the years ahead," he says. "However, there is good news: They are here for the people of Georgia and are delivering quality care."
Four Five-Star Facilities
Nursing homes are not all alike. Georgia Trend takes a look at four quite different, but all outstanding, five-star nursing homes.
Gem in the city. Founded as Happy Haven and since renamed for the late Sadie Gray Mays, advocate for Atlanta's sick and homeless and wife of the longtime Morehouse College president Benjamin Mays, the Sadie G. Mays Health and Rehabilitation Center has been providing care in the heart of Atlanta for more than six decades.
Its commitment to care has not gone unnoticed. In addition to receiving the five-star rating from Medicare, the center was ranked as one of the best nursing homes in the U.S – and the best in Atlanta – by U.S News & World Report for 2011.
At Sadie G. Mays, employees outnumber residents. At last count, the center had the equivalent of 220 full-time employees. Of the center's 206 beds, approximately 90 percent are occupied and the majority of those are paid for by Medicaid, says Charles Robinson, president and CEO.
In addition to offering skilled nursing care and short-term rehabilitative services, Sadie G. Mays offers residents the opportunity to participate in a variety of activities such as growing their own vegetable gardens in the courtyard, attending onsite sing-alongs or religious services and going shopping or to Braves games.
The center also hosts activities for the community "so people can know who we are and what business we are in," says Robinson. These include a Veteran's Day program and four cookouts annually for the residents, employees, volunteers and their families.
"We are in the business of serving," says Robinson. "We are always trying to please our residents so they can live while they are here regardless of their condition. We want them to continue to be active with activities both inside and outside these walls."
Resort charm. The Oaks Health Center at The Marshes of Skidaway Island, located within a 58-acre continuing care retirement community near Savannah, offers around-the-clock nursing care, wound care and pain management as well as rehabilitation services and assisted living.
Managed by Life Care Services, which operates more than 80 senior living communities throughout the U.S., The Marshes of Skidaway Island features spacious cottages, duplexes and apartments for seniors who live independently. While community residents are assured a spot at the Oaks Health Center if they need it, the center accepts residents from outside the community as space – and the resident's finances – permit. Aside from its short-term rehabilitation services, which are covered by Medicare, the Oaks is a private-pay facility, says Kim Sharp, director of community relations for the Oaks Health Center. Residents must pay a one-time deposit and first month's rent when they enter the facility.
People choose the Oaks because it's a small facility that offers resident-focused care, says Sharp. In all three levels – assisted living, rehabilitation and long-term nursing care – the center has just 43 beds.
"I know all of my residents, their families, their children, their grandchildren and great-grandchildren," Sharp says. "It is very private, very small. I think that is why people like it."
A quick turnaround. Shortly after Signature HealthCare purchased Shore-ham of Marietta in 2007, the Centers for Medicare & Medicaid Services listed it among the 54 worst nursing homes in the United States. With 18 deficiencies – two of which reflected an immediate threat to resident health or safety – on its inspection report, the facility was at risk of being shut down. Signature knew it had to make radical changes – and fast.
Those changes included renovations to the building, additional staff and a commitment to improving patient care and outcome measures.
By the second half of 2010, the facility had gone from a one-star Medicare rating to a five-star. The 154-bed Sig-nature HealthCare of Marietta has since been filled almost to capacity, says Signature's Fellers.
While most of the changes – including the addition of two full-time nurse practitioners, a full-time chaplain and 22 full-time therapists – have happened within the center, changing the public's perception of the nursing home has been a crucial part of its transformation too, says Fellers.
A strong web presence has helped. So have a media campaign and virtual tour DVD, particularly for out-of-state family members seeking care for a loved one in Marietta, says Fellers.
"A lot of the time when they come for tours, they say 'Patrick, you don't even have to do the tour, because everything we would want to see and know you have already have online. We really just want to walk through the building and see if everything you put on there is accurate,'" says Fellers. "It has really worked."
Home-style care. Located in the northwest corner of the state, 30 minutes from Chattanooga and just a mile from the Alabama state line, Dade Health and Rehabilitation prides itself on its hometown feel and family atmosphere. "You walk in the building and [there's a] sense of family right off the get go," says Melissa Cromer, administrator.
Opened in the 1960s, the 71-bed facility is managed by Rome-based Reliable Healthcare, which also manages six other nursing homes, mostly in smaller communities, including Cleveland, Rome and Cedartown.
While nursing homes in general tend to have high employee turnover, many of Dade's 70 employees, including Director of Nursing Dana Culpepper, have been with the center long enough to see the second generation of residents come. "I am taking care of children of parents I took care of," says Culpepper. "A lot of people who bring a parent will bring other relatives. We get to know families."
Family involvement is important at Dade, says Cromer. "When a person doesn't have family, you become their family. It's a good feeling to know you have done your best for a person who wouldn't have had anyone else."