Destination: Kennesaw State
Georgia's third-largest public university is increasingly students' first choice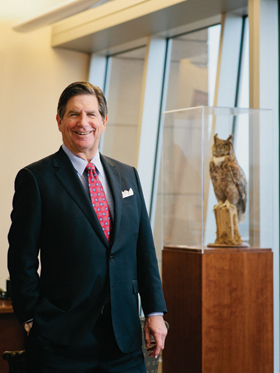 Anyone subscribing to the notion that Kennesaw State University is a place where students go to college when they can't get in anywhere else needs to wake up and smell the fair trade coffee served at The Grind Coffee Co. found at The Commons, the university's state-of-the-art dining facility. "One of my high school teachers laughed when I told her I was coming to KSU because she grew up in the Kennesaw area back when it was still a small commuter school," says third-year student Sara Lynn Colley from Thomaston. "Even I thought I would transfer after two years. I actually got into Auburn for this fall semester, but I didn't want to go."
Colley, a communications major and president of KSU's club equestrian team, discovered what many other students have found out: Kennesaw State is a destination university. Students check out KSU for its affordability and proximity to Atlanta, but they choose it and stay because it offers everything they're looking for in a university – outstanding and expanding academic programs and a thriving campus life.
"There's something special about KSU," says Dr. Jerome Ratchford, vice president for student success. "The willingness of people to collaborate, the vested interest we have in each other's welfare, the proper prioritization of students as the reason we exist, our appreciation of what the community constitutes inside and outside the university – all those things have helped us progress as we have. I'm literally prayerful and optimistic that we're on the track to be internationally recognized as an institution of higher learning. And I'm proud to be a part of that."
He's not the only one.
At 24,100 students strong, Kennesaw State University now boasts the third highest enrollment in the University System of Georgia. Seventy percent of KSU students are traditional students. Nine years ago, residence halls were non-existent; now more than 5,000 students live on campus. In October 2011, KSU broke ground on a 207,500-square-foot apartment complex that will add an additional 450 beds by fall semester 2012. They'll need them. KSU has enjoyed steady but manageable four percent growth over the past five years.
But it's not just the numbers of students coming to KSU; it's the type of students it's attracting. "Our SATs and high school GPAs have continued to climb," says Dr. Dan Papp, the university's charismatic president. "The students are as engaged as ever with their activities and communities." KSU is a diverse campus, one that actively seeks out students of color, veterans, disabled learners and international students. More than 142 countries are represented among the student body.
Papp cites several reasons for KSU's consistent growth: affordability, proximity to Atlanta and the quality and breadth of the university's academic programs. KSU offers 80 graduate and undergraduate degrees, including doctoral programs in education, business, nursing and international conflict management. U.S. News & World Report ranked KSU 27th among all regional public universities in the South in its 2012 "Best Colleges" rankings. The magazine also recognized the university's First-Year Seminar Program as one of the nation's best for the ninth consecutive year.
"Our programs keep getting national awards," he says. "The Cox Family Enterprise Center, in our Coles College of Business, is one of the top five Enterprise centers in the country. If you visit the College of the Arts, our new dance program is already nationally recognized. Some of our students and professors have danced at the Kennedy Center in Washington, D.C. We are getting a national reputation, and that helps attract students to KSU."
Going Global
Five years ago, as part of its Southern Association of Colleges and Schools (SACS) Quality Enhancement Plan, KSU chose to focus on developing globalization and internationalization in every facet of university life. "We absolutely walk the walk with that," says Ratchford. "We put systems and structures in place that made us a different university five years hence. We are doing substantive, observable, systemic things for our students and community." It shows. In 2011, KSU received the Senator Paul Simon Award for Comprehensive Internationalization from NAFSA: Associa-tion of International Educators, recognizing institutions for overall excellence in internationalization efforts, measured by practices, structures, philosophies and policies.
Arlethia Perry-Johnson, special assistant to the president for external affairs, joined Kennesaw State in fall 2006. She was enthusiastic then, and she's even more so now. "I have seen the tremendous progress we have made in the past five years on so many fronts," she says. "The new facilities, new doctoral programs, the global connections and programs we've developed, the phenomenal support that the KSU Foundation provides to the university, and the high-caliber talent that has joined the institution from around the country. In addition, I have been able to grow the external affairs and university relations staff, providing the personnel needed to effectively and creatively tout the institution's achievements."
KSU is enhancing its reputation and accomplishing impressive growth while remaining one of the most underfunded universities in the state system. "When I was named president nearly six years ago, KSU's state funding per student was significantly below the average for comprehensive institutions in the University System," says Papp. "Over the years, we've made some progress. However we still are not receiving the per-student state funding that other comprehensive universities receive."
According to state appropriations data, KSU receives $3,700 per full-time equivalent student; the average figure among Georgia's comprehensive state and regional universities is $4,534.
The disparity is irksome, but KSU's faculty remains on task. "We brought four doctoral programs online here and got basically zero additional money to do it," says Papp. "Where does that come from? People are working harder than they have ever worked. Our faculty is great. They take the time to talk to students, and they're moving more and more into the research arena. Our primary focus is still educating our students, but I'm a strong believer that the more research you do the better educator you can become. I want triple-threat faculty here: folks who are superb in educating their students, superb at research and very devoted to serving the various communities we are part of."
Papp proudly points out that research grants quadrupled in the past five fiscal years, from $4.3 million to $16.6 million, a result of adding faculty and programs in research-rich sciences and providing the infrastructure to support it. A perfect example is the $56-million, 200,000-square-foot Prillaman Hall Health Sciences Building that opened in 2010.
Prillaman Hall houses the Brain Biomarkers Research Lab, headed by Dr. Svetlana Dambinova, a professor in KSU's WellStar College of Health and Human Services. Dambinova and her team of researchers, in partnership with re-searchers at Penn State and the University of Pittsburgh medical schools, are studying the aftereffects of brain trauma, via stroke or concussion. Their research is funded in part by a $2.38-million grant from the U.S. Department of Defense (DOD) interested in the research as it pertains to improved diagnoses of battlefield concussions.
A key contributor to capital improvements is the nonprofit Kennesaw State University Foundation, which, in addition to funding scholarships and awards for staff and faculty, helps make it possible for residence halls, parking decks, offices and classroom space to rise from the expanding KSU footprint. The foundation enjoys strong community and alumni support. Its recent $75-million comprehensive capital campaign that launched in October 2007 was scheduled to run to October 2012. The campaign reached its target in August 2011, a full 15 months ahead of schedule.
That the foundation managed to reach its goal during the worst economic recession since the Great Depression is nothing short of astonishing. "We had a good case," says Dr. Wes Wicker, former vice president for advancement, now a consultant to the university. "If you look at the university like a product, we had a good product. People who get to know us, who visit the university, fall in love with us. There is a vibe, a can-do spirit here that's contagious."
Capital projects and infrastructure improvements are stealing the spotlight at KSU and with good reason. In addition to Prillaman Hall and the stunning 624-seat Dr. Bobbie Bailey and Family Performance Center, which opened in 2007, KSU is building a $21-million, 73,000-square-foot science lab addition to the College of Math and Science building. The Bagwell College of Education will also expand as construction begins on an $18-million, 82,900-square-foot addition to the current education building.
Student Life
While the residence halls serve as an anchor, two projects in particular have helped develop KSU's campus life, the KSU Sports and Recreation Park and The Commons dining facility. The still-expanding, 88-acre Sports and Recreation Park, located across I-75 east of the campus, includes intramural athletic fields, the Owls Nest indoor training facility and an 8,300-seat soccer stadium, home not only to the university's women's soccer team, but also the Atlanta Beat, a Women's Professional Soccer team. The stadium hosted the 2011 NCAA Division I Women's College Cup in December.
Meanwhile, The Commons, as Dr. Papp so aptly puts it, "ain't your daddy's dining hall." Under the direction of Chef de Cuisine Gary Coltek, The Commons seats more than 1,200 and serves breakfast, lunch and dinner to thousands of members of the KSU community each day while embracing the farm-to-table concept popular in many restaurants. "My background is in five-star hotels, The Ritz-Carlton, the Four Seasons. We run this place like a hotel," says Coltek. "We use the freshest ingredients possible."
Much of the produce is organically grown on one of the university's two farms, picked and brought to KSU each morning. They use herbs out of the 3,500-square-foot organic herb garden, bake their own bread, brine their own corned beef and make their own pizza dough and pasta. To ensure maximum freshness, food is prepared in small batches throughout the day. Diners with special dietary needs are easily accommodated. The award-winning facility is also the largest Gold LEED-certified college food service building in the county.
Students appreciate not just the food but the atmosphere. The Commons is a bustling hub of student activity with meeting rooms and a patio where groups meet to eat, then study, then eat some more.
Creating spaces and reasons for students to plug in to campus life is a concern for KSU seniors Ronald S. Wilson, current Student Government Association (SGA) president, and Ali Kamran, former SGA president. "Freshman year when I arrived, there was no dining hall, no soccer stadium, rec fields," says Kamran, from nearby Canton. "It didn't have much of a community feel. There were a lot of PCP students – parking lot, classroom, parking lot. I was the same way. I realized I needed to engage and get involved, which I did."
Wilson agrees. "Student engagement is something SGA is very involved in," he says. "We have between 250 to 300 registered student organizations. If you like something, if there's something you want to do, there's probably an organization for it."
KSU is not without its challenges. Getting to and from campus, and parking while there, can be a headache. The university introduced a shuttle bus system in fall 2010 and is currently conducting a transportation feasibility study examining implementation of zoned parking, an SGA-supported plan. The Big Shanty Connector being built underneath I-75 by the Georgia Department of Transportation should relieve congestion on Chastain Road. One project on the proposed TSPLOST list, the Busbee-Frey Connector, would provide another point of ingress and egress for the university, although its impact wouldn't be felt for at least three to four years.
Big-Time Sports
In November 2010, Papp announced the university's intention to bring Division I football to KSU. The decision was supported by 56 percent of the student body, who voted to raise their own fees to help fund the sport, even though many of them wouldn't be around for the first season, projected in 2014. But before the university starts selling season tickets, there's work to be done. "We need somewhere in the vicinity of $8 million to $12 million of infrastructure, practice fields, a building, not only support for football but for Title IX women's sports," says Papp.
The university's new athletic director, Vaughn Williams, is charged with raising the money needed to move forward with the proposal before taking it to the Board of Regents for final approval on the student fee. The funding is essential.
"My line is that there's only one thing worse than being a major university in the American South without a football team, and that's a major university in the American South with a football team that it can't afford," says Papp. "If we go forward with football, we will be able to afford it."
Students are eager to see the next stage in KSU's growth. "I like being part of something that is growing and developing," says Wilson, who came to Kennesaw from Indiana. "I witnessed the construction of the dorms and so many of the buildings that are on campus now. I see the potential of what will be here five years after I'm gone. I know I'm going to be wowed when I come back to visit."
For some the growth is more personal. "I didn't know what I wanted to do when I came to KSU," said senior Aimee Koehlke, president of her sorority, Phi Mu, and an education major. "But it's offered me so many opportunities and helped shape me into the person I know I want to be. I can't believe I graduate in May, because I feel like this is where I found myself. I'm thankful to KSU for leading me to be a good, contributing member of something bigger than myself."